 News
The Beatles / Abbey Road reissued for its 50th anniversary across six formats
3CD+blu-ray box • 3LP vinyl • 2CD deluxe • vinyl picture disc • 5.1 & Dolby Atmos surround mixes • Two discs of outtakes in both CD and vinyl sets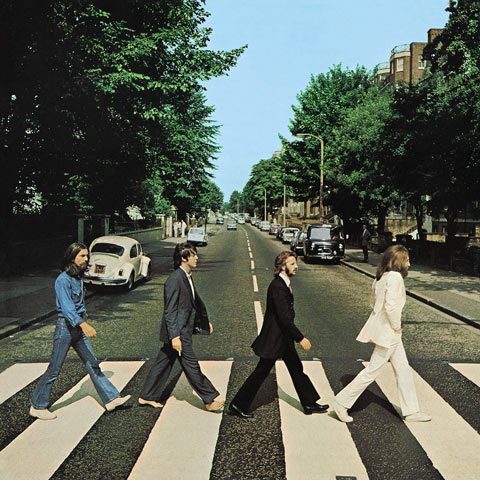 The Beatles' 1969 album Abbey Road will be reissued for its 50th anniversary in September. All six physical formats offer a brand new Giles Martin (& Sam Okell) stereo mix and for the first time all the bonus sessions are available on vinyl and CD. Full format details below…

The 3CD+blu-ray super deluxe edition delivers Giles Martin's new stereo mix on CD 1 with two further CDs of outtakes and unreleased rarities ('sessions'). A blu-ray audio is the fourth and final disc and it delivers two separate surround sound mixes – a standard 5.1 and a Dolby Atmos mix (along with a hi-res stereo version of the new Giles Martin stereo mix).

The super deluxe is packaged as a 100-page hardcover book which slots into an outer slip case. The volume features chapters written by Beatles historian Kevin Howlett, track-by-track details and session notes, the cover art and photo shoot, and the album's reception upon its release; plus an essay by music journalist and author David Hepworth looking at the album's influence through 50 years. The book is illustrated with rare and previously unpublished photographs (including many by Linda McCartney) plus images of handwritten lyrics, sketches, Beatles correspondence, recording sheets, and tape boxes; and reproduced original print ads. Unlike The White Album package, this is a square 12″ x 12″ set.

Abbey Road 50th anniversary 3CD+ blu-ray set (click image to enlarge)

As well as the standard vinyl LP of the album remix, a 3LP vinyl box is offered which includes all the sessions (from the two CDs in the super deluxe) in their entirety. A 12-inch vinyl picture disc is the third vinyl option available.

Additionally, a 2CD deluxe edition offers the new stereo mix on CD 1 with an alternate version of the album (drawn from the sessions) on disc two. A single CD with the stereo mix of the album will also be issued.


Abbey Road 50th anniversary 3LP vinyl set (click image to enlarge)

Abbey Road was recorded in 1969 after Let It Be, although as is now reasonably well known, the album was actually released seven months before Let It Be, on 26 September 1969 (largely because no one could face the arduous task of going through those Let It Be tapes and trying to salvage an album out of them).

Incredibly, work on songs that would end up on Abbey Road started just three weeks after the Let It Be sessions finished at 3 Saville Row. The fact that one-time 'fifth Beatle', Billy Preston, was still around for the recording of 'I Want You (She's So Heavy)' – in Trident Studios – underlines that fact. A different take of this song, with Billy letting loose at the end, is one of the outtakes included in the super deluxe and 3LP vinyl.

Other bonus material of interest (let's face it, it's ALL of interest) includes Take 7 of the non-album track 'The Ballad Of John And Yoko' – The Beatles' last UK number one (and the only one to feature just John Lennon and Paul McCartney playing on it) – and an alternate reading of that song's B-side, the George Harrison composition 'Old Brown Shoe'.

The 2CD deluxe edition of Abbey Road (click image to enlarge)

McCartney's solo demo for what would become Mary Hopkin's 'Goodbye' shows man and guitar at the peak of his powers. This much bootlegged recording – which has the air of a classic knocked off in his lunch break – is finally officially available on this Abbey Road set, as is George's demo of 'Something.' That song was Harrison's first single A-side, and while it won an Ivor Novello award it also became the first Beatles' single not to reach either #1 or #2 in the UK singles chart since 'Love Me Do' peaked at 17 back in 1962 ('Something' stalled at #4).



The demo of 'Something' has already appeared on Anthology 3 of course, although this is a different mix. Talking of which, very little Abbey Road related material from Anthology 3 has been repeated here – 'Something' (along with Paul's demo for 'Come and Get It') is the exception rather than the rule. So for example, take 1 of 'Because' features in the new Abbey Road sets but the ethereal acappella version from Anthology isn't anywhere to be found.

A vinyl picture disc of Abbey Road will also be released (click to image to enlarge)

The two discs of 'sessions' also includes three versions of 'Her Majesty' (originally a 'hidden' track, of course), a 30 July 'trial edit/mix' of 'The Long One' which would become the famous medley (at this stage 'Her Majesty' was still slap bang in the middle of the sequence) and alternate takes of 'You Never Give Me Your Money,' 'Here Comes The Sun' and 'Oh! Darling'.

The blu-ray audio that comes in the four-disc super deluxe edition of the Abbey Road 50th anniversary reissue features not only the standard 5.1 mix, but also a Dolby Atmos mix. The latter was also created for Sgt. Pepper in 2017 but not completed in time for inclusion with the super deluxe of the 1967 album. Despite Dolby's claims that Atmos mixes work fine on standard 5.1 set-ups, we basically have the best of both worlds here.

Finally, a vinyl picture disc of Abbey Road is released at the same time as the four other physical formats. With Sgt. Pepper it followed a few months later. It's worth noting that the original stereo mix of Abbey Road doesn't appear anywhere on any of the formats (there was no mono mix).

The 50th Anniversary editions of Abbey Road are released on 27 September 2019.


Abbey Road
 50th anniversary edition 3CD+Blu-ray super deluxe edition
Disc 1 (CD) : 2019 Stereo Mix
1. Come Together
2. Something
3. Maxwell's Silver Hammer
4. Oh! Darling
5. Octopus's Garden
6. I Want You (She's So Heavy)
7. Here Comes The Sun
8. Because
9. You Never Give Me Your Money
10. Sun King
11. Mean Mr Mustard
12. Polythene Pam
13. She Came In Through The Bathroom Window
14. Golden Slumbers
15. Carry That Weight
16. The End
17. Her Majesty
Disc 2 (CD): Sessions
1.     I Want You (She's So Heavy) (Trident Recording Session & Reduction Mix)
2.     Goodbye (Home Demo)
3.     Something (Studio Demo)
4.     The Ballad Of John And Yoko (Take 7)
5.     Old Brown Shoe (Take 2)
6.     Oh! Darling (Take 4)
7.     Octopus's Garden (Take 9)
8.     You Never Give Me Your Money (Take 36)
9.     Her Majesty (Takes 1-3)
10.  Golden Slumbers/Carry That Weight (Takes 1-3 / Medley)
11.  Here Comes The Sun (Take 9)
12.  Maxwell's Silver Hammer (Take 12)
Disc 3 (CD): Sessions
1.     Come Together (Take 5)
2.     The End (Take 3)
3.     Come And Get It (Studio Demo)
4.     Sun King (Take 20)
5.     Mean Mr Mustard (Take 20)
6.     Polythene Pam (Take 27)
7.     She Came In Through The Bathroom Window (Take 27)
8.     Because (Take 1 – Instrumental)
9.     The Long One (Trial Edit & Mix – 30 July 1969) (Medley: You Never Give Me Your Money, Sun King, Mean Mr Mustard, Her Majesty, Polythene Pam, She Came In Through The Bathroom Window, Golden Slumbers, Carry That Weight, The End)
11.  Something (Take 39 – Instrumental – Strings Only)
12.  Golden Slumbers/Carry That Weight (Take 17 – Instrumental – Strings & Brass Only)
Blu-Ray:
Audio Features:
– Dolby Atmos
– 96kHz/24 bit DTS-HD Master Audio 5.1
– 96kHz/24 bit High Res Stereo (2019 Stereo Mix)
Abbey Road
 50th anniversary edition 3LP vinyl box
LP ONE: Side 1 (2019 Stereo Mix)
1.     Come Together
2.     Something
3.     Maxwell's Silver Hammer
4.     Oh! Darling
5.     Octopus's Garden
6.     I Want You (She's So Heavy)
LP ONE: Side 2 (2019 Stereo Mix)
1.     Here Comes The Sun
2.     Because
3.     You Never Give Me Your Money
4.     Sun King
5.     Mean Mr Mustard
6.     Polythene Pam
7.     She Came In Through The Bathroom Window
8.     Golden Slumbers
9.     Carry That Weight
10.  The End
11.  Her Majesty
LP TWO: Side 1 (Sessions)
1.     I Want You (She's So Heavy) (Trident Recording Session and Reduction Mix)
2.     Goodbye (Home Demo)
3.     Something (Studio Demo)
4.     The Ballad of John and Yoko (Take 7)
5.     Old Brown Shoe (Take 2)
LP TWO: Side 2 (Sessions)
1.     Oh! Darling (Take 4)
2.     Octopus's Garden (Take 9)
3.     You Never Give Me Your Money (Take 36)
4.     Her Majesty (Takes 1-3)
5.     Golden Slumbers/Carry That Weight (Takes 1-3) / Medley)
6.     Here Comes The Sun (Take 9)
7.     Maxwell's Silver Hammer (Take 12)
LP THREE: Side 1 (Sessions)
1.     Come Together (Take 5)
2.     The End (Take 3)
3.     Come and Get It (Studio Demo)
4.     Sun King (Take 20)
5.     Mean Mr Mustard (Take 20)
6.     Polythene Pam (Take 27)
7.     She Came In Through The Bathroom Window (Take 27)
8.     Because (Take 1 Instrumental)
LP THREE: Side 2 (Sessions)
1.     The Long One (Trial Edit & Mix – 30 July 1969)
2.     Something (Take 39 – Instrumental – Strings Only)
3.     Golden Slumbers/Carry That Weight (Take 17 – Instrumental – Strings & Brass Only)
Abbey Road
 50th anniversary edition 2CD deluxe edition
CD 1: 2019 Stereo Mix
1.     Come Together
2.     Something
3.     Maxwell's Silver Hammer
4.     Oh! Darling
5.     Octopus's Garden
6.     I Want You (She's So Heavy)
7.     Here Comes The Sun
8.     Because
9.     You Never Give Me Your Money
10.  Sun King
11.  Mean Mr Mustard
12.  Polythene Pam
13.  She Came In Through The Bathroom Window
14.  Golden Slumbers
15.  Carry That Weight
16.  The End
17.  Her Majesty
CD 2: Sessions
1.     Come Together (Take 5)
2.     Something (Studio Demo)
3.     Maxwell's Silver Hammer (Take 12)
4.     Oh! Darling (Take 4)
5.     Octopus's Garden (Take 9)
6.     I Want You (She's So Heavy) (Trident Recording Session & Reduction Mix)
7.     Here Comes The Sun (Take 9)
8.     Because (Take 1 Instrumental)
9.     You Never Give Me Your Money (Take 36)
10.  Sun King (Take 20)
11.  Mean Mr Mustard (Take 20)
12.  Polythene Pam (Take 27)
13.  She Came In Through The Bathroom Window (Take 27)
14.  Golden Slumbers/Carry That Weight (Takes 1-3 / Medley)
15.  The End (Take 3)
16.  Her Majesty (Takes 1-3)
Abbey Road
 50th anniversary edition single CD edition
2019 Stereo Mix
1.     Come Together
2.     Something
3.     Maxwell's Silver Hammer
4.     Oh! Darling
5.     Octopus's Garden
6.     I Want You (She's So Heavy)
7.     Here Comes The Sun
8.     Because
9.     You Never Give Me Your Money
10.  Sun King
11.  Mean Mr Mustard
12.  Polythene Pam
13.  She Came In Through The Bathroom Window
14.  Golden Slumbers
15.  Carry That Weight
16.  The End
17.  Her Majesty