 News
The Best of Bond… James Bond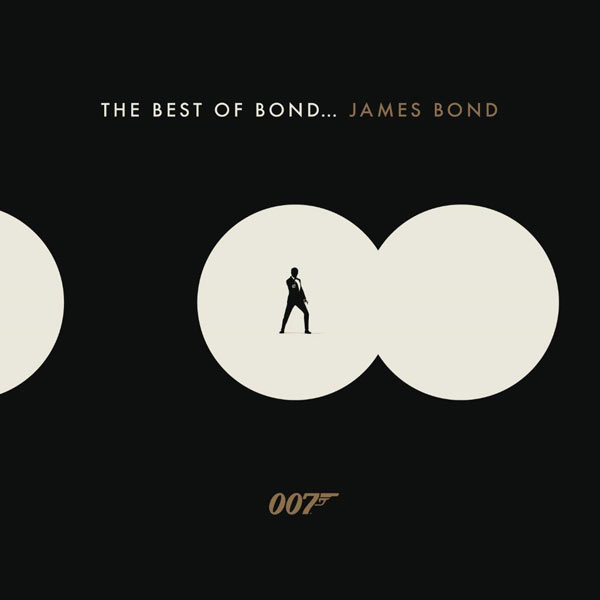 New compilation + Billie Eilish seven-inch single
Like death and taxes, a new compilation of James Bond theme tunes, when the next film comes around, is a certainty and the delayed No Time To Die proves not to be an exception.

Yes, with 'Bond 25' due for release at cinemas in November, The Best of Bond… James Bond (no marks for originality) is scheduled for release at the same time.
This is very simply a collection of all 25 theme tunes, starting with Monty Norman's classic 'James Bond Theme' from Dr. No (as performed by The John Barry Orchestra) and ending with Billie Eilish's 'No Time To Die'.
If you don't want to buy a whole compilation album for one new song, you could opt for Eilish's new theme tune as a 'ice' coloured vinyl seven-inch picture disc.
The Best of Bond… James Bond is available as a two-CD or 3LP vinyl set. The Billie Eilish seven-inch single is out next week, on 5 October, while the compilation is released on 24 September 2021 (was 2 April 2021 and before that was 20 Nov 2020!).
Compare prices and pre-order
Various Artists
The Best of Bond... James Bond 3LP vinyl
Compare prices and pre-order
Various Artists
The Best of Bond... James Bond 2CD set
Compare prices and pre-order
Billie Eilish
No Time To Die - ice coloured seven-inch single
The Best of Bond… James Bond 3LP vinyl
3 LP
LP 1
James Bond Theme – The John Barry Orchestra (Side A)
From Russia With Love – Matt Monro (Side A)
Goldfinger – Shirley Bassey (Side A)
Thunderball – Tom Jones (Side A)
You Only Live Twice – Nancy Sinatra (Side A)
On Her Majesty's Secret Service – The John Barry Orchestra (Side B)
We Have All The Time In The World – Louis Armstrong (Side B)
Diamonds Are Forever – Shirley Bassey (Side B)
Live And Let Die – Paul McCartney & Wings (Side B)
The Man With The Golden Gun – Lulu (Side B)
LP 2
Nobody Does It Better – Carly Simon (Side A)
Moonraker – Shirley Bassey (Side A)
For Your Eyes Only – Sheena Easton (Side A)
All Time High – Rita Coolidge (Side A)
A View To A Kill – Duran Duran (Side B)
The Living Daylights – A-Ha (Side B)
License To Kill – Gladys Knight (Side B)
Goldeneye – Tina Turner (Side B)
LP 3
Tomorrow Never Dies – Sheryl Crow (Side A)
The World Is Not Enough – Garbage (Side A)
Die Another Day – Madonna (Side A)
You Know My Name – Chris Cornell (Side A)
Another Way To Die – Jack White & Alicia Keys (Side B)
Skyfall – Adele (Side B)
Writing's On The Wall – Sam Smith (Side B)
No Time To Die – Billie Eilish (Side B)
The Best of Bond… James Bond 2CD edition
CD 1
James Bond Theme – The John Barry Orchestra
From Russia With Love – Matt Monro
Goldfinger – Shirley Bassey
Thunderball – Tom Jones
You Only Live Twice – Nancy Sinatra
On Her Majesty's Secret Service – The John Barry Orchestra
We Have All The Time In The World – Louis Armstrong
Diamonds Are Forever – Shirley Bassey
Live And Let Die – Paul McCartney & Wings
The Man With The Golden Gun – Lulu
Nobody Does It Better – Carly Simon
Moonraker – Shirley Bassey
For Your Eyes Only – Sheena Easton
All Time High – Rita Coolidge
CD 2
A View To A Kill – Duran Duran
The Living Daylights – A-Ha
License To Kill – Gladys Knight
Goldeneye – Tina Turner
Tomorrow Never Dies – Sheryl Crow
The World Is Not Enough – Garbage
Die Another Day – Madonna
You Know My Name – Chris Cornell
Another Way To Die – Jack White & Alicia Keys
Skyfall – Adele
Writing's On The Wall – Sam Smith
No Time To Die – Billie Eilish