 News
The Beta Band / The Three E.P.'s / 20th anniversary 4LP deluxe vinyl box set
Remastered • 4LP+CD deluxe package • Start of a wider reissue campaign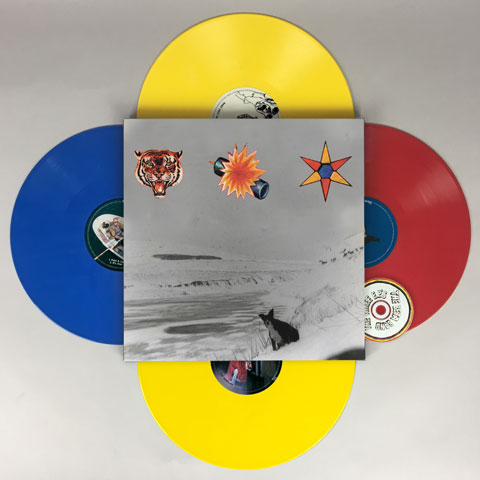 Because Music have acquired the back catalogue of The Beta Band and will start a reissue campaign with a 4LP deluxe coloured vinyl presentation of the classic Three E.P.'s compilation.

The acclaimed Scottish band released just three albums and three EPs between 1996 and 2004 (when they disbanded) and it's those three EPs – Champion Versions, The Patty Patty Sound and Los Amigos Del Beta Bandidos – that were brought together to form their first 'album'.




The audio has been newly remastered for this release and pressed on four vinyl records, with Champion Versions pressed on RED vinyl, The Patty Patty Sound on double YELLOW vinyl and Los Amigos Del Beta Bandidos on BLUE vinyl.

All the records are housed in a numbered outer slipcase which also holds a CD of the remastered audio.

The Three E.P.'s deluxe vinyl set will be reissued on 14 September 2018 and I'm pleased to say that you can pre-order this set direct from the SDE shop by clicking here or you can just use the button below (note: shipping to the US is prohibitive – sorry!).

Pre-orders via the SDE shop come with a reproduction of "The Flower Press", a short-lived fanzine designed and put together by the band!
<![CDATA[
/**/
]]>
Compare prices and pre-order
The Beta Band
The Three EPs 20th Anniversary Remaster [4 x Coloured Vinyl Deluxe Boxset] [VINYL]
Champion Versions EP
A1. Dry The Rain / A2. I Know / B1. B + A / B2. Dogs Got A Bone
The Patty Patty Sound EP
A. Inner Meet Me / B. The House Song / C. Monolith / D. She's The One
Los Amigos Del Beta Bandidos EP
A1. Push It Out / A2. It's Over / B1. Dr. Baker / B2. Needles In My Eyes
CD features the same track listing
in the the same order.