 News
The Black Crowes / Shake Your Money Maker 30th anniversary reissue
4LP and 3CD super deluxe editions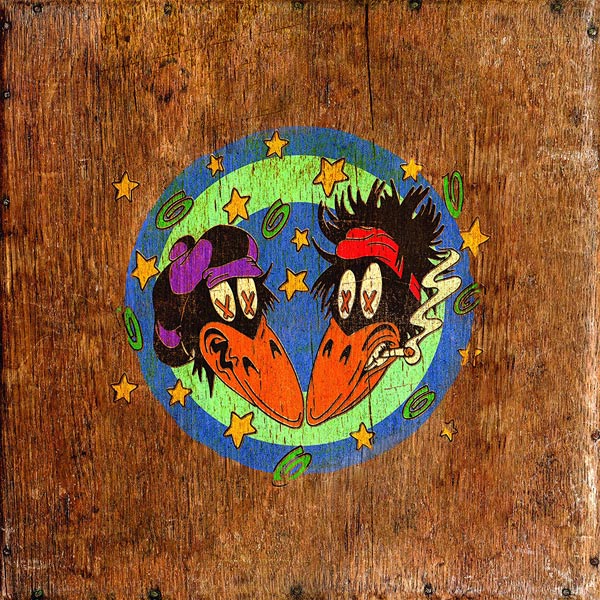 The Black Crowes' debut, 1990's The Black Crowes Present: Shake Your Money Maker, will be reissued next month for its 30th anniversary through UMe/American Recordings.

Shake Your Money Maker sold over five million copies and features the singles 'Jealous Again', 'Twice As Hard', 'She Talks To Angels' and a cover of Otis Redding's 'Hard To Handle'.
The album will be reissued across a number of formats, including 4LP and three-CD super deluxe editions, which include the original album, remastered; three never-before-heard studio recordings; two unreleased demos from the band's early incarnation as Mr. Crowe's Garden;  B-sides and a 14-song unreleased concert recorded in their hometown of Atlanta, GA from December 1990.
A two-CD deluxe features the remastered album and the disc with unreleased songs and B-sides.
Shake Your Money Maker 4LP vinyl super deluxe edition (click image to enlarge)
Liner notes are by David Fricke and the large format 3CD set and the 4LP super deluxe come with reproductions of an early Mr. Crowe's Garden show flyer, setlist and tour laminate; a four-inch Crowes patch; and a 20-page book.
The good news is that Target in the US and Rough Trade in the UK both have digi-pak editions of the 3CD set (e.g. without the extra 'stuff') which are less than £20 (or equivalent).
Brothers, and band founders Chris and Rich Robinson, with original producer George Drakoulias, have overseen the creation of the re-release.
The Black Crowes Present: Shake Your Money Maker is released on 26 February 2021.
Compare prices and pre-order
The Black Crowes
Shake Your Money Maker 4LP vinyl super deluxe
Compare prices and pre-order
The Black Crowes
Shake Your Money Maker 3CD super deluxe
Compare prices and pre-order
The Black Crowes
Shake Your Money Maker - 2CD deluxe
Shake Your Money Maker 4LP box set
LP 1: Shake Your Money Maker (2020 Remaster)
Side One:
1 Twice As Hard
2 Jealous Again
3 Sister Luck
4 Could I've Been So Blind
5 Seeing Things
Side Two:
1 Hard To Handle
2 Thick N' Thin
3 She Talks To Angels
4 Struttin' Blues
5 Stare It Cold
6 Mercy, Sweet Moan
LP 2: More Money Maker: Unreleased Songs and B-Sides
Side One:
1 Charming Mess
2 30 Days In The Hole
3 Don't Wake Me
4 Jealous Guy
5 Waitin' Guilty
Side Two:
1 Hard To Handle (With Horns Remix)
2 Jealous Again (Acoustic Version)
3 She Talks To Angels (Acoustic Version)
4 She Talks To Angels (Mr. Crowe's Garden Demo)
5 Front Porch Sermon (Mr. Crowe's Garden Demo)
LP3 and 4 The Homecoming Concert: Atlanta, GA December 1990
Side One:
1 Introduction
2 Thick N' Thin
3 You're Wrong
4 Twice As Hard
5 Could I've Been So Blind
6 Seeing Things For The First Time
Side Two:
1 She Talks To Angels
2 Sister Luck
3 Hard To Handle
4 Shake 'Em On Down/Get Back
Side Three:
1 Struttin' Blues
2 Words You Throw Away
Side Four:
1 Stare It Cold
2 Jealous Again
Shake Your Money Maker 3CD super deluxe
CD 1: Shake Your Money Maker (2020 Remaster)
1 Twice As Hard
2 Jealous Again
3 Sister Luck
4 Could I've Been So Blind
5 Seeing Things
6 Hard To Handle
7 Thick N' Thin
8 She Talks To Angels
9 Struttin' Blues
10 Stare It Cold
11 Mercy, Sweet Moan
CD 2: More Money Maker: Unreleased Songs and B-Sides
1 Charming Mess
2 30 Days In The Hole
3 Don't Wake Me
4 Jealous Guy
5 Waitin' Guilty
6 Hard To Handle (With Horns Remix)
7 Jealous Again (Acoustic Version)
8 She Talks To Angels (Acoustic Version)
9 She Talks To Angels (Mr. Crowe's Garden Demo)
10 Front Porch Sermon (Mr. Crowe's Garden Demo)
CD3 The Homecoming Concert: Atlanta, GA December 1990
1 Introduction
2 Thick N' Thin
3 You're Wrong
4 Twice As Hard
5 Could I've Been So Blind
6 Seeing Things For The First Time
7 She Talks To Angels
8 Sister Luck
9 Hard To Handle
10 Shake 'Em On Down/Get Back
11 Struttin' Blues
12 Words You Throw Away
13 Stare It Cold
14 Jealous Again