 News
The Hitchhiker's Guide to the Galaxy / Original BBC radio series on vinyl
First time on vinyl • Luxury presentation • Signed sets sold out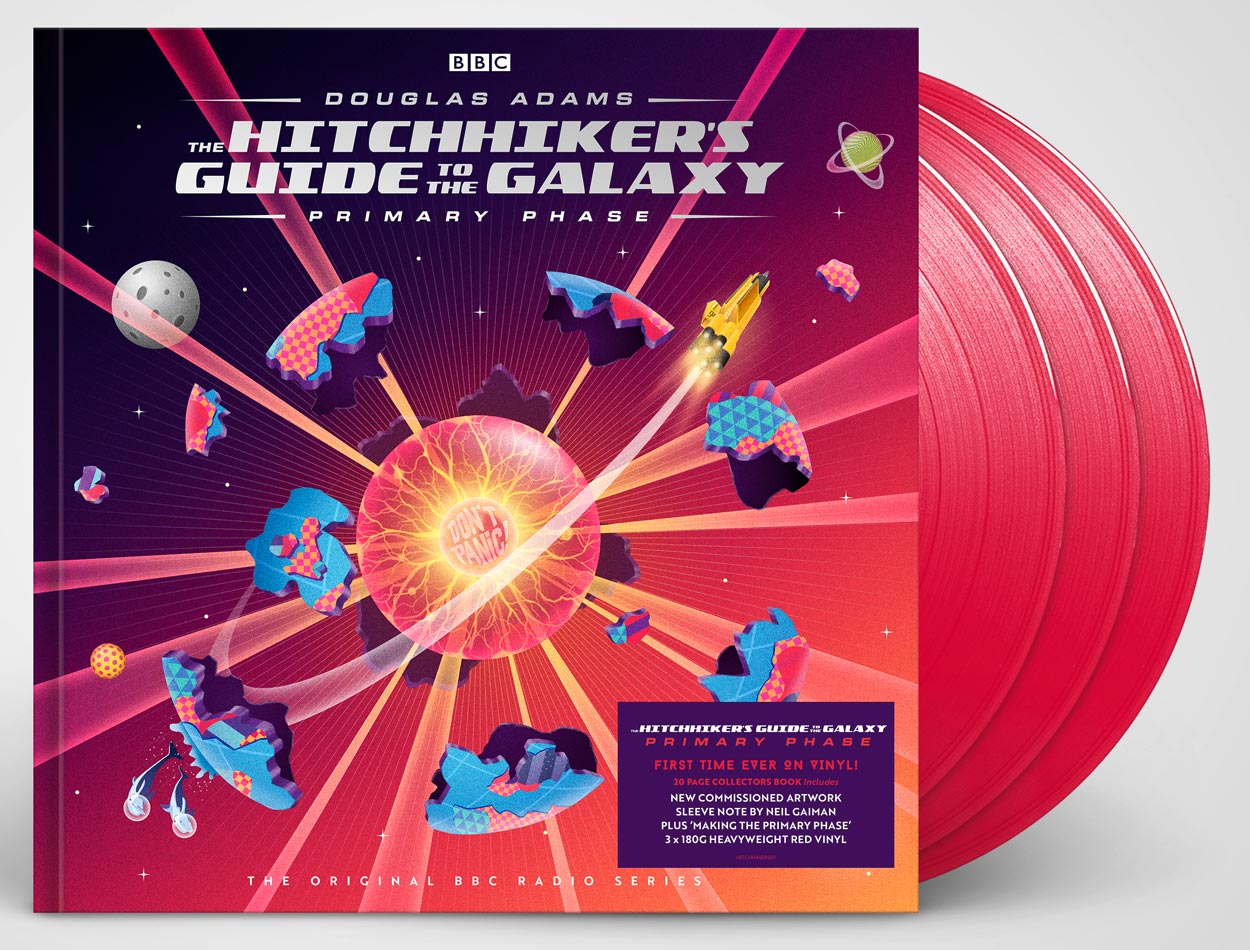 The original six episodes of Douglas Adams' classic BBC radio series The Hitchhiker's Guide To The Galaxy will be available on vinyl for first time ever, in August.

The comedy science fiction series was originally broadcast on BBC Radio 4 in 1978 and over the years was adapted into other formats, notably novels, a TV series, and a feature film. This new vinyl set is released to celebrate the 40th anniversary of the original broadcasts.

This first volume (others are planned over the next year), known as Primary Phase, is presented on triple 180g RED vinyl and housed in a 12″ x 12″ hardcover book, which features newly commissioned sleeve notes and an essay from author Neil Gaiman.

Gorgeous looking design. Click image to enlarge

As well as actors like Peter Jones (as The Book), Simon Jones (as Arthur Dent) and Geoffrey McGivern (as Ford Prefect) the guest cast included Jim Broadbent, David Jason, Richard Vernon and Roy Hudd and the sound effects were by the BBC Radiophonic Workshop.

The book boasts some stunning design (see images above and below) and also includes a 'making of' essay by Jem Roberts, author of The Frood: The Authorised and Very Official History of Douglas Adams & The Hitchhiker's Guide to the Galaxy.

This Primary Phase first volume will be released on 24 August by Demon Records. The limited edition version with a print signed by author Neil Gaiman has now sold out.


Compare prices and pre-order
Douglas Adams
The Hitchhikers Guide To The Galaxy - 3LP red vinyl standard edition
Vinyl Record 1
Side A: Episode One – Fit The First
Side B: Episode Two – Fit The Second
Vinyl Record 2
Side A: Episode Three – Fit The Third
Side B: Episode Four – Fit The Fourth
Vinyl Record 3
Side A: Episode Five – Fit The Fifth
Side B: Episode Six – Fit The Sixth