 News
The House Of Love / 5-disc super deluxe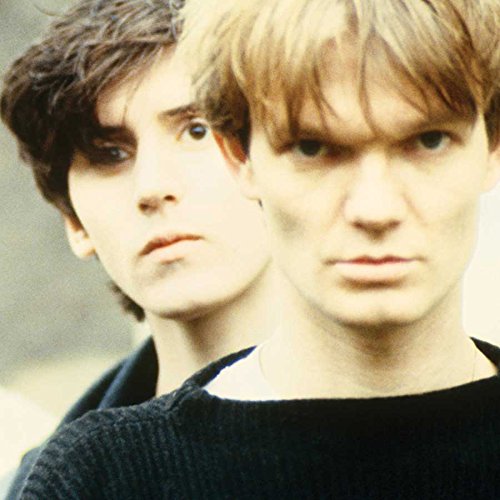 5CDs • 23 previously unreleased tracks • 'Complete' Creation recordings
A three-CD deluxe edition of The House of Love's debut album was reissued back in 2012 but now Cherry Red go two better by issuing a five-disc 30th anniversary set.

This new package is said to offer the band's complete Creation recordings from 1987-1988, together with a raft of rarities and previously unissued bonus material – 84 tracks in total.
Apparently with no shame (!) the label state that "for the first time" the album is re-mastered from the original quarter-inch tapes. So why didn't they do that in 2012!? To be fair perhaps they weren't available, although I'm sure the phrase 'original tapes' was used to promote it back then, since the SDE post at the time makes reference to it and I wouldn't have written that just for fun. Regardless, this new edition still looks like a good set and by my count 23 tracks are previously unreleased (lots of early mixes and demos).
The second and third CDs combine the non-album tracks with numerous demos and early mixes, CD 4 includes various BBC radio sessions for John Peel and the final disc delivers mostly unissued live tracks from various shows.
This 30th anniversary package comes as a hardcover book (sounds like it could be similar to Edsel's recent 25th anniversary issue of Suede's debut) with fresh sleeve-notes from Neil Taylor. There will also be a limited edition 2LP vinyl set, which includes bonus tracks, issued at the same time.
The House of Love 30th anniversary edition will be released on 28 September 2018.
Compare prices and pre-order
House Of Love
The House Of Love (30th Anniversary Deluxe Hardback Edition)
Compare prices and pre-order
House Of Love
The House Of Love [VINYL]
DISC ONE
THE ALBUM
1. CHRISTINE
2. HOPE
3. ROAD
4. SULPHUR
5. MAN TO CHILD
6. SALOME
7. LOVE IN A CAR
8. HAPPY
9. FISHERMAN'S TALE
10. TOUCH ME
BONUS TRACKS
11. SHINE ON (Demo – LP Bonus 7")
12. CHRISTINE (Demo – LP Bonus 7")
DISC TWO
SINGLES DEMOS & RARITIES
1. SHINE ON
2. LOVE
3. FLOW
4. REAL ANIMAL
5. PLASTIC
6. NOTHING TO ME
7. THE HILL
8. LONELINESS IS A GUN
9. THE HEDONIST
10. WELT
11. DESTROY THE HEART
12. BLIND
13. MR. JO
14. SHINE ON (Guy Chadwick Demo)
15. REAL ANIMAL (Demo)
16. TOUCH ME (Demo)
17. HAPPY (Demo)
18. ROAD (Early Mix)
19. SALOME (Early Mix)
20. FISHERMAN'S TALE (Early Mix)
21. DESTROY THE HEART (Demo)
22. SHINE ON (Fuck Version) (Flexidisc)
DISC THREE:
DEMOS AND EARLY MIXES
1. ROAD (Longer Early Mix) *
2. SULPHUR (Early Mix) *
3. HAPPY (Early Mix) *
4. FISHERMAN'S TALE (Early Mix) *
5. TOUCH ME (Early Mix) *
6. SALOME (Early Mix) *
7. SHINE ON (Band Demo)
8. REAL ANIMAL (16 Track Demo)
9. CHRISTINE (16 Track Demo)
10. HOLD ON ME (16 Track Demo)
11. HOPE (Early Mix)
12. MAN TO CHILD (Early Mix)
13. LOVE IN A CAR (Early Mix)
14. MODERN WORLD (Welt) (Demo)
15. LITTLE GIRL (Mr Jo) (Early Mix)
16. SULPHUR (Early Mix)
17. HAPPY (Early Mix)
18. TOUCH ME (Early Mix)
19. SHINE ON (Early Mix) *
20. REAL ANIMAL (Early Mix) *
21. DESTROY THE HEART (Early Version – No Guitar) *
* previously unissued
DISC FOUR
JOHN PEEL SESSIONS
1. DESTROY THE HEART
2. NOTHING TO ME
3. PLASTIC
4. BLIND
5. THE HEDONIST
6. DON'T TURN BLUE
7. SAFE
8. LOVE IN A CAR
9. IN A ROOM
10. THE BEATLES AND THESTONES
11. CHRISTINE
12. LONELINESS IS A GUN
DISC FIVE
IN CONCERT
VREDENBURG, UTRECHT, HOLLAND
1. CHRISTINE *
2. MAN TO CHILD *
3. ROAD *
4. SHINE ON *
GRONINGEN, HOLLAND
5. PLASTIC *
6. SULPHUR *
7. TOUCH ME *
8. NOTHING TO ME *
9. I DON'T KNOW WHY I LOVE YOU BUT I DO
TOP RANK, BRIGHTON
10. NEVER *
11. SE DEST *
12. THE HEDONIST *
13. SOFT AS FIRE *
LA CIGALE, PARIS, FRANCE
14. FISHERMAN'S TALE *
15. HAPPY *
16. LOVE IN A CAR
17. DESTROY THE HEART 18. I WANNA BE YOUR DOG
* previously unissued
The House of Love / Limited Edition 2LP vinyl
DISC ONE: THE ALBUM
SIDE ONE
1. CHRISTINE
2. HOPE
3. ROAD
4. SULPHUR
5. MAN TO CHILD
SIDE TWO
1. SALOME
2. LOVE IN A CAR
3. HAPPY
4. FISHERMAN'S TALE
5. TOUCH ME
DISC TWO: THE SINGLES
SIDE ONE
1. SHINE ON
2. LOVE
3. FLOW
4. REAL ANIMAL
5. PLASTIC
6. NOTHING TO ME
7. THE HILL
SIDE TWO
1. LONELINESS IS A GUN
2. THE HEDONIST
3. WELT
4. DESTROY THE HEART
5. BLIND
6. MR. JO