 News
The House of Love / Burn Down The World : The Fontana Years 1989-1993
8CD box set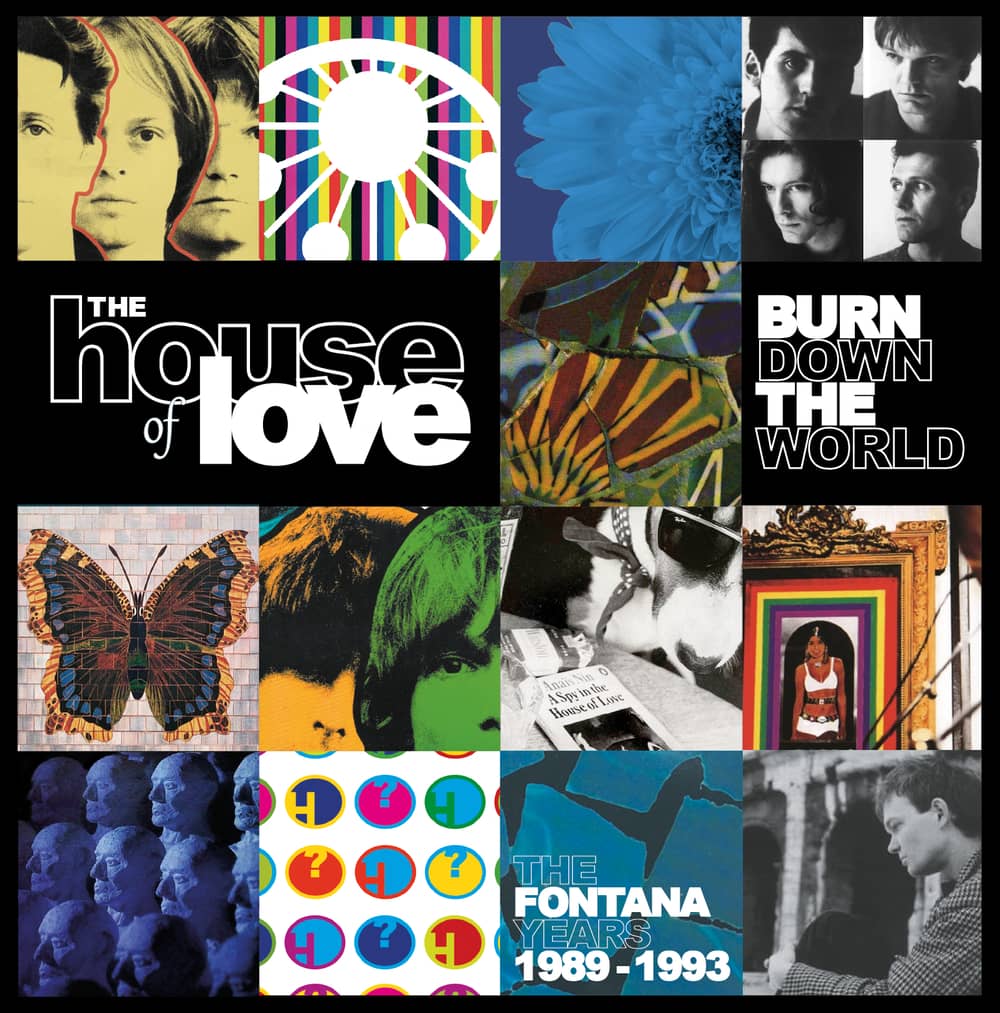 An 8CD box set compiling the Fontana Years of The House of Love will be released in July. Burn Down The World: The Fontana Years 1989-1993 features albums, singles, B-sides and rarities.
The package includes expanded versions of the band's second album, 1990's The House Of Love (aka Fontana or 'The Butterfly Album'), 1992's Babe Rainbow and 1993's Audience With The Mind. Additionally, the A Spy in the House of Love compilation (from 1990) is expanded to three CDs offering a massive 60 tracks, 46 more than the original collection! These discs offer never before heard demos, lost tracks and live recordings sourced from Fontana's archive, alongside rare fan club-only releases, compilation appearances, promotional versions and tracks never before available on CD
The last two CDs – Live in Leicester 1990 and Live in London and New York 1991-1992 – offer 30 previously unreleased live tracks from the era.
In total, Burn Down The World offers 139 tracks, and has been produced in association with founder, frontman and principle songwriter Guy Chadwick. Sleeve notes include a new interview with Chadwick and unseen imagery from the band's archive.
Burn Down The World: The Fontana Years 1989-1993 will be issued on 29 July 2022, via Cherry Red. Don't forget to offer your rating of this offering via the SDE Reader Rating box at the top of this page!
Compare prices and pre-order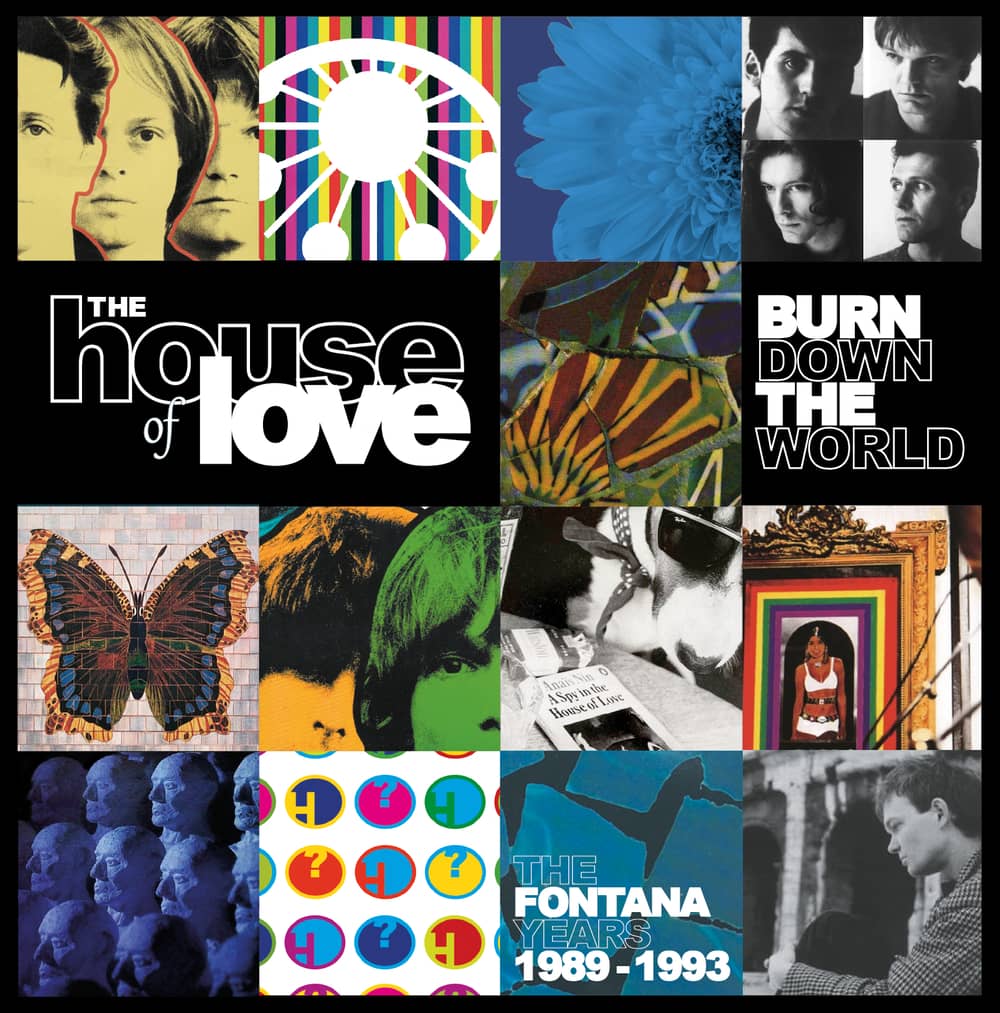 The House Of Love
Burn Down The House - 8CD box set
Tracklisting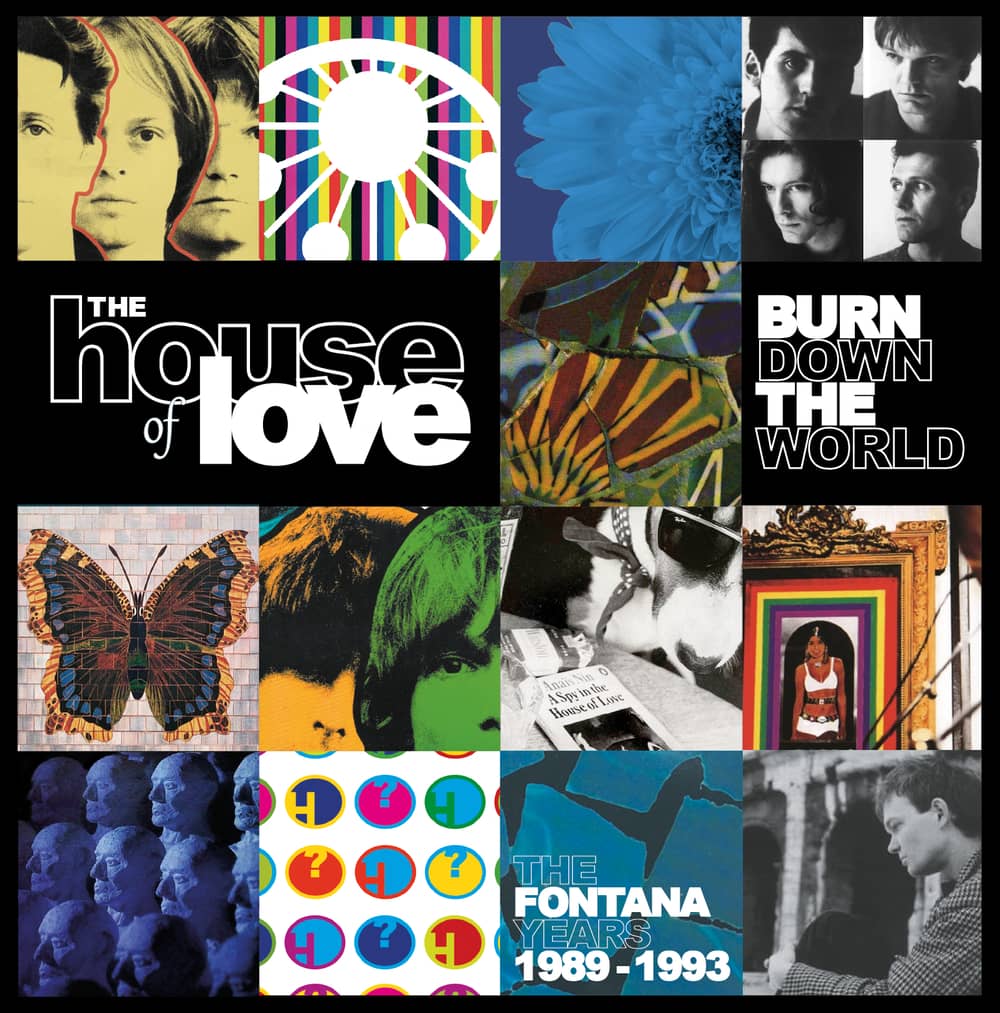 Burn Down The House: The Fontana Years 1989-1993 The House Of Love
/
8CD box set
CD 1: The House of Love aka Fontana / Butterfly Album (plus)

Hannah
Shine On
Beatles And The Stones
Shake And Crawl
Hedonist
I Don't Know Why I Love You
Never
Someone's Got To Love You
In A Room
Blind
32nd Floor
Se Dest

Bonus track

Never (Chocolate Factory Demo)*
Beatles And The Stones (Chocolate Factory Demo)*
In A Room (Chocolate Factory Demo)*
Se Dest (Chocolate Factory Demo)*
Someone's Got To Love You (Chocolate Factory Demo)*
Waiting In Water (Chocolate Factory Demo)*
Man To Child (Live)*
Nothing To Me (Live)*

*previously unreleased

CD 2: Babe Rainbow (plus)

You Don't Understand
Crush Me
Cruel
High In Your Face
Fade Away
Feel
The Girl With The Loneliest Eyes
Burn Down The World
Philly Phile
Yer Eyes

Bonus tracks

Burn Down The World (Eel Pie Reference Mix)*
Cruel (Eel Pie Extended Reference Mix)*
Feel (Eel Pie Extended Reference Mix)*
Yer Eyes (Eel Pie Reference Mix)
Crush Me (Demo)*

*previously unreleased

CD 3: Audience with the Mind (plus)

Sweet Anatomy
Audience With The Mind
Haloes
Erosion
Call Me
Shining On
Portrait In Atlanta
Corridors
Hollow
All Night Long
Into The Tunnel
You've Got To Feel

Bonus tracks

Train Song*
Into The Tunnel (Alternate)

*previously unreleased

CD 4: A Spy In The House Of Love (Pt 1)

Safe
Marble
D Song '89
Scratched Inside
Phone
Cut The Fool Down 7 Ray
Love II
Baby Teen
Love III
Soft As Fire
Love IV
No Fire
Love V
Shake and Crawl (Demo Version 2)
No Fire (Demo)
Hannah (Demo)
Destroy The Heart (Live 1989)
Christine (Live 1989)
Man To Child (Live 1989)

CD 5: A Spy In The House Of Love (Pt 2)

No Fire (Promo Mix)
Safe (B-Side Version)
Secrets
I Can't Stand It
Clothes
Rouge
Phone (B-Side Acoustic Mix)
Scratched Inside (B-Side Mix)
Marble (B-Side Mix)
Never (12″ Version)
The Spy
I Don't Know Why I Love You (7″ Version)
Rosalyn
Allergy
Glorify Me
Beatles And The Stones (Single Mix)
Purple Killer Rose
Tea In The Sun
Pink Frost
Let's Talk About You

CD 6: A Spy In The House Of Love (Pt 3)

It's All Too Much
Strange Brew
Sweet Anatomy (Alternate Version)
Kiss The Fountain
Third Generation Liquid Song
The Last Edition Of Love
Love 10
Skin 2 Phase 2
Shine On (Acoustic)
Hope (Acoustic)
Hannah (Acoustic)
I Don't Know Why I Love You (Acoustic)
Crush Me (Acoustic)
The Girl With The Loneliest Eyes (Acoustic)
Phillyphile (Acoustic)
Fade Away (Acoustic)
Baby Teen (Radio Edit)
I Don't Know Why I Love You (7″ Drip Of Rockman Mix)
Who by Fire
Rock Your Baby
Fall In Love With Me

CD 7: Live In Leicester (1990)

Hannah
I Don't Know Why I Love You
In A Room
Beatles And The Stones
Nothing To Me
Road
Plastic
Love In A Car
Se Dest
Never
Hope
Salome
Shine On
Christine
Man To Child
Destroy The Heart
I Can't Stand It

All tracks previously unreleased

CD 8: Live In London and New York (1991-1992)

Phone (London)
Hannah (London)
Love 2 (London)
High In Your Face (New York)
You Don't Understand (New York)
Burn Down The World (New York)
Christine (New York)
Feel (New York)
Hannah (New York)
Shine On (New York)
The Girl With The Loneliest Eyes (New York)
Cruel (New York)
I Don't know Why I Love You (New York)

All tracks previously unreleased