 News
The Real Thing / The Anthology 1972-1997
7CD box set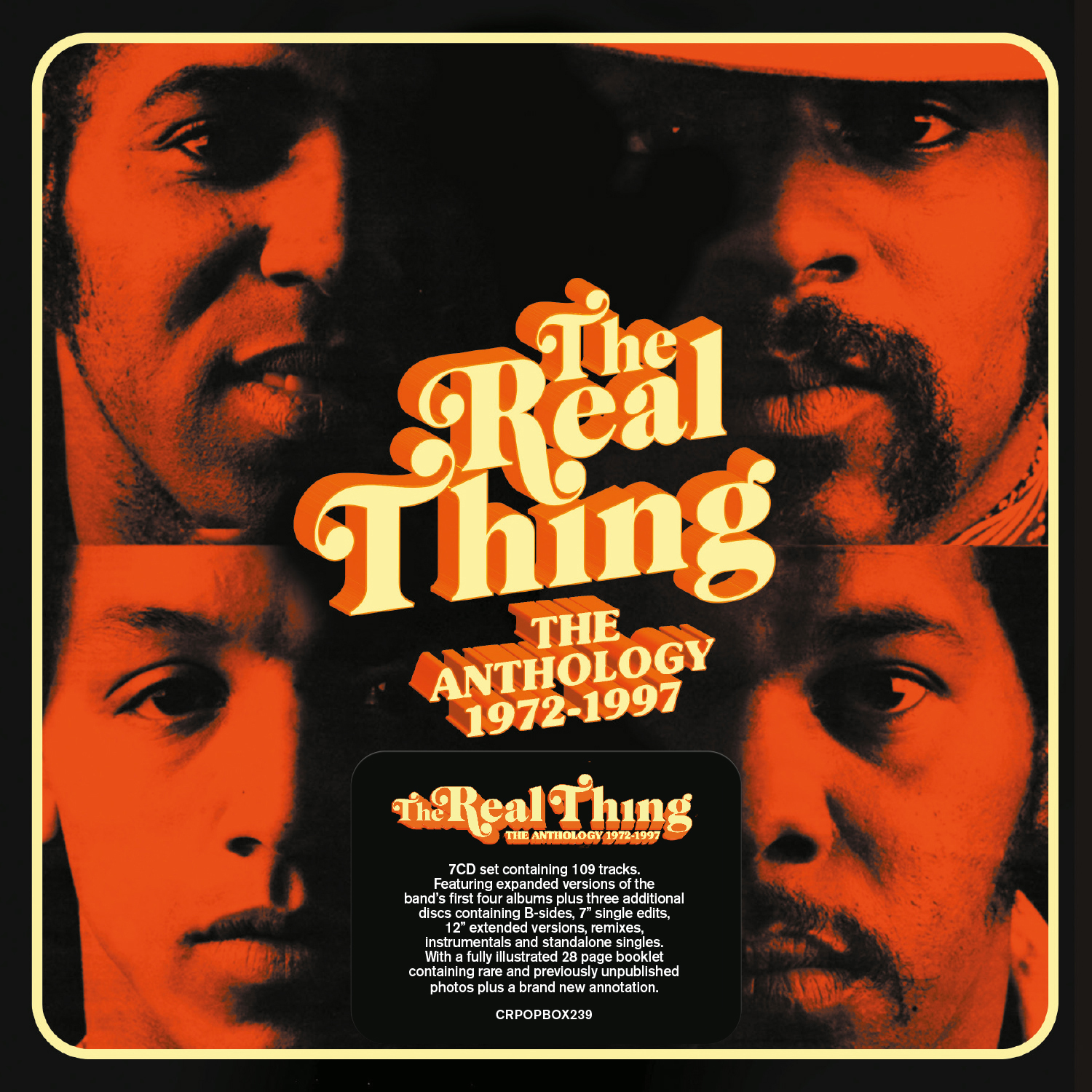 Cherry Red will release The Anthology 1972-1997 a new seven-CD box set of music from British soul group The Real Thing.
The band only ever issued four studio albums and this clamshell box contains expanded versions of all of them. They are: Real Thing (1976), 4 From 8 (1977), Step Into Our World (1978) and …Saints Or Sinners? (1980). It adds three bonus CDs which gather up A-sides, B-sides, seven-inch edits, extended versions, remixes and instrumentals. Many of these are new to CD.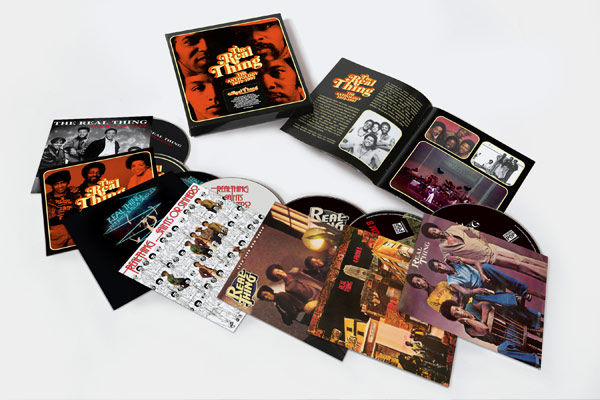 The 109 tracks within span multiple labels including EMI, Pye Records, RCA, Jive Records and a few independents. The box set includes a 24-page booklet with rare photos and words from Ed Piller.
The Anthology 1972-1997 will be released on 24 September 2021.
Compare prices and pre-order
The Real Thing
The anthology 1972-1997 7CD box set
Tracklisting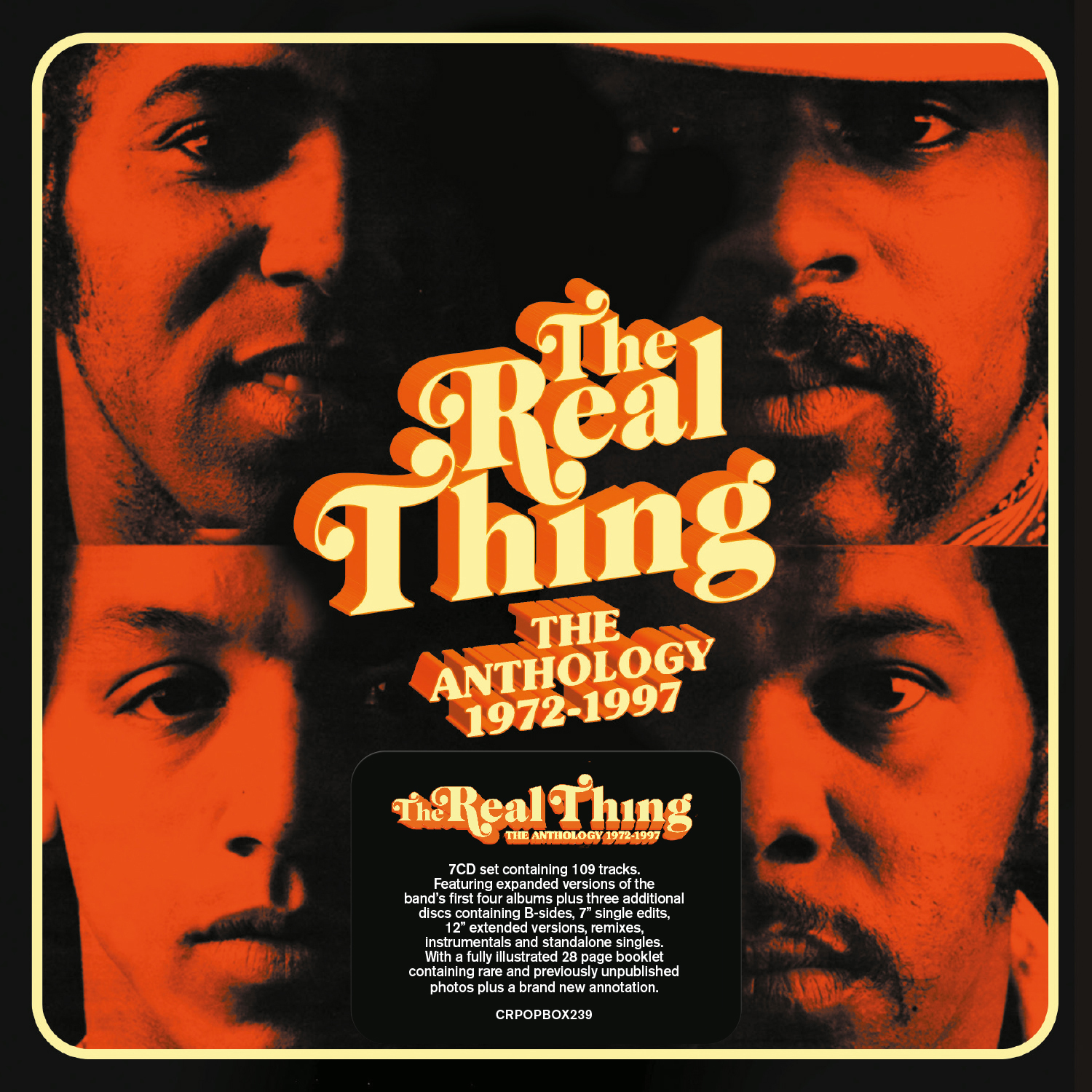 The Anthology 1972-1997 The Real Thing
/
7CD box set
CD 1 : Real Thing (Expanded Edition)

Hallelujah Man
You To Me Are Everything
Topsy Turvy
(He's Just A) Moneymaker
Young And Foolish
Flash
Can't Get By Without You
Why, Oh Why (Oh Why)
Keep An Eye (On Your Best Friend)
You'll Never Know What You're Missing

Bonus tracks

Watch Out Carolina
I Want You Back
Stone Cold Love Affair
A Love That's Real
Keep An Eye (On Your Best Friend) (Edit)
You'll Never Know What You're Missing (7″ Single)
Love Is A Playground
Keep An Eye (On Your Best Friend)
You To Me Are Everything (Extended Version) (The Decade Remix '76-'86)
Can't Get By Without You (Extended Version) (The Second Decade Remix)

CD 2: 4 From 8 (Expanded Version)

Love's Such A Wonderful Thing
Lovin' You Is Like A Dream
Kathy
Down To The Way You Feel
Plastic Man
Lightning Strikes Again
I Wish You Well
Liverpool 8 Medley (Liverpool 8/Children Of The Ghetto/Stanhope Street)

Bonus tracks

Dance With Me
Children Of The Ghetto (Edit)

CD 3: Step Into Our World (Expanded Version)

Whatcha Say, Whatcha Do
Lady, I Love You All The Time
Rainin' Through My Sunshine
Can You Feel The Force?
Give Me The Chance
(We Gotta Take It To The) Second Stage
Won't You Step Into My World?
Whenever You Want My Love
You Gotta Keep Holding On
Love Me Right

Bonus tracks

Let's Go Disco
Raining Through My Sunshine
Never Be Alone
Can You Feel The Force? (12" Single)
Can You Feel The Force (7" Single)
Can You Feel The Force? (US 12″ John Luongo Remix)
Can You Feel The Force? (US 12″ John Luongo Remix) (Instrumental)

CD 4: Saints Or Sinners (Expanded Version)

Boogie Down (Get Funky Now)
Saint Or Sinner
The Story Of My Life
Thank You For Loving Me
You Can't Force The Funk
Give Me Your Love
One Girl In My LifeBoogie Down (Instrumental)

Bonus tracks

Saint Or Sinner? (7″ Single)
Boogie Down (Get Funky Now) (7" Single)
Boogie Down (Get Funky Now) (Instrumental) (7" Single)
She's A Groovy Freak (12″ Single)
It's The Real Thing
She's A Groovy Freak (7″ Single)
Foot Tappin' (Extended Version)
Foot Tappin' (Instrumental Extended Version)

CD 5: The EMI, Calibre and Catawba Singles

Check It Out
Daddy Dear
Girl, I Don't Mind (Losin')
Humpty Dumpty
Listen, Joe McGintoo
Plastic Man
Sun Gold
Vicious Circle (Part 1)
Vicious Circle (Part 2)
Foot Tappin' (7" Single)
I Believe In You (7″ Single)
Love Takes Tears (7″ Single)
Goin' For The Big One (7″ Single)
I Believe In You (Extended Version)
You're My Number One (12″ Single)
Goin' For The Big One (12″ Single)
Street Corner Boogie (7″ Single Mix)
Street Corner Boogie  (12″ Single Mix)

CD 6: Remixes and RCA Singles

You To Me Are Everything (The Decade Remix '76-'86) (7″ Single Version)
Can You Feel The Force? ('86 Mix 12" Single)
Can You Feel The Force? ('86 Mix 7" Single)
Can You Feel The Force ('89 Remix 12″ Single)
Can You Feel The Force ('89 Remix 7″ Single)
Can You Feel The Force (Mark Moore + Ian B Remix)
Can You Feel The Force (Rhythm Masters Dub Mix)
We Got Love
We Got Love (Extended Version)
Street Scene (12″ Version)
We Got Love (Dub Mix)
The Crime Of Love (12″ Extended Version)
Baby, Don't Go (Extended Version)
The Crime Of Love (Un Poco Loco Latin Instrumental Mix)
Baby, Don't Go (Instrumental)

CD 7: Jive Singles

Straight To The Heart (Remix)
Mystique
Hard Times
Children Of The Ghetto
I Can't Help Myself (Sugar Pie Honey Bunch)
Straight To The Heart (Extended Version)
Hard Times (Extended Version)
Children Of The Ghetto (Extended Version)
I Can't Help Myself (Sugar Pie Honey Bunch) (Extended Version)
Straight To The Heart (Dubappella Mix)
Hard Times (The Real Mix)
Straight To The Heart (Instrumental Version)
Straight to the Heart (Extended Remix)