 News
The Rutles / vinyl reissue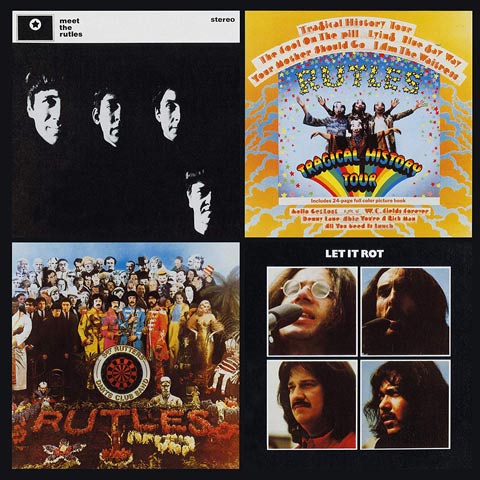 Tight trousers. Tea. And Biscuits.
The Prefab Four return, as Rhino reissue The Rutles, the soundtrack album to the brilliant 1978 spoof documentary All You Need Is Cash, which parodies the rise and fall of The Beatles.

The film (it was made for TV) was conceived by Eric Idle with songs written and produced by Neil Innes and performed by Innes, John Halsey, Ollie Halsall, Andy Brown, and Ricky Fataar.
This reissue is pressed on 180g black vinyl and comes with a bonus seven-inch EP that features tracks six tracks from the film not originally issued on the vinyl album (but later issued on CD). Rhino have stated that this is a limited edition of 1700 copies.
The Rutles will be released on 5 October 2018
Compare prices and pre-order
The Rutles
The Rutles vinyl LP + seven-inch single
You might also like…
Compare prices and pre-order
Various Artists
The Rutles - 2007 expanded CD edition
The Rutles / vinyl LP
Side 1
1. Hold My Hand
2. Number One
3. With a Girl Like You
4. I Must Be In Love
5. Ouch!
6. Living in Hope
7. Love Life
8. Nevertheless
Side 2
1. Good Times Roll
2. Doubleback Alley
3. Cheese and Onions
4. Another Day
5. Piggy in the Middle
6. Let's Be Natural
Bonus seven-inch single
Side A
1. Goose-Step Mama
2. Baby Let Me Be
3. Blue Suede Schubert
Side B
1. Between Us
2. It's Looking Good
3. Get Up and Go