 News
The Vapors / Waiting for the Weekend: The United Artists & Liberty Recordings
4CD clamshell box set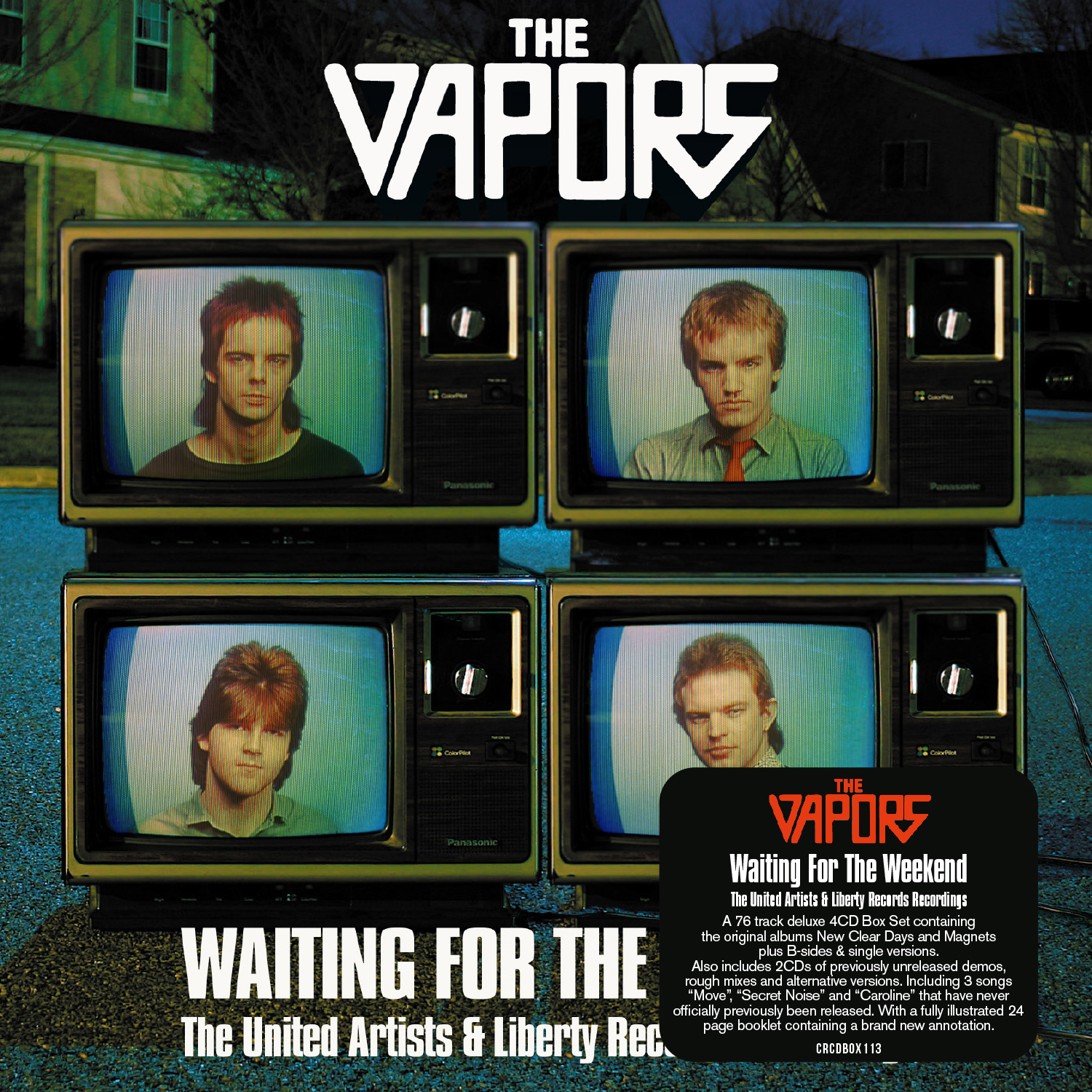 Late Seventies English pop group The Vapors are best known for their 1980 hit single 'Turning Japanese', but anyone looking to dig much deeper into the band's archive will be interested in Waiting For The Weekend: The United Artists and Liberty Recordings, a new four-CD box set from Cherry Red that includes two albums and two CDs of previously unreleased demos, rough mixes, alternative and live versions.
Formed in 1978, 'discovered' by The Jam's Bruce Foxton and managed by Paul Weller's Dad, John, the group signed to United Artists in 1979. They released two studio albums: New Clear Days in 1980 (which features 'Turning Japanese') and Magnets, released 18 months later in December 1981. The Vapors broke up in 1982, but reformed in 2016, playing dates for a few years. They released a new studio album in 2020 called Together.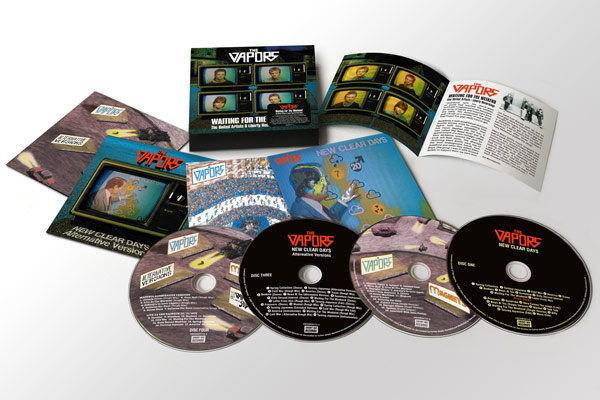 The new box set features significantly expanded versions of both studio albums on the first two CDs. Disc three features a 21-track album of alternative versions of songs from New Clear Days, all of which are previously unreleased, including four different versions of 'Turning Japanese'.
The fourth and final CD features alternative versions of songs from Magnets and 11 tracks Live At The Rainbow 03/12/1979. Again, all of these are previously unreleased. In amongst all bonus material are three completely 'new' songs: 'Move', 'Secret Noise' and 'Caroline' that have never officially previously been released. The audio in this package has been mastered from the original master tapes retrieved from the EMI Archives
The clamshell box includes a 24-page booklet containing rare and previously unseen photos with a brand new annotation by Ed Piller.
Waiting For The Weekend: The United Artists & Liberty Recordings will be released on 13 August 2021.
Compare prices and pre-order
The Vapors
Waiting for the Weekend - 4CD box set
Tracklisting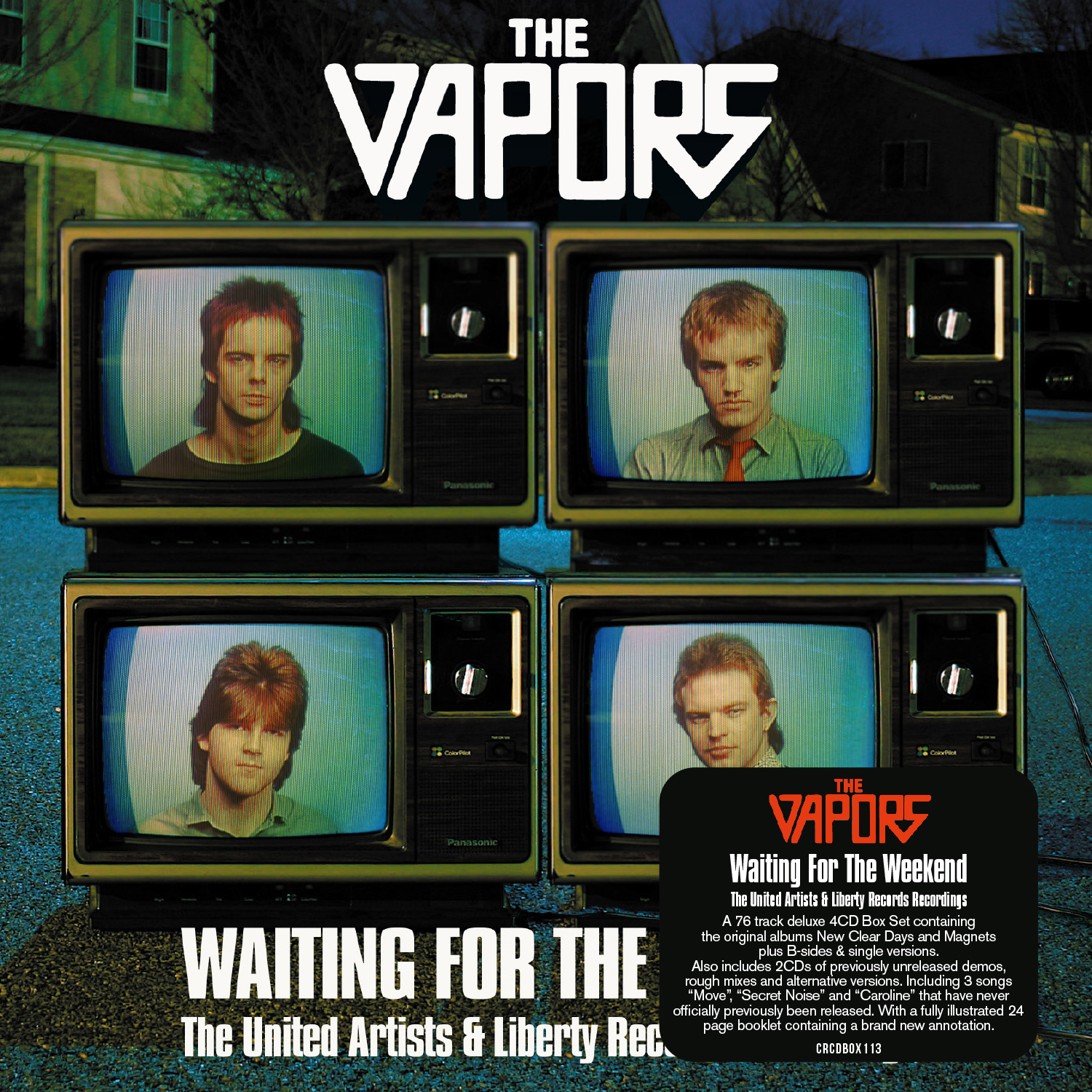 Waiting for the Weekend: The United Artists & Liberty Recordings The Vapors
/
4CD box set
New Clear Days (expanded)

Spring Collection
Turning Japanese
Cold War
America
Trains
Bunkers
News At Ten
Somehow
Sixty Second Interval
Waiting For The Weekend
Letter From Hiro

Bonus Tracks

Prisoners
Sunstroke
Here Comes The Judge (Live)
News At Ten (Single Version)
Wasted
Talk Talk
Waiting For The Weekend
(Single Version)
Billy
Turning Japanese (Edit)
Move (Demo)*

Magnets (expanded)

Jimmie Jones
Spiders
Isolated Case
Civic Hall
Live At The Marquee
Daylight Titans
Johnny's In Love (Again)
Can't Talk Anymore
Lenina
Silver Machines
Magnets

Bonus Tracks

Galleries For Guns
Jimmie Jones (Single
Version)
Daylight Titans (Single
Version)
Spiders (Single Version)
Interview With Dave
Fenton

New Clear Days (Alternative Versions)

Spring Collection (Demo)*
Turning Japanese (Alternative Version)*
Cold War (Rough Mix)*
America (Demo)*
Trains (Rough Mix)*
Bunkers (Demo)*
News At Ten (Alternative Version)*
Somehow (Instrumental)*
Sixty Second Interval (Demo)*
Waiting For The Weekend (Demo)*
Letter From Hiro (Rough Mix)*
Turning Japanese (Edit) (Demo)*
Prisoners (Demo)*
Wasted (Rough Mix)*
Spring Collection (Rough Mix)*
Turning Japanese (Alternative Extended Mix)*
Cold War (Rough Mix Edit)*
America (Instrumental)*
Waiting For The Weekend (Rough Mix)*
Cold War (Alternative Rough Mix)*
Turning Japanese (Instrumental)*

*Previously Unreleased

Magnets (Alternative Versions and Live at The Rainbow 3/12/1979)

Jimmie Jones (Rough Mix)*
Civic Hall (Rough Mix)*
Live At The Marquee (Rough Mix)*
Johnny's In Love (Again) (Rough Mix)*
Galleries For Guns (Rough Mix)*
Secret Noise*
Galleries For Guns (Alternative Rough Mix)*

Live At The Rainbow 03/12/1979

Caroline*
Somehow*
Bunkers*
Sunstroke*
Cold War*
Waiting For The Weekend*
Sixty Second Interval*
Spring Collection*
Turning Japanese*
America*
Prisoners*

* Previously Unreleased