 News
Thin Lizzy / The Boys Are Back in Town: Live at Sydney Opera House 1978
Plus Lynott documentary: Songs For While I'm Away
Mercury Studios are to release a special package that combines a 2020 documentary on Thin Lizzy frontman Phil Lynott with a classic 1978 concert outside the famed Sydney Opera House.
Songs For While I'm Away is the documentary. It was directed by Emer Reynolds and first shown on BBC 2 in the UK in October 2020. It chronicles the life and music of Phil Lynott, utilizing archival footage, interview snippets from the man himself, and music from both the Thin Lizzy and Phil Lynott solo catalog. It includes notable conversations with Midge Ure (an unofficial member of Thin Lizzy between 1979 and 1980), Darren Wharton, Scott Gorham, Adam Clayton, Huey Lewis, James Hetfield and others, as well as Phil's wife Caroline
The 1978 concert in Australia features an array of fan favourites including 'Jailbreak', 'The Boys Are Back In Town', 'Bad Reputation' & more. Although this has been out before on VHS, Laserdisc and DVD this new edition features remixed audio, restored visuals, and includes five additional performances from the concert that have never been officially available. Apparently, the visuals of these newly-found performances don't match the main concert, so you can choose to watch separately or view in sequence.
There's two versions of this package: A blu-ray, DVD and CD set, or a two-DVD set with CD. The only difference is the first has the Songs For While I'm Away on blu-ray, while the second includes that film on DVD. In other words, both versions have the Thin Lizzy Sydney Opera House concert on DVD. The CD includes the 13-tracks from the concert in the order they were played.
The Boys Are Back in Town: Live at the Sydney Opera House 1978 / Songs For While I'm Away is released on 24 June via Mercury Studios.
Compare prices and pre-order
Phil Lynott
The Boys Are Back In Town - blu-ray+DVD+CD
Compare prices and pre-order
Phil Lynott
The Boys Are Back In Town - 2DVD+CD
Tracklisting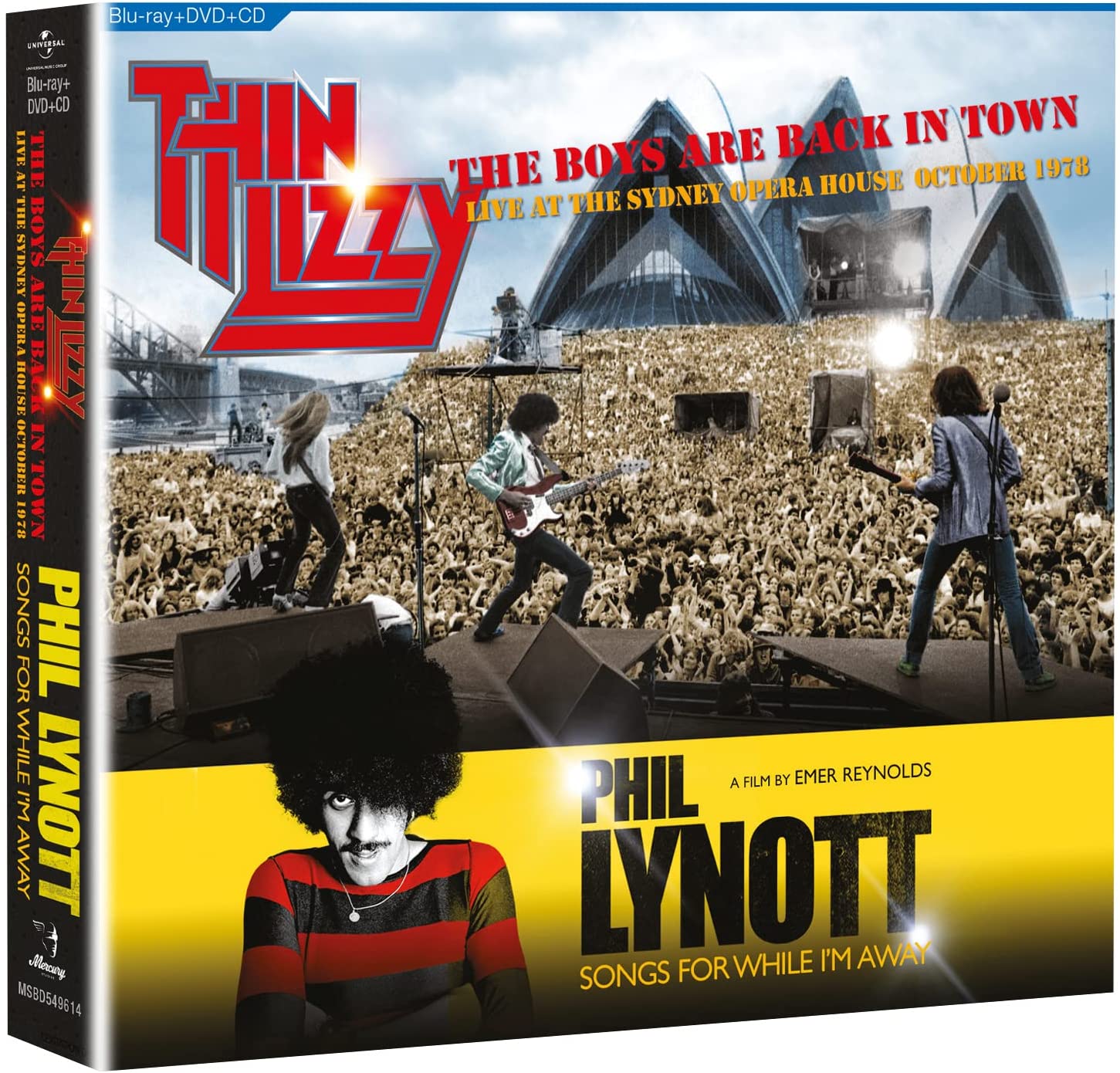 The Boys Are Back in Town / Songs For While I'm Away Thin LIzzy / Phil Lynott
/
blu-ray+DVD+CD
DVD: Thin Lizzy – The Boys Are Back In Town Live At The Sydney Opera House October 1978

Jailbreak
Bad Reputation
Waiting For An Alibi
Cowboy Song
The Boys Are Back In Town
Are You Ready
Me And The Boys
Baby Drives Me Crazy

Lost Sydney Performances

Warriors
Don't Believe A Word
Still In Love With You
Johnny The Fox Meets Jimmy The Weed
Suicide

Blu-ray: Phil Lynott – Songs For While I'm Away

113 minute documentary

CD: Thin Lizzy – The Boys Are Back In Town Live At The Sydney Opera House October 1978

Jailbreak
Bad Reputation
Warriors
Don't Believe A Word
Waiting For An Alibi
Still In Love With You
Johnny The Fox Meets Jimmy The Weed
Cowboy Song
The Boys Are Back In Town
Suicide
Are You Ready
Baby Drives Me Crazy
Me And The Boys