 News
Thirty Years of The Divine Comedy / 24-disc CD box set and vinyl reissues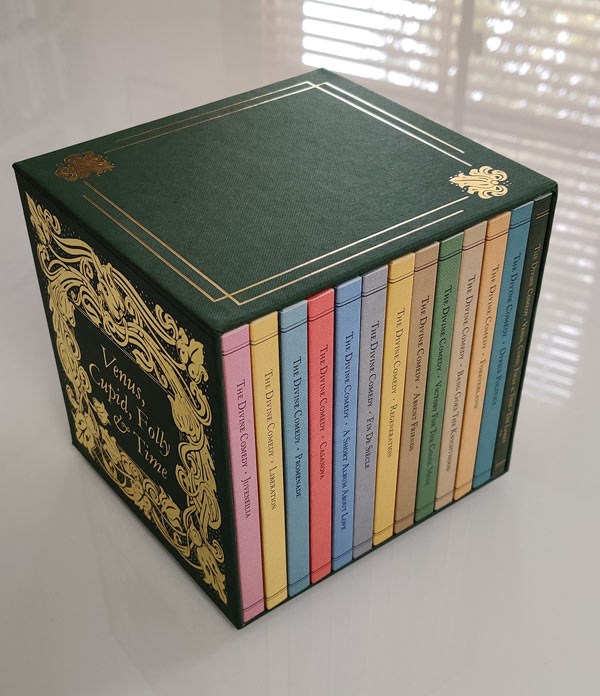 Career spanning box with bonus material • SIGNED by Neil Hannon
The Divine Comedy will remaster and reissue all their albums as 2CD deluxe editions and collect them in a special 24-disc CD box set called Venus, Cupid, Folly and Time – Thirty Years of The Divine Comedy.

The albums in question are Liberation (1993) , Promenade (1994), Casanova (1996), A Short Album About Love (1997), Fin de Siècle (1998), Regeneration (2001), Absent Friends (2004), Victory for the Comic Muse (2006), Bang Goes the Knighthood (2010), Foreverland (2016) and Office Politics (2019).
These two-disc sets in the box have been curated by Neil Hannon and the bonus audio will include B-sides, demos and alternate versions, much of which has never been heard before. A Short Album About Love is actually a CD+DVD set which includes A Short Film About A Short Album About Love – a previously unreleased 50-minute film of the Shepherds Bush Empire concert at which A Short Album.. was recorded, although there are still 11 bonus audio tracks appended to the CD!
Venus, Cupid, Folly and Time – Thirty Years of The Divine Comedy also includes 'Juveneilia' – a 2CD compilation of early material put together by Neil from his personal archive, including recordings stretching back to as early as 1984. Notably, this contains the 'lost' 1990 debut album Fanfare For The Comic Muse and long out-of-print EPs Timewatch and Europop.
The box set also contains new editions of 2016's Foreverland and 2019's Office Politics updated with bonus material and liner notes. So it really does offer, more or less, 'everything'. Even better this limited edition box – available only from the official Divine Comedy store – comes with a numbered 'Letter From The Author' signed by Neil Hannon.

A copy of the box set photographed by SDE
The reissued albums have been remastered from the original tapes at Abbey Road Studios by mastering engineer Frank Arkwright. Overseeing the audio throughout the campaign is engineer/mixer/producer Guy Massey (who did The Beatles stereo remasters, no less).
Remastered vinyl editions are also available from the official store and you get the bonus material on the second CDs as a download. The shop is offering an exclusive badge with their vinyl.
All of the above will be released on 9 October 2020 (was 21 August 2020). Note that any new orders for the box set aren't been fulfilled now until November, but existing pre-orders are going out this week.
In the box set:
Juveneilia (2CD)
Liberation (2CD)
Promenade (2CD)
Casanova (2CD)
A Short Album About Love (CD+DVD)
Fin de Siècle (2CD)
Regeneration (2CD)
Absent Friends (2CD)
Victory For The Comic Muse (2CD)
Bang Goes The Knighthood (2CD)
Foreverland (2CD)
Office Politics (2CD)
Liberation (2CD)
CD 1
Festive Road
Death Of A Supernaturalist
Bernice Bobs Her Hair
I Was Born Yesterday
Your Daddy's Car
Europop
Timewatching
The Pop Singer's Fear Of The Pollen Count
Queen Of The South
Victoria Falls
Three Sisters
Europe By Train
Lucy
CD 2
Untitled Melody
Your Daddy's Car (demo)
Queen Of The South (demo)
Europop (live)
Little Darlin'
Bernice Bobs Her Hair (early idea)
Bontempi Beats 1
The Pop Singers Fear Of The Pollen Count (demo)
Europe By Train (live)
I Can Think (But I Can't Feel)
Lucy (early version)
Festive Road (demo)
Three Sisters (live)
I Was Born Yesterday (alternate version)
Bontempi Beats 2
Christmas With The Hannons
Victoria Falls (demo)
Timewatching (demo)
Bontempi Beats 3
Suzanne (live)
Promenade (2CD)
CD 1
Bath
Going Downhill Fast
The Booklovers
A Seafood Song
Geronimo
Don't Look Down
When The Lights Go Out All Over Europe
The Summerhouse
Neptune's Daughter
A Drinking Song
Ten Seconds To Midnight
Tonight We Fly
CD 2
Ten Seconds To Midnight (alternate version)
Assume The Goldsmith
When The Lights Go Out All Over Europe (live)
Tell Me What's Wrong
Life's What You Make It
Lost Prom Jam
Neptune's Daughter (demo)
Going Downhill Fast (instrumental)
The Booklovers (demo)
The Bright Lights Of Ealing
Bath (alternate version)
The Summerhouse (early idea)
The Summerhouse (live)
When The Lights Go Out All Over Europe (early idea)
A Woman Of The World (Promenade style demo)
Geronimo (live with Yann Tiersen)
Don't Look Down (demo)
A Drinking Song (live)
Only For Tonight
Tonight We Fly (demo)
Casanova (2CD)
CD 1
Something for the Weekend
Becoming More Like Alfie
Middle-Class Heroes
In & Out of Paris & London
Charge
Songs of Love
The Frog Princess
A Woman of the World
Through a Long & Sleepless Night
Theme from Casanova
The Dogs & the Horses
CD 2
Hannon's Game
Birds Of Paradise Farm
A Woman Of The World (early idea)
Motorway To Damascus
Crapper's Delight
Songs Of Love (demo)
Love Is Lighter Than Air
Comme Beaucoup De Messieurs (avec Valérie Lemercier)
Grinchworm
Painting The Forth Bridge
Solsbury Eel
Frog Princess (demo)
My Lovely Horse (from Father Ted)
Father Ted Theme
My Lovely Mayo Mammy (from Father Ted)
The Miracle Is Mine (from Father Ted)
Theme From Casanova (early idea)
Electro Wurly Groove
Something Before The Weekend (early idea)
Something For The Weekend (monitor mix)
Becoming More Like Alfie (monitor mix)
Stereo Laboratory
Through A Long And Sleepless Night (early idea)
The Dogs And The Horses (live)
A Short Album About Love (CD+DVD)
In Pursuit Of Happiness
Everybody Knows (Except You)
Someone
If…
If I Were You (I'd Be Through With Me)
Timewatching
I'm All You Need
Bonus material
Bath (live)
A Short Film About Driving
Everybody Knows (Except You) (early idea)
Johnny Mathis' Feet (live)
I'm All You Need (instrumental demo)
A Short Film About Dreams
Your Daddy's Car (live)
Teach Us To Love
A Short Film About Waiting
A Short Film About Chance
If I Were You (I'd Be Through With Me) (rehearsal version)
Make It Easy On Yourself (live)
Bonus DVD – A Short Film About A Short Album About Love
In Pursuit Of Happiness
Everybody Knows (Except You)
Someone
Timewatching
If…
If I Were You (I'd Be Through With Me)
I'm All You Need
A Drinking Song
Something For The Weekend
The Dogs And The Horses
Fin de Siècle (2CD)
CD 1
Generation Sex
Thrillseeker
Commuter Love
Sweden
Eric The Gardener
National Express
Life On Earth
The Certainty Of Chance
Here Comes The Flood
Sunrise
CD 2
I've Been To A Marvellous Party
Generation Sex (early idea)
Gin Soaked Boy
With Whom To Dance
Thrillseeker (rehearsal version)
Maryland Electric Rainstorm
Little Acts Of Kindness
Life On Earth (early idea)
The Dead Only Quickly
The Winter Blues
London Irish
Here Comes The Flood (demo)
The Certainty Of Chance (demo)
Last Stand In Metroland
Overstrand
Then Four Buses Came Along At Once
National Express (rehearsal version)
Postcard To Rosie
Dear Lord And Father Of Mankind
Regeneration
CD 1
Timestretched
Bad Ambassador
Perfect Lovesong
Note To Self
Lost Property
Eye Of The Needle
Love What You Do
Dumb It Down
Mastermind
Regeneration
The Beauty Regime
CD 2
Get Me To A Monastery
Lost Property (early idea)
You
U.S.E
How's Your Wireless?
Thinking The Unthinkable (demo)
Garden Cities
Timestretched (demo)
Note To Self (live)
Edward The Confessor
Soft Power
Born With A Broken Heart
Mastermind (rehearsal version)
Boy With A Harmonica
Soul Trader
Perfect Lovesong (early idea)
The Night Is Not Enough
No Excuses
Love What You Do (Live)
Absent Friends (2CD)
CD 1
Absent Friends
Sticks and Stones
Leaving Today
Come Home Billy Bird
My Imaginary Friend
The Wreck Of The Beautiful
Our Mutual Friend
The Happy Goth
Freedom Road
Laika's Theme
Charmed Life
CD 2
Absolute Power
Our Mutual Friend (early idea)
The Bird Evolution
Girl Least Likely
Mr Right
Sticks and Stones (demo)
The Dark Horse
Idaho
All Things (alternate version)
Rose For The Lady
Smiler
Absent Friends (demo)
Anthem For Bored Youth (demo)
Our Mutual Friend (alternate version)
Antidepressant
Windy Pop
Laika's Theme (The Promise)
Charmed Life (alternate version)
Victory for the Comic Muse (2CD)
CD 1
To Die A Virgin
Mother Dear
Diva Lady
A Lady Of A Certain Age
The Light Of Day
Threesome
Party Fears Two
Arthur C. Clarke's Mysterious World
The Plough
Count Grassi's Passage Over Piedmont
Snowball In Negative
CD 2
Births, Deaths And Marriages
Diva Lady (acoustic version)
Home (demo)
Pamplemousse
Lili Marlene
Count Grassi's Passage Over Piedmont (early idea)
Count Grassi's Passage Over Piedmont (instrumental)
Trafalgar
Love/Hate Relationship
Miss Sharapova
Don't Blame The Young
Guantanamo
Long Slow Suicide
To Die A Virgin (early idea)
A Little Bit Of Love (Goes A Long Long Way)
Elaine (alternate version)
A Lady Of A Certain Age (instrumental)
Premonition Of Love
Bang Goes the Knighthood (2CD)
CD 1
Down In The Street Below
The Complete Banker
Neapolitan Girl
Bang Goes The Knighthood
At The Indie Disco
Have You Ever Been In Love
Assume The Perpendicular
The Lost Art Of Conversation
Island Life
When A Man Cries
Can You Stand Upon One Leg
I Like
CD 2
Assume The Perpendicular (alternate version)
On The Barge
At The Indie Disco (demo 1)
Girl Overboard
Bang Goes The Knighthood (alternate version)
Beside The Railway Tracks
Have You Ever Been In Love (alternate version)
Oh Christina
Ya Sumeera
Down In The Street Below (demo)
Island Life (demo)
The Bitter End
When A Man Cries (demo)
The Loneliest Man In The World
The Circular Firing Squad
At The Indie Disco (demo 2)
What's Wrong With You
Wide Open Spaces
I Like (alternate version)
Foreverland 2CD
CD 1
Napoleon Complex
Foreverland
Catherine The Great
Funny Peculiar
The Pact
To The Rescue
How Can You Leave Me On My Own
I Joined The Foreign Legion (To Forget)
My Happy Place
A Desperate Man
Other People
The One Who Loves You
CD 2
Napoleon Complex (alternate version)
How Can You Leave Me On My Own (alternate version)
Them Chattering Teeth
The Pact (demo)
Desperate Man (demo)
Your Lucky Day
I Joined The Foreign Legion (early idea)
Breakfast (To Our Fathers In Distress demo)
Reconnecting (To The Rescue early idea)
To The Rescue (demo)
One Ear Up, One Ear Down (demo)
Catherine The Great (demo)
Pictures (alternate Foreverland)
ARP Break
My Happy Place (demo)
Just Can't Get Enough
The One Who Loves You (demo)
C'est Si Bon
I Joined The Foreign Legion (alternate version)
Who Were We (demo)
Office Politics 2CD
CD 1
Queuejumper
Office Politics
Norman Abnd Norma
Absolutely Obsolete
Infernal Machines
You'll Never Work In This Town Again
Psychological Evaluation
The Synthesizer Service Centre Super Summer Sale
The Life And Soul Of The Party
A Feather In Your Cap
I'm A Stranger Here
Dark Days Are Here Again
Philip And Steve's Furniture Removal Company
Opportunity Knox
After The Lord Mayor's Show
When The Working Day Is Done
CD 2

The Divine Comedy Ltd
Where Have All The Milkmen Gone
Take Your Drum
After The Lord Mayor's Show (alternate version)
Olivia, New Tron Song
The Life And Soul Of The Party (alternate version 1)
You'll Never Work In This Town Again (alternate version)
The Erotic Dreams Of Andrea Palladio
Absolutely Obsolete (demo)
Death And The Mellotron
Dark Days Are Here Again (early version)
The Berlin Airlift
Queuejumper (early version)
Pop Muzik
Large Mellotron Collider
The Life And Soul Of The Party (alternate version 2)
Infernal Machines (early version)
Turning Japanese
Norman And Norma (demo)
Nordyland 83
Philip And Steve's Furniture Removal Company (alternate version)