 News
Tina Turner / Break Every Rule deluxe reissue
3CD+2DVD box set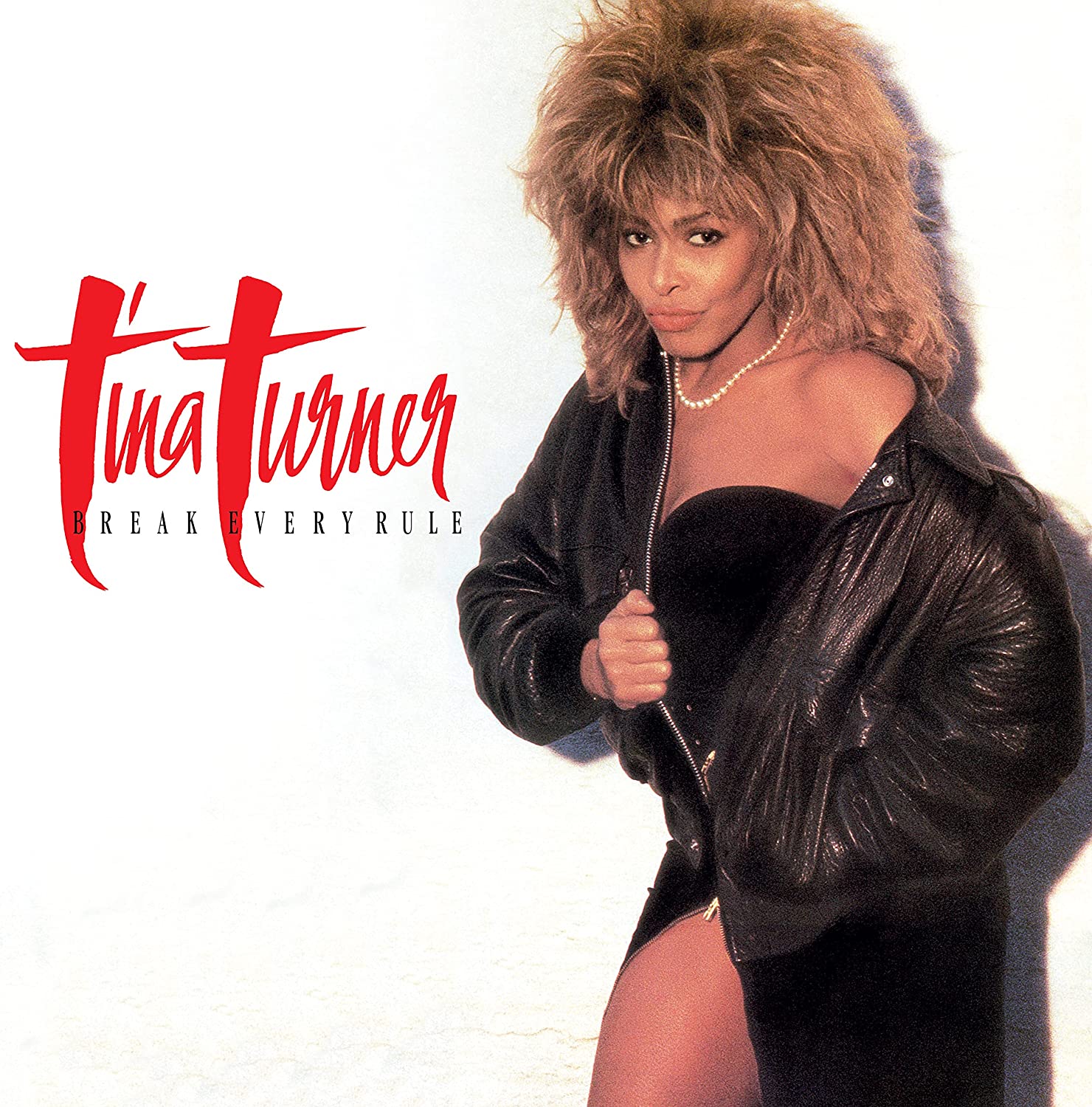 Tina Turner's 1986 album Break Every Rule will be reissued next month across three physical formats, including a 3CD+2DVD box set.
Turner had enjoyed massive success with her Private Dancer album of 1984 and then consolidated that with the 1985 hit single 'We Don't Need Another Hero (Thunderdome)', the theme tune to Mad Max: Beyond Thunderdome. Another song from that soundtrack ('One of the Living') and the Bryan Adams duet 'It's Only Love' kept Tina in the charts before she returned with what was her sixth solo studio album, Break Every Rule in September '86.
Just like 'We Don't Need Another Hero', the lead single 'Typical Male' peaked at number two on the Billboard Hot 100, denying Tuner another chart-topper (1984's 'What's Love Got To Do With It' was ultimately her only solo number one in America, and she didn't have any in the UK).
Various singles were released in different territories, but in the UK there were no really big hits, with 'What You Get Is What You See' doing the best, but still only peaking at number 30. The album features the David Bowie / Erdal Kizilcay composition 'Girls', which Bowie later recorded himself, although his actions lead us to believe that he regarded it as only B-side quality (he put it on the flip-side his 1987 single 'Time Will Crawl').
The 3CD+2DVD deluxe reissue offers the album remastered, a CD of remixes/non-album tracks, Tina live at Rio from 16 January 1988 (on CD and DVD) and then finally a DVD featuring Live at Camden Palace in November 1986 and promo videos. A 2CD deluxe pairs the remastered album with the remixes/non-album cuts and this is also available on remastered vinyl.
Break Every Rule will be reissued on 25 November 2022 via Parlophone.
Compare prices and pre-order
Tina Turner
Break Every Rule - 3CD+2DVD box set
Compare prices and pre-order
Tina Turner
Break Every Rule - 2CD deluxe
Compare prices and pre-order
Tina Turner
Break Every Rule - vinyl LP
Tracklisting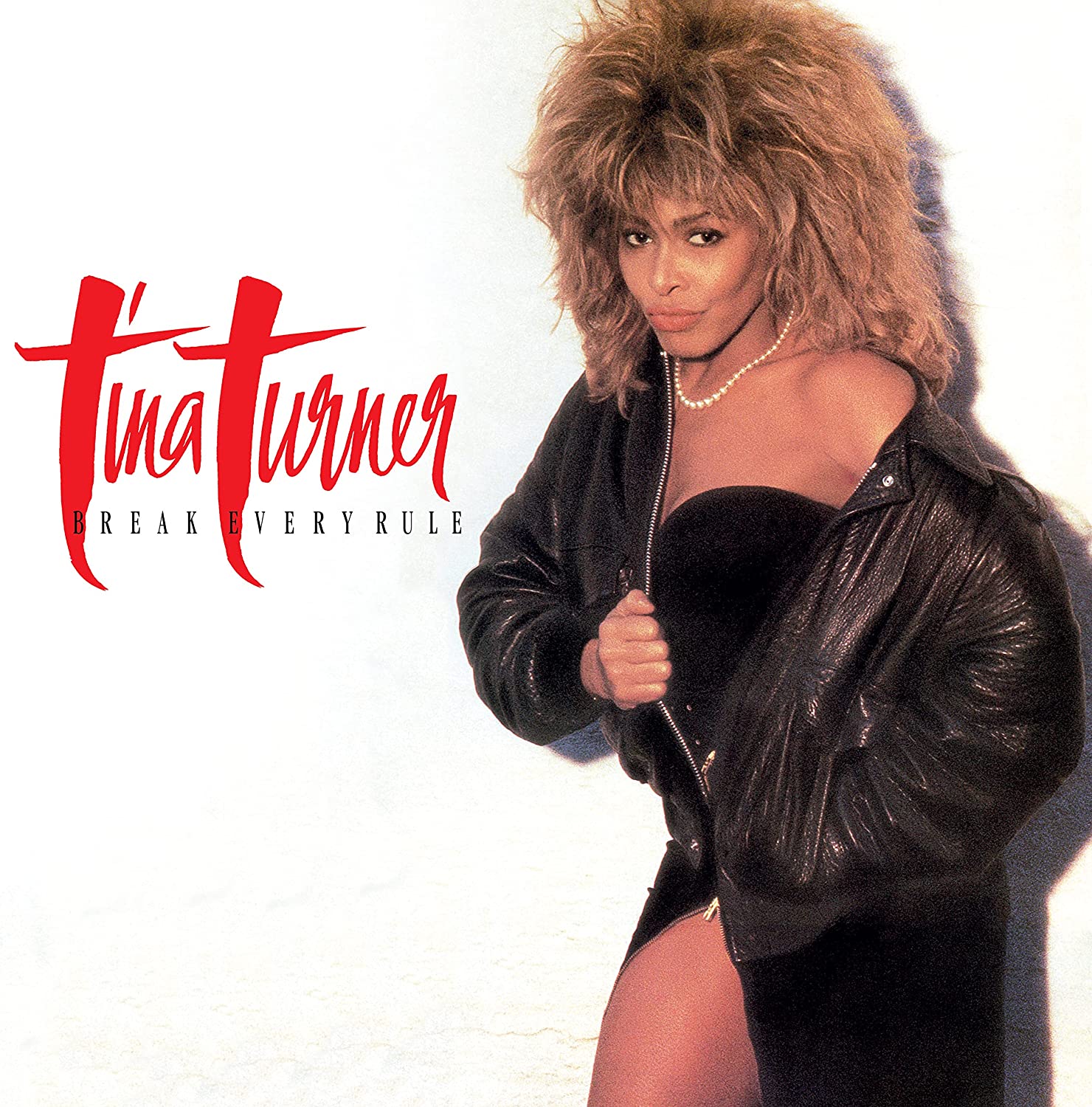 Break Every Rule Tina Turner
/
CD 1

Typical Male (2022 Remaster)
What You Get Is What You See (2022 Remaster)
Two People (2022 Remaster)
Till The Right Man Comes Along (2022 Remaster)
Afterglow (2022 Remaster)
Girls (2022 Remaster)
Back Where You Started (2022 Remaster)
Break Every Rule (2022 Remaster)
Overnight Sensation (2022 Remaster)
Paradise Is Here (2022 Remaster)
I'll Be Thunder (2022 Remaster)

CD 2

Don't Turn Around (2022 Remaster)
Havin' A Party (2022 Remaster)
Take Me To The River (2022 Remaster)
Typical Male (12″ Dance Mix) [2022 Remaster]
Two People (Dance Mix) [2022 Remaster]
What You Get Is What You See (Extended Dance Mix) [2022 Remaster]
The Tina Turner Montage Mix (2022 Remaster)
Break Every Rule (Extended Dance Mix) [2022 Remaster]
Afterglow (Vocal Dance Mix) [2022 Remaster]
Paradise Is Here (Live) [Full Length Version] [2022 Remaster]

CD 3: Live in Rio 16/1/88

Addicted To Love (Live in Rio: 16/1/88) [2022 Remaster]
I Can't Stand the Rain (Live in Rio: 16/1/88) [2022 Remaster]
Typical Male (Live in Rio: 16/1/88) [2022 Remaster]
Better Be Good to Me (Live in Rio: 16/1/88) [2022 Remaster]
Private Dancer (Live in Rio: 16/1/88) [2022 Remaster]
We Don't Need Another Hero (Thunderdome) [Live in Rio: 16/1/88] [2022 Remaster]
What's Love Got to Do with It (Live in Rio: 16/1/88) [2022 Remaster]
Help (Live in Rio: 16/1/88) [2022 Remaster]
Let's Stay Together (Live in Rio: 16/1/88) [2022 Remaster]
Proud Mary (Live in Rio: 16/1/88) [2022 Remaster]
What You Get Is What You See (Live in Rio: 16/1/88) [2022 Remaster]
Break Every Rule (Live in Rio: 16/1/88) [2022 Remaster]
Paradise Is Here (Live in Rio: 16/1/88) [2022 Remaster]

DVD 1: Live in Rio 16/1/88

Addicted To Love (Live in Rio: 16/1/88) [2022 Remaster]
I Can't Stand the Rain (Live in Rio: 16/1/88) [2022 Remaster]
Typical Male (Live in Rio: 16/1/88) [2022 Remaster]
Better Be Good to Me (Live in Rio: 16/1/88) [2022 Remaster]
Private Dancer (Live in Rio: 16/1/88) [2022 Remaster]
We Don't Need Another Hero (Thunderdome) [Live in Rio: 16/1/88] [2022 Remaster]
What's Love Got to Do with It (Live in Rio: 16/1/88) [2022 Remaster]
Help (Live in Rio: 16/1/88) [2022 Remaster]
Let's Stay Together (Live in Rio: 16/1/88) [2022 Remaster]
Proud Mary (Live in Rio: 16/1/88) [2022 Remaster]
What You Get Is What You See (Live in Rio: 16/1/88) [2022 Remaster]
Break Every Rule (Live in Rio: 16/1/88) [2022 Remaster]
Paradise Is Here (Live in Rio: 16/1/88) [2022 Remaster]

DVD 2

Camden Palace

Afterglow (Live: Camden Palace, London – 11/86) [2022 Remaster]
Intro: Max Headroom (Live: Camden Palace, London – 11/86) [2022 Remaster]
Back Where You Started (Live: Camden Palace, London – 11/86) [2022 Remaster]
Break Every Rule (Live: Camden Palace, London – 11/86) [2022 Remaster]
What You Get Is What You See (Live: Camden Palace, London – 11/86) [2022 Remaster]
Overnight Sensation (Live: Camden Palace, London – 11/86) [2022 Remaster]
A Change Is Gonna Come (Live: Camden Palace, London – 11/86) [2022 Remaster]
Two People (Live: Camden Palace, London – 11/86) [2022 Remaster]
Addicted To Love (Live: Camden Palace, London – 11/86) [2022 Remaster]
In The Midnight Hour (Live: Camden Palace, London – 11/86; 2022 Remaster)
634-5789 (with Robert Cray) [Live: Camden Palace, London – 11/86] [2022 Remaster]
Land Of 1,000 Dances (Live: Camden Palace, London – 11/86) [2022 Remaster]
Paradise Is Here (Promo Video with End Credits) [Live: Camden Palace, London – 11/86] [2022 Remaster]

Promo Videos

Typical Male (Promo Video) [2022 Remaster]
Two People (Promo Video) [2022 Remaster]
What You Get Is What You See (Promo Video) [2022 Remaster]
Girls (Promo Video) [2022 Remaster]
Break Every Rule (Promo Video) [2022 Remaster]
Paradise Is Here (Promo Video) [2022 Remaster]
Two People (Tina's Hollywood Version) [2022 Remaster]

CD 1

Typical Male (2022 Remaster)
What You Get Is What You See (2022 Remaster)
Two People (2022 Remaster)
Till The Right Man Comes Along (2022 Remaster)
Afterglow (2022 Remaster)
Girls (2022 Remaster)
Back Where You Started (2022 Remaster)
Break Every Rule (2022 Remaster)
Overnight Sensation (2022 Remaster)
Paradise Is Here (2022 Remaster)
I'll Be Thunder (2022 Remaster)

CD 2

Don't Turn Around (2022 Remaster)
Havin' A Party (2022 Remaster)
Take Me To The River (2022 Remaster)
Typical Male (12″ Dance Mix) [2022 Remaster]
Two People (Dance Mix) [2022 Remaster]
What You Get Is What You See (Extended Dance Mix) [2022 Remaster]
The Tina Turner Montage Mix (2022 Remaster)
Break Every Rule (Extended Dance Mix) [2022 Remaster]
Afterglow (Vocal Dance Mix) [2022 Remaster]
Paradise Is Here (Live) [Full Length Version] [2022 Remaster]

Typical Male (2022 Remaster)
What You Get Is What You See (2022 Remaster)
Two People (2022 Remaster)
Till The Right Man Comes Along (2022 Remaster)
Afterglow (2022 Remaster)
Girls (2022 Remaster)
Back Where You Started (2022 Remaster)
Break Every Rule (2022 Remaster)
Overnight Sensation (2022 Remaster)
Paradise Is Here (2022 Remaster)
I'll Be Thunder (2022 Remaster)