 News
Todd Rundgren / A Wizard, a True Star and Faithful – limited coloured vinyl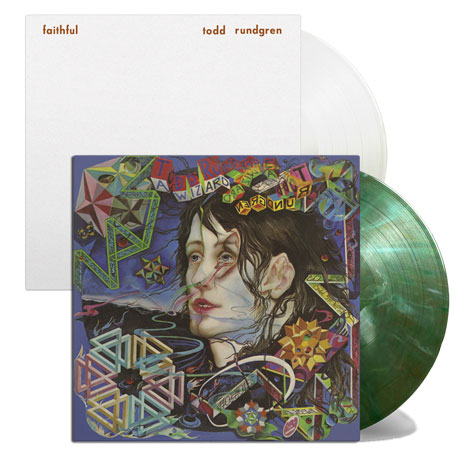 Music On Vinyl continue their Todd Rundgren reissue campaign with limited edition coloured vinyl pressings of 1973's A Wizard, a True Star and Faithful, from 1976.

A Wizard, a True Star saw Rundgren change direction significantly from the previous album (1972's Something/Anything) and the American musician delivered an almost hallucinatory musical experience, particularly on the scatty, frantic side one. The second side calms down somewhat and contains the single 'Sometimes I Don't Know What To Feel' and the ten-minute soul medley that features covers of five songs.
Talking of covers, Faithful (Todd's seventh album and three down the line from AWATS) features six covers including two Lennon-McCartney songs in 'Rain' and 'Strawberry Fields Forever'. He doesn't attempt to radically reinterpret the originals which is where the Faithful title comes from. The second side is all Rundgren originals.
Both these new vinyl pressings are limited to 1000 units and Faithful is pressed on white vinyl while A Wizard, a True Star is a gold/ white / transparent green mix (and housed in a gatefold package).
These are released on 22 November 2019 and can be pre-ordered from the SDE shop using this link or the buttons below.
A Wizard, A True Star green vinyl LP
SIDE A

1. International Feel 2. Never Never Land 3. Tic Tic Tic It Wears Off 4. You Need Your Head 5. Rock And Roll Pussy 6. Dogfight Giggle 7. You Don't Have To Camp Around 8. Flamingo 2 9. Zen Archer 10. Just Another Onionhead; Da Da Dali 11. When The Shit Hits The Fan; Sunset Blvd. 12. Le Feel Internacionale
Side B
1. Sometimes I Don't Know What To Feel 2. Does Anybody Love You? 3. Medley: I'm So Proud Ooh Baby Baby La La Means I Love You Cool Jerk 4. Hungry For Love 5. I Don't Want To Tie You Down 6. Is It My Name? 7. Just One Victory
Faithful white vinyl LP
SIDE A

1. Happenings Ten Years Time Ago 2. Good Vibrations 3. Rain 4. Most Likely You Go Your Way And I'll Go Mine 5. If Six Was Nine 6. Strawberry Fields Forever
Side B
1. Black And White 2. Love Of The Common Man 3. When I Pray 4. Cliché 5. The Verb "To Love" 6. Boogies (Hamburger Hell)