 News
Toto / All In: 1978-2018 / 13CD box set
13CD box set • All audio newly remastered • Well priced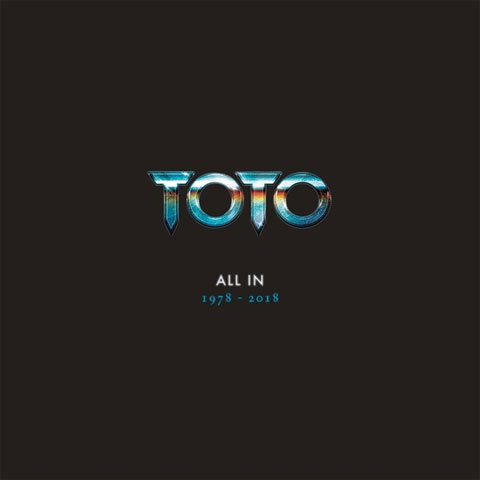 After a big box with CDs and vinyl was sold direct to fans via their website last year, Toto are reissuing their back catalog as a CD-only box set and making it available via all the usual retailer channels. 'All In' is the name of this set and it will feature 13 remastered albums on CD.

The set includes 11 studios albums (Toto, Hydra, Turn Back, IV, Isolation, Fahrenheit, The Seventh One, Kingdom of Desire, Tambu, Mindfields, Toto XX) a previously unreleased Live In Tokyo EP and a compilation 'The Old Is New' featuring 10 tracks (including seven previously unreleased songs).




All of the music in the box set was personally remastered by Toto along with Elliot Scheiner. Also included in the box set is a 24-page booklet which includes new essays, and previously unseen photos.

This 'All In' 13CD box is released on 24 May 2019, and a few weeks later is some territories. Amazon France seem to have the best deal at the moment.


Compare prices and pre-order
CD 1: Toto (1978
1. Child's Anthem
2. I'll Supply the Love
3. Georgy Porg
4. Manuela Run
5. You Are the Flower
6. Girl Goodbye
7. Takin' It Back
8. Rockmaker
9. Hold the Line
10. Angela
CD 2: Hydra (1979)
1. Hydra
2. St. George and the Dragon
3. 99
4. Lorraine
5. All Us Boys
6. Mama
7. White Sister
8. A Secret Love
CD 3: Live In Tokyo EP (1980 tour)
1. St. George and the Dragon
2. Mama
3. Tale of a Man
4. White Sister
5. Runaway
CD 4: Turn Back (1981)
1. Gift with a Golden Gun
2. English Eyes
3. Live for Today
4. Million Miles Away
5. Goodbye Elenore
6. I Think I Could Stand You Forever
7. Turn Back
8. If It's the Last Night
CD 5: Toto IV (1982)
1. Rosanna
2. Make Believe
3. I Won't Hold You Back
4. Good for You
5. It's a Feeling
6. Afraid of Love
7. Lovers in the Night
8. We Made It
9. Waiting for Your Love
10. Africa
CD 6: Isolation (1984)
1. Carmen
2. Lion
3. Stranger In Town
4. Angel Don't Cry
5. How Does It Feel
6. Endless
7. Isolation
8. Mr. Friendly
9. Change of Heart
10. Holyanna
CD 7: Farenheit (1986)
1. Till the End
2. We Can Make It Tonight
3. Without Your Love
4. Can't Stand It Any Longer
5. I'll Be Over You
6. Fahrenheit
7. Somewhere Tonight
8. Could This Be Love
9. Lea
10. Don't Stop Me Now
CD 8: The Seventh One (1988)
1. Pamela
2. You Got Me
3. Anna
4. Stop Loving You
5. Mushanga
6. Stay Away
7. Straight for the Heart
8. Only the Children
9. A Thousand Years
10. These Chains
11. Home of the Brave
CD 9: Kingdom of Desire (1992)
1. Gypsy Train
2. Don't Chain My Heart
3. Never Enough
4. How Many Times
5. 2 Hearts
6. Wings Of Time
7. She Knows The Devil
8. The Other Side
9. Kick Down the Walls
10. Only You
11. Kingdom of Desire
12. Jake to the Bone
CD 10: Tambu (1995)
1. Gift Of Faith
2. I Will Remember
3. Slipped Away
4. If You Belong to Me
5. Baby He's Your Man
6. The Other End Of Time
7. The Turning Point
8. Time Is The Enemy
9. Drag Him To The Roof
10. Just Can't Get To You
11. Dave's Gone Skiing
12. The Road Goes On
13. Blackeye
CD 11: Toto XX (1998)
1. Goin' Home
2. Tale Of A Man
3. Last Night
4. In A Word
5. Modern Eyes
6. Right Part Of Me
7. Mrs. Johnson
8. Miss Sun
9. Love Is A Man's World
10. Baba Mnumzane
11. Africa
CD 12: Mindfields (1999)
1. Cruel
2. Mysterious Ways
3. Mindfields
4. High Price Of Hate
5. Selfish
6. No Love
7. Caught In the Balance
8. Last Love
9. Mad About You
10. One Road
11. Melanie
12. After You've Gone
13. Better World
14. Spanish Steps
CD 13 / Old Is New
1. Alone
2. Devil's Tower
3. Fearful Heart
4. Spanish Sea
5. In a Little While
6. Chelsea
7. Chase the Rain
8. Oh Why
9. Struck By Lightning
10. We'll Keep On Running – What So Not & Toto feat. Skrillex