 News
Transvision Vamp / I Want Your Love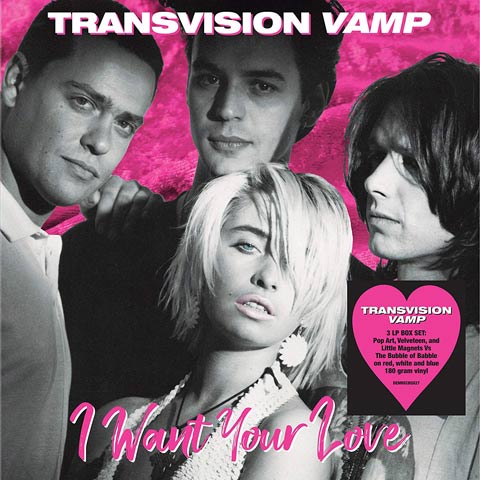 3LP coloured vinyl box set • All three albums
Transvision Vamp's three albums for MCA, including the unreleased-in-the-UK third album, are brought together in I Want Your Love, a new 3LP vinyl box set.

Fronted by the irrepressible Wendy James the band's blend of pop-punk was successful for a while and both 1988's Pop Art and the following year's Velveteen (a number one album) spawned big top ten UK singles ('I Want Your Love' and 'Baby I Don't Care' respectively).
When pre-album singles for third long-player Little Magnets Vs The Bubble Of Babble stalled at the lower reachese of the UK Top 40 in 1991, the UK arm of MCA Records decided against releasing the album in Britain, although it saw moderate success in Australia, New Zealand and Sweden. The band subsequently broke up in 1992.
This new vinyl box set has has the trio of albums pressed on 180g red, white and blue vinyl and these are housed in a rigid slipcase. It will be released on 7 December 2018 via Demon Records.
Compare prices and pre-order
Transvision Vamp
I Want your love - 3LP vinyl box
POP ART
SIDE ONE
1. Trash City
2. I Want Your Love
3. Sister Moon
4. Psychosonic Cindy
5. Revolution Baby
SIDE TWO
1. Tell That Girl To Shut Up
2. Wild Star
3. Hanging Out With Halo Jones
4. Andy Warhol's Dead
5. Sex Kick
VELVETEEN
SIDE ONE
1. Baby I Don't Care
2. The Only One
3. Landslide Of Love
4. Falling For A Goldmine
5. Down On You
6. Song To The Stars
SIDE TWO
1. Kiss Their Sons
2. Born To Be Sold
3. Pay The Ghosts
4. Bad Valentine
5. Velveteen
LITTLE MAGNETS VERSUS THE
BUBBLE OF BABBLE
SIDE ONE
1. (I Just Wanna) B With U
2. Ain't No Rules
3. If Looks Could Kill
4. Every Little Thing
5. Twangy Wigout
SIDE TWO
1. Don't Believe The Type
2. Pressure Times
3. Crawl Out Your Window
4. You Put A Spell On Me
5. Back On My Knees Again