 News
Van Der Graaf Generator / The Aerosol Grey Machine 50th anniversary box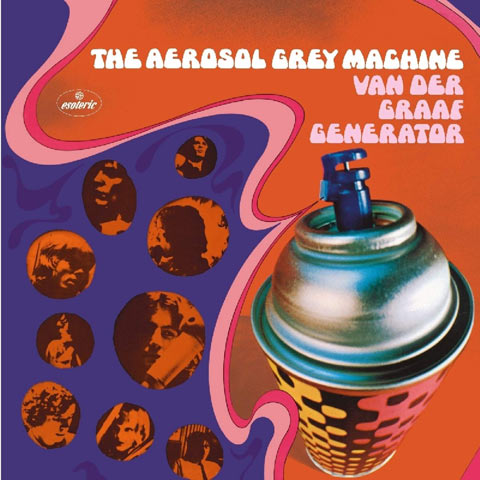 Four-disc deluxe set featuring LP, 2CD, 7″ single & book
English progressive rock band Van Der Graaf Generator celebrate half a century of their debut album, The Aerosol Grey Machine, with a deluxe box set this month.

Formed in Manchester University in 1967, the VDGG initially featured Peter Hammill (vocals, guitar), with Chris Judge Smith (drums, vocals) and Nick Pearne (organ). The band signed to Mercury Records in May 1968 after the submission of a two-track demo tape. Nick Pearne departed the fold and Hammill and Smith relocated to London recruiting keyboard player Hugh Banton. By the Autumn of 1968 the band had signed a management contract with Tony Stratton-Smith and after recruiting drummer Guy Evans and bassist Keith Ellis into the group, were set to go.
Unreleased in the UK at the time, The Aerosol Grey Machine was originally meant to be a solo effort by singer Peter Hammill, but due to contractual obligations with Mercury Records, it was agreed to release it under the band's moniker so that Hammill could be released from that contract and sign to Charisma.
This new edition of the album, which essentially invented prog rock, comes as large format four disc deluxe edition comprising a vinyl record, two CDs and a seven-inch single, along with a book and poster designed by Peter Hammill.
The vinyl – cut at Abbey Road studios – comes housed in the withdrawn UK gatefold sleeve, and the two-CD set features a host of previously unreleased and rare material, including a pair of demos from 1967, their BBC Top Gear session from 1968 (including the once-feared 'lost' version of 'Octopus') as well as a seven-inch single of 'People You Were Going To' and 'Firebrand'. The book comes with many unseen photos as well as a new exclusive interview with Hammill.
The Aerosol Grey Machine is released 26 April 2019
Compare prices and pre-order
Van Der Graaf Generator
The Aerosol Gray Machine - 4-disc box set
The Aerosol Grey Machine 50th anniversary box set
Vinyl
Side one:
Afterwards
Orthentian Street (Parts 1 & 2)
Running Back
Into A Game
Side two:
Aerosol Grey Machine
Black Smoke Yen
Aquarian
Octopus
Necromancer
CD 1
THE AEROSOL GREY MACHINE
Afterwards
Orthentian Street (Parts 1 & 2)
Running Back
Into A Game
Ferret And Featherbird
Aerosol Grey Machine
Black Smoke Yen
Aquarian
Giant Squid
Octopus
Necromancer
CD 2
Firebrand (1967 Demo) (Previously unreleased)
Sunshine (1967 Demo) (Previously unreleased)
People You Were Going To (BBC Session – November 1968)
Afterwards (BBC Session – November 1968)
Necromancer (BBC Session – November 1968)
Octopus (BBC Session – November 1968) (Previously Unreleased)
People You Were Going To (Single Version)
Firebrand (Single Version)
7-INCH SINGLE:
SIDE A
People You Were Going To
SIDE B
Firebrand