 News
Various Artists / Musik Music Musique: 1980 The Dawn of Synth Pop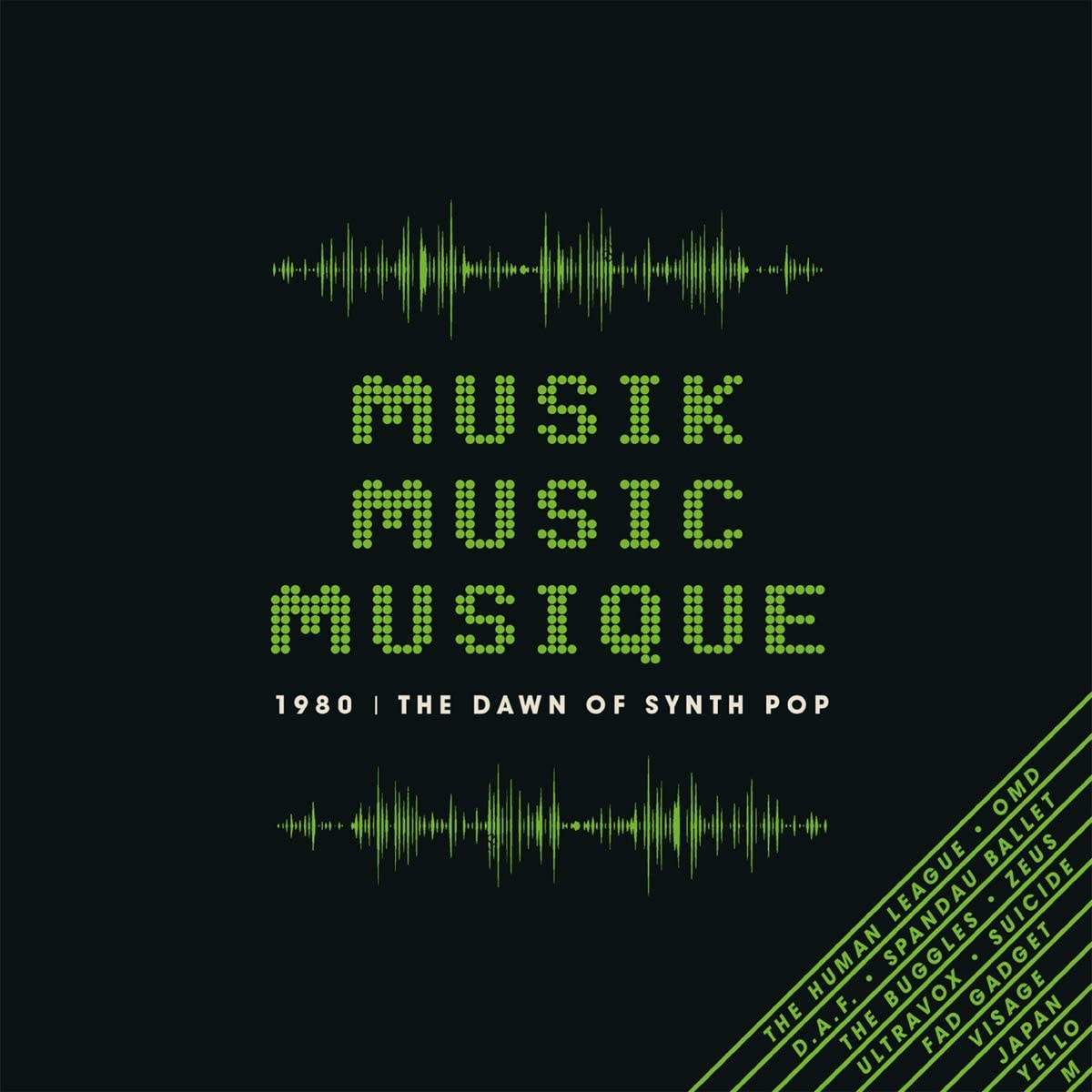 3CD synth-pop set explores the very beginnings of the movement
Cherry Red will issue Musik Music Musique in July, a new three-disc various artists compilation that explores the arrival of synth-pop.

This collection – subtitled '1980 The Dawn of Synth Pop'  – focuses on that one year and songs by household names (OMD, The Human League, Ultravox, Toyah, Spandau Ballet, The Buggles) rub shoulders tracks from the likes of Fad Gadget, Dalek I Love You, The Residents along with some forgotten gems and lesser-known curios.
There's 58 tracks in total and this 3CD set comes with sleeve notes by Mat Smith (who writes for Electronic Sound magazine).
Musik Music Musique will be released on 31 July 2020.
Compare prices and pre-order
Various Artists
Musik Music Musique - 3CD set
CD 1
1. Messages – Orchestral Manoeuvres in the Dark
2. Musik, Music, Musique – Zeus
3. Coitus Interruptus – Fad Gadget
4. Computed Man – Xynn
5. Metal Love – Rod Vey
6. Performance Vendor's Box – Gina X
7. Lawnchairs – Our Daughter's Wedding
8. Tokyo – Science
9. Only After Dark – the Human League
10. Victims of the Riddle – Toyah
11. DCT Dreams – Nick Nicely
12. Diamonds, Fur Coat, Champagne – Suicide
13. Waiting – Ultravox
14. Money – Moebius
15. Falling Years – the Fallout Club
16. Da Vorne Steht Ne Ampel – Der Plan
17. No, Nothing, Never – Dark Day
18. Sons and Lovers – Hazel O'Connor
19. Sympathy – Pauline Murray and the Invisible Girls
CD 2
1. Glow – Spandau Ballet
2. Official Secrets – M
3. Chip N Roll – Silicon Teens
4. Galactica – Rockets
5. Tuning in Tuning on – Kim Wilde
6. European Man – Landscape
7. Can't You Take a Joke? Ha Ha Hi Hi! – Henriette Coulouvrat
8. A Circuit Like Me – the Metronomes
9. No One Driving – John Foxx
10. Kebabträume – D.A.F
11. Harmonitalk – Gary Sloan and Clone
12. Yellow Pearl – Philip Lynott
13. Dalek I Love You (Destiny) – Dalek I
14. Mannequin – Taxi Girl
15. This World of Water – New Musik
16. Quiet Life – Japan
17. Chase the Dragon – Kevin Harrison
18. Diskomo – the Residents
CD 3
1. Astroboy (And the Proles on Parade) – Buggles
2. Mannequin – Berlin Blondes
3. A Certain Way to Go – the Passage
4. Between – Sic
5. Bimbo – Yello
6. Images of Delusion – Genocide
7. The Lonely Spy –
8. Lori and the Chameleons
9. Lucy – Craze
10. I'm a Computer – the Goo-Q
11. Doctor…? – Blood Donor
12. Brushing Your Hair – Alex Fergusson
13. Drawn and Quartered – the Korgis
14. Mind of a Toy – Visage
15. D'ya Think I'm Sexy – British Standard Unit
16. Living Wild – Mataya Clifford
17. Private Lives – Systems
18. The Eyes Have It – Karel Fialka
19. Suis-Je Normale – Nini Raviolette
20. China Blue Vision – Eyeless in Gaza
21. The Russians Are Coming – the Red Squares
22. Dampfriemen – la Dusseldorf