 News
Vince Guaraldi / A Charlie Brown Christmas
Expanded deluxe editions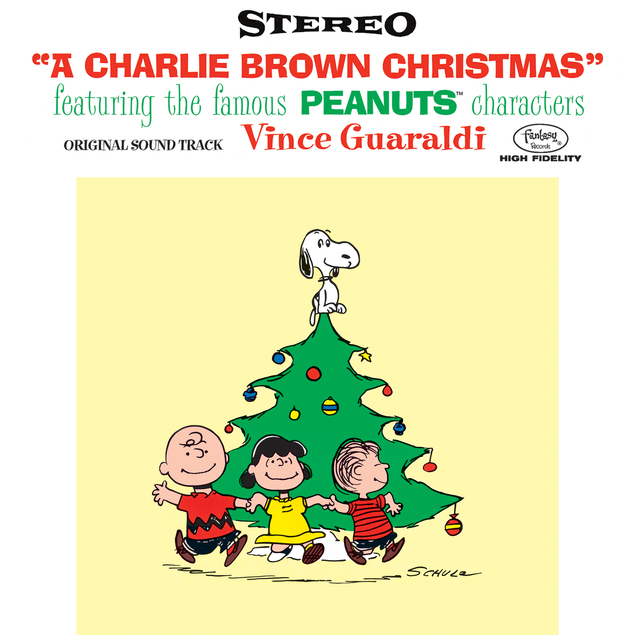 Vince Guaraldi's score from the classic 1965 animated Peanuts special, A Charlie Brown Christmas, is subject of a major reissue campaign from Craft Recordings.
One the the best selling jazz albums of all time is explored across a number of formats, including a comprehensive 4CD+blu-ray super deluxe edition, which features hours of newly unearthed session tapes from Fantasy Records' vaults. This set also offers a blu-ray audio with a Dolby Atmos Mix and hi-res stereo mixes.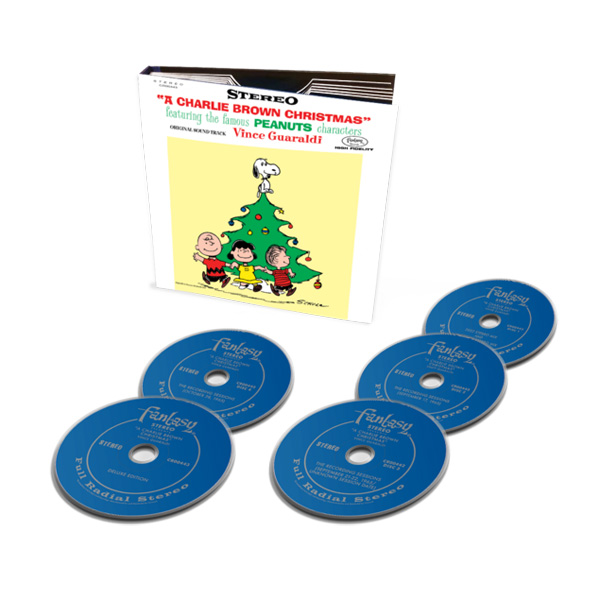 In fact, the standard version of the album has now been upgraded with a new stereo mix from engineer, Paul Blakemore. This features on a special 2LP deluxe vinyl which offers 13 bonus alternates. An expanded CD edition mirrors this content.
A single LP vinyl edition maintains the original 1965 mix but for this reissue is offered in gold foil sleeved with embossing details. So the outside cover is gold, but the actual vinyl is available in a number of coloured vinyl variants, depending on retailer.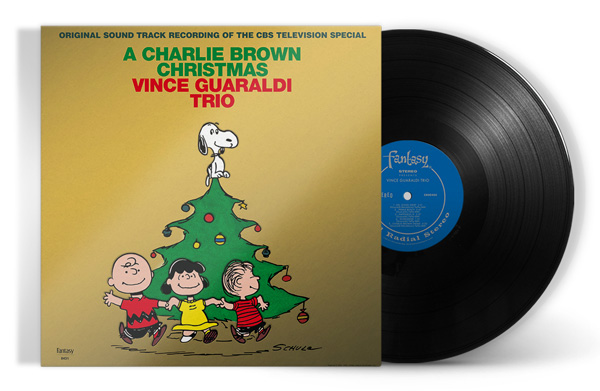 The super deluxe offers more than 50 never-before-heard outtakes from five recording sessions and features both mixes of the album on CD 1. It is housed in a hardcover book which helps to guide fans through the entire recording process, via new, in-depth sleeve notes by Derrick Bang – a Peanuts expert.
The single LP vinyl editions of A Charlie Brown Christmas are released on 16 September 2022. The super deluxe, 2LP and single CD editions follow on 2 December (was 14 October), via Craft Recordings.
Compare prices and pre-order
Vince Guaraldi Trio
A Charlie Brown Christmas - 4CD+blu-ray super deluxe
Compare prices and pre-order
Vince Guaraldi Trio
A Charlie Brown Christmas - gold foil vinyl LP
Compare prices and pre-order
Vince Guaraldi Trio
A Charlie Brown Christmas - expanded CD with 13 bonus tracks
Compare prices and pre-order
Vince Guaraldi Trio
A Charlie Brown Christmas - 2LP vinyl with 13 bonus tracks
Tracklisting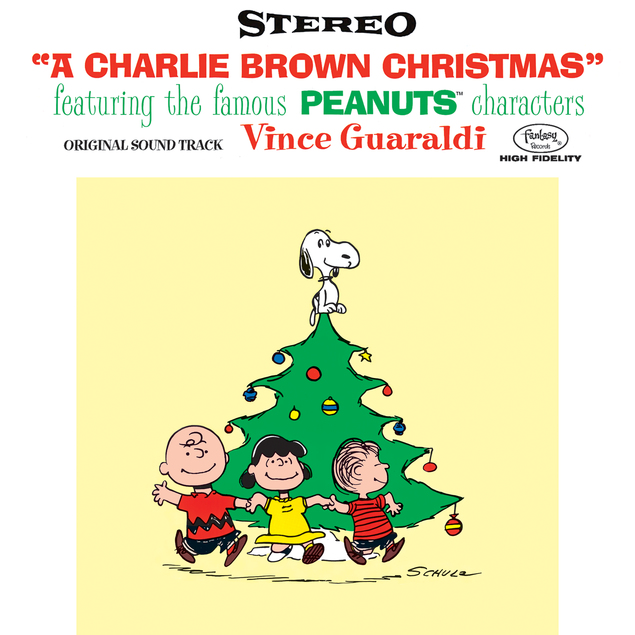 A Charlie Brown Christmas Vince Guaraldi
/
Side 1

O Tannenbaum
What Child Is This
My Little Drum
Linus & Lucy
Christmas Time Is Here (instrumental)

Side 2

Christmas Time Is Here (vocal)
Skating
Hark, The Herald Angels Sing
Christmas Is Coming
Für Elise
The Christmas Song

CD 1

A Charlie Brown Christmas (2022 Stereo Mix)

O Tannenbaum
What Child Is This
My Little Drum
Linus And Lucy
Christmas Time Is Here (Instrumental)
Christmas Time Is Here (Vocal)
Skating
Hark, The Herald Angels Sing
Christmas Is Coming
Für Elise
The Christmas Song

A Charlie Brown Christmas (Original Stereo Mix)

O Tannenbaum
What Child Is This
My Little Drum
Linus And Lucy
Christmas Time Is Here (Instrumental)
Christmas Time Is Here (Vocal)
Skating
Hark, The Herald Angels Sing
Christmas Is Coming
Für Elise
The Christmas Song

CD 2: The Recording Sessions (September 17, 1965)

Christmas Is Coming (#1, Take 1)
Christmas Is Coming (#1, Take 2)
Christmas Is Coming (#1, Take 3)
Christmas Is Coming (#1, Takes 4–5)
Christmas Is Coming (#1, Take 6)
Christmas Is Coming (#1, Take 7)
Christmas Time Is Here (Instrumental) (#2, Takes 1–2)
Christmas Time Is Here (Instrumental) (#2, Take 3)
Skating (Unnumbered)
Skating (#3, Takes 1–2)
Skating (#3, Take 3)
Skating (#3, Takes 4–6)
Skating (#3, Take 7)
Linus And Lucy (#4, Take 1)
Christmas Is Coming (#5, Take 1)
Christmas Is Coming (#5, Take 2)
Christmas Is Coming (#5, Take 3)
Christmas Is Coming (#5, Take 4)
Christmas Time Is Here (Instrumental) (#6, Take 1)
Christmas Time Is Here (Instrumental) (#6, Take 2)

CD 3: The Recording Sessions (September 21-22, 1965/Recording Date Unknown)

Christmas Is Coming (#1, Take 1)
Christmas Is Coming (#1, Take 2)
Christmas Is Coming (#1, Take 3)
Christmas Is Coming (#1, Takes 4–6)
Christmas Is Coming (#1, Take 7)
O Tannenbaum (#2, Take 1)
O Tannenbaum (#2, Take 2)
O Tannenbaum (#2, Takes 3–4)
O Tannenbaum (#2, Take 5)
Jingle Bells (#3, Takes 1–4)
Goin' Out Of My Head (Unnumbered)
Christmas Time Is Here (Instrumental) (#6, Take 3)
Skating (#7, Take 1)
Skating (#7, Take 2)
Für Elise (Takes 1–2)
Christmas Time Is Here (Vocal) (#1, Take 1)
Christmas Time Is Here (Vocal) (#1, Takes 2–3)
Christmas Time Is Here (Vocal) (#1, Take 4)
Christmas Time Is Here (Vocal) (#1, Take 5)
Christmas Time Is Here (Vocal) (Rehearsal)
Christmas Time Is Here (Vocal) (#1, Take 6)
Christmas Time Is Here (Vocal) (#1, Take 7)

CD 4: The Recording Sessions (October 28, 1965)

Greensleeves (Take 1)
Greensleeves (Takes 2–4)
Greensleeves (Take 5)
Greensleeves (Take 6)
Greensleeves (Take 7)
Greensleeves (Take 8)
Greensleeves (Takes 9–10)
Greensleeves (Take 11)
Greensleeves (Take 12)
The Christmas Song (Take 1)
The Christmas Song (Takes 2–3)
The Christmas Song (Takes 4–7)
The Christmas Song (Take 8)
The Christmas Song (Take 9)
The Christmas Song (Take 10)
The Christmas Song (Take 11)

Blu-ray Audio

A Charlie Brown Christmas (2022 Stereo Mix) (Hi-Resolution Audio)
A Charlie Brown Christmas (2022 Dolby Atmos Mix)

CD

A Charlie Brown Christmas (2022 Stereo Mix)

Tannenbaum
What Child Is This
My Little Drum
Linus & Lucy
Christmas Time Is Here (Instrumental)
Christmas Time Is Here (Vocal)
Skating
Hark, The Herald Angels Sing
Christmas Is Coming
Für Elise
The Christmas Song

Bonus tracks

Tannenbaum (Take 2/Recorded September 21, 1965)
Tannenbaum (Take 3/Recorded September 21, 1965)
Greensleeves (Take 6/Recorded October 28, 1965)
Linus And Lucy (Take 1/Recorded September 17, 1965)
Christmas Time Is Here (Take 1/Recorded September 17, 1965)
Christmas Time Is Here (Vocal) (Rehearsal/Recording Date Unknown)
Christmas Time Is Here (Take 4/Recording Date Unknown)
Skating (Take 1/Recorded September 22, 1965)
Jingle Bells (Takes 1–4/Recorded September 21, 1965)
Christmas Is Coming (Take 3/Recorded September 17, 1965)
Christmas Is Coming (Take 3/Recorded September 21, 1965)
Für Elise (Takes 1–2/Recording Date Unknown)
The Christmas Song (Take 8/Recorded October 28, 1965)

Side 1

O Tannenbaum
What Child Is This
My Little Drum
Linus & Lucy
Christmas Time Is Here (instrumental)

Side 2

Christmas Time Is Here (vocal)
Skating
Hark, The Herald Angels Sing
Christmas Is Coming
Für Elise
The Christmas Song

Side 3

O Tannenbaum (Take 2/Recorded September 21, 1965)
O Tannenbaum (Take 3/Recorded September 21, 1965)
Greensleeves (Take 6/Recorded October 28, 1965)
Linus And Lucy (Take 1/Recorded September 17, 1965)
Christmas Time Is Here (Take 1/Recorded September 17, 1965)
Christmas Time Is Here (Vocal) (Rehearsal/Recording Date Unknown)
Christmas Time Is Here (Take 4/Recording Date Unknown)

Side 4

Skating (Take 1/Recorded September 22, 1965)
Jingle Bells (Takes 1–4/Recorded September 21, 1965)
Christmas Is Coming (Take 3/Recorded September 17, 1965)
Christmas Is Coming (Take 3/Recorded September 21, 1965)
Für Elise (Takes 1–2/Recording Date Unknown)
The Christmas Song (Take 8/Recorded October 28, 1965)