 News
Young Limbs Rise Again: The Story of the Batcave Nightclub 1982-1985
Goth-themed compilation on 5CD and 6LP vinyl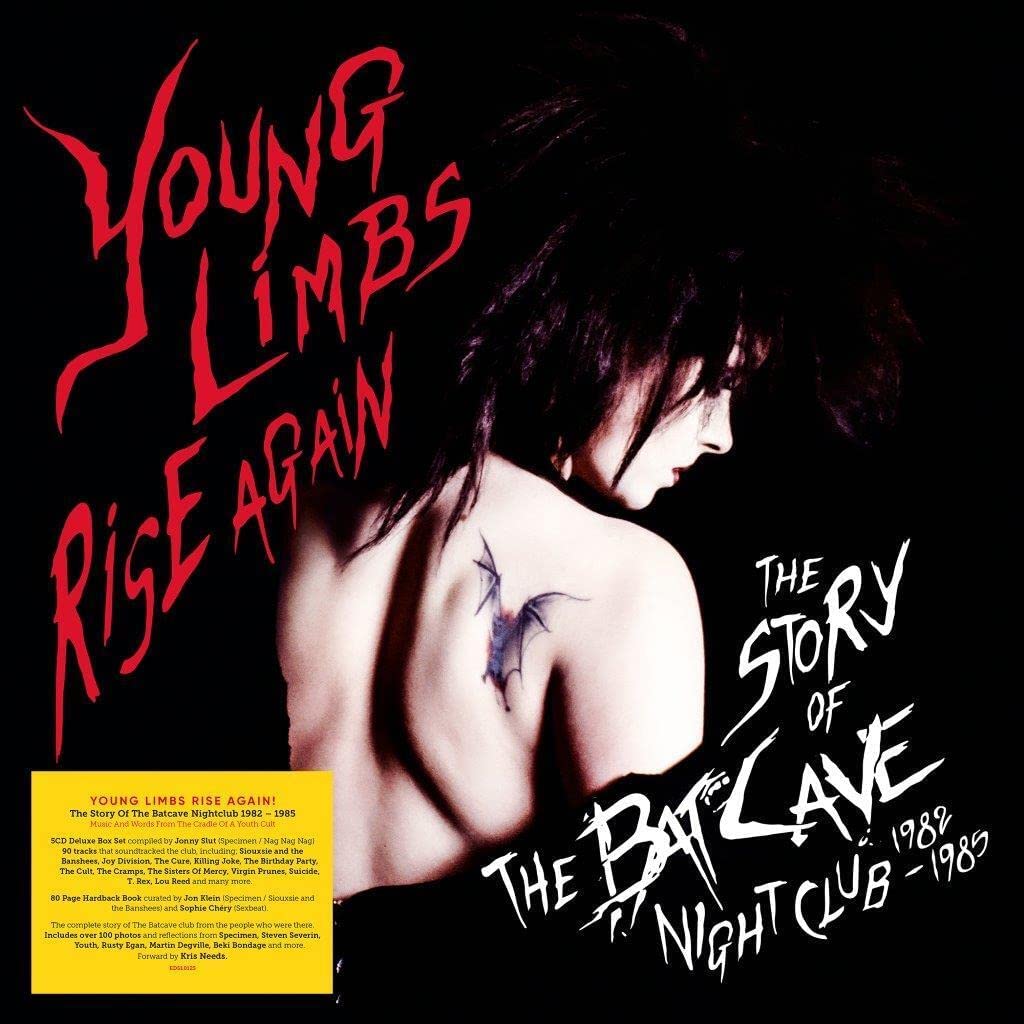 Features tracks from The Cure, Siouxsie and the Banshees, Killing Joke, The Birthday Party, Joy Division, Soft Cell, Specimen, Sweet, T-Rex, Roxy Music, New York Dolls, Sparks, The Velvet Underground and more…
Young Limbs Rise Again is a forthcoming compilation album that celebrates the subculture of Goth via the music that was played, and the bands that performed at the legendary Batcave, a weekly club night hosted in London's Dean Street (and later in Leicester Square) in the early 1980s.
By the summer of '82, The Batcave became a focus for alternative club culture, just like The Roxy and The Blitz before it and it's "No Funk, No Disco" rule set it apart from other club nights at that time. Famous regulars included musicians and singers such as Nick Cave, Robert Smith of the Cure, Siouxsie Sioux, Steven Severin, members of Bauhaus, Marc Almond and many others. Acts would play live (the club even had its own house band, Specimen) and visitors could enjoy four-hour DJ sets.
It was a light bulb for all the people like me who were from the sticks and wanted a bit more from life. Freaks, weirdos, sexual deviants, there's people around who'll always be attracted by something shiny, glittering, exciting

Jonny Slut, Specimen
The Young Limbs Rise Again collection attempts to capture both the fun and freedom of The Batcave while also looking back to reflect the musical influences on the scene and examining how that scene pointed forwards. There's plenty of space in which to do that, since it's offered as a 5CD or 6LP vinyl set. Both come with an 80-page hardcover book with an introduction from Kris Needs, packed with flyers, record sleeves, over 100 photographs, many previously unseen, and the whole story of the club as told by the people who were there.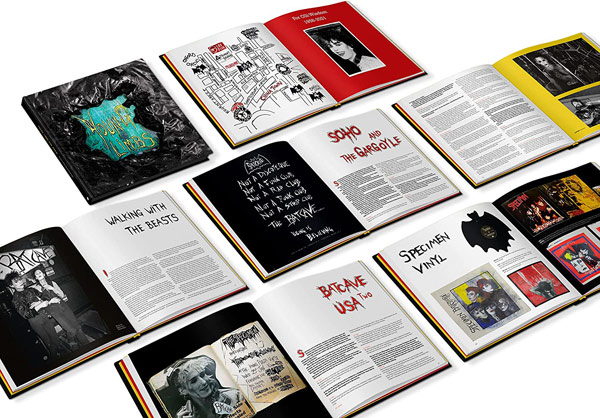 Both big sets are broken down into themed albums and the 6LP vinyl offers 63 songs while the more generous (and cheaper) 5CD large format box delivers 89 tracks. There's a 2LP vinyl edition for a more concise overview.
Specimen's Jon Klein and Jonny Slut, along with Sophie Chery (from another stalwart Batcave band, Sexbeat), have worked with the record company to help putting together this musical and visual accompaniment to this very specific moment in time.
Young Limbs Rise Again: The Story of the Batcave Nightclub 1982-1985 will be released on 24 February 2023, via Demon Music.
Compare prices and pre-order
Various Artists
Young Limbs Rise Again - 5CD set
Compare prices and pre-order
Various Artists
Young Limbs Rise Again - 6LP vinyl box
Compare prices and pre-order
Various Artists
Young Limbs Rise Again - 2LP vinyl
Tracklisting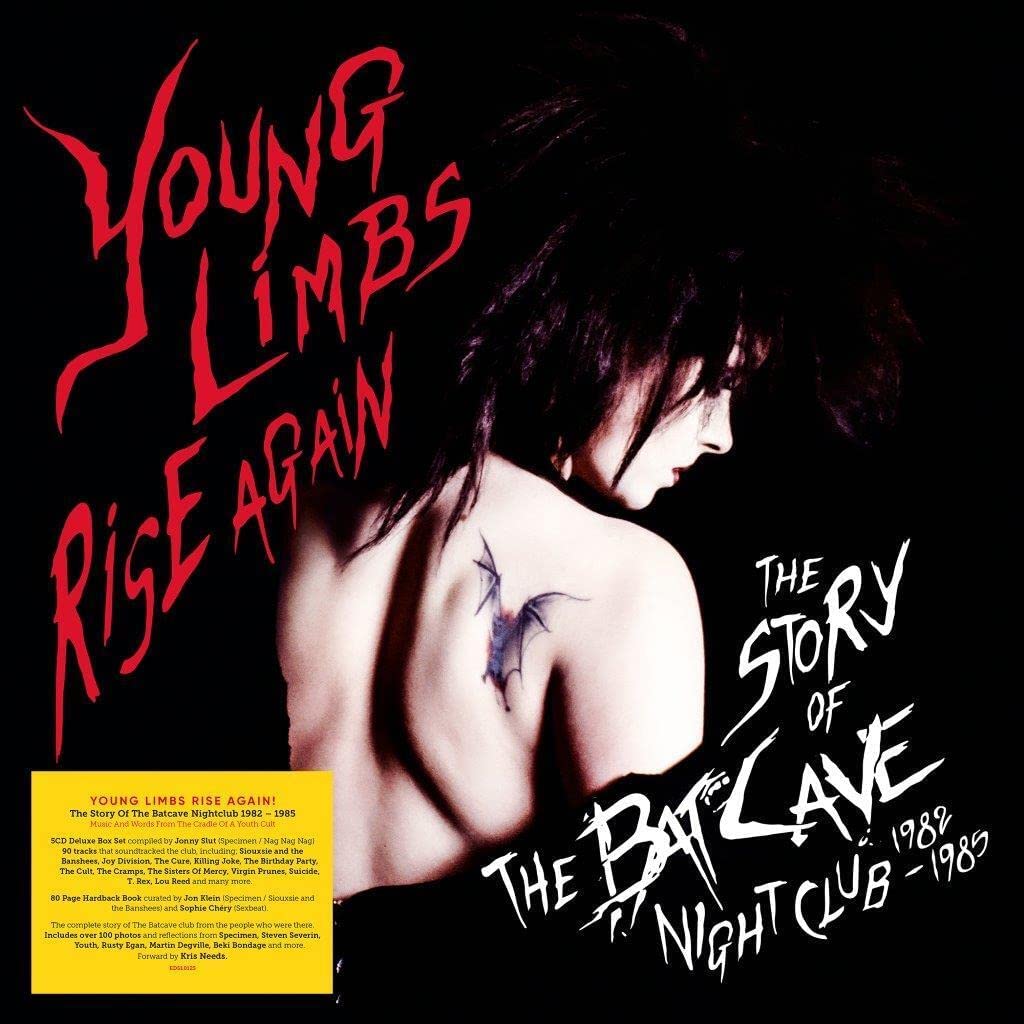 Young Limbs Rise Again: The Story of the Batcave Nightclub 1982-1985 Various Artists
/
CD 1: THE HOP (A NIGHT ON THE DANCEFLOOR 1)

Temple Of Love (Extended Version)- The Sisters Of Mercy 7.40
Let's Go To Bed- The Cure 3.34
Isolation- Joy Division 2.53
Resurrection Joe (Long Version)- The Cult 6.04
Garbageman- The Cramps-3.34
Kiss Kiss Bang Bang (12" Version)- Specimen- 5.00
Pagan Lovesong (Vibeakimbo)- Virgin Prunes 6.49
Incubus Succubus- Xmal Deutschland 4.43
The Hop- Theatre Of Hate 2.57
This Is Not A Love Song (12" Version)- PiL 4.29
Subterraneans- Flesh For Lulu 5.1
Against The Wind- Getting The Fear 3.3
Club Country (12" Version)- The Associates 6.57
Cccan't You See… – Vicious Pink 3.32
Misty Circles- Dead Or Alive 3.39
The Light Pours Out Of Me- Magazine 3.28
All About You- Scars 5.06

CD 2: SLOWDIVE (A NIGHT ON THE DANCEFLOOR 2)

Follow The Leaders- Killing Joke 5.35
Slowdive- Siouxsie and the Banshees 4.18
Release The Bats- The Birthday Party 2.35
We Love You- The Psychedelic Furs 3.27
Fodder- The March Violets 2.30
Black Leather- Nightmares In Wax 5.04
Your Turn To Run- Malaria! 4.09
Planet Claire- The B52's 4.33
The Back Of Love- Echo and the Bunnymen 3.13
I Travel (Extended Version)- Simple Minds 6.03
My Daddy Is A Vampire- The Meteors 3.32
Strict Tempo- Dave Ball featuring Gavin Friday 3.42
Collapsing New People- Fad Gadget 4.15
Heaven Is Waiting- The Danse Society 3.45
Nemesis- Shriekback 3.40
United- Throbbing Gristle 4.00
Sweat- Sexbeat 3.00
Holes- Specimen 4.00
I Wish I Was A Girl- Wasted Youth 5.43

CD 3: ADOLESCENT SEX (A NIGHT ON THE DANCEFLOOR 3)

Temptation- New Order 5.24
Soul Inside- Soft Cell 4.31
Uncertain Smile- The The 4.55
Ignore The Machine- Alien Sex Fiend 6.47
Alice- The Sisters Of Mercy 3.34
Copped It- The Fall 4.15
Adolescent Sex- Japan 3.42
Kick!- Adam & The Ants 2.06
Qual- Xmal Deutschland 3.55
Human Fly- The Cramps 2.12
Dr Mabuse (First Life)-Propaganda- 5.02
Metal Dance- SPK 3.39
Being Boiled-The Human League 4.22
The Beauty Of Poison (12" Mix)- Specimen 4.15
Like An Animal- The Glove 4.42
Punch Drunk- Gene Loves Jezebel 2.23
Baby Turns Blue- Virgin Prunes 3.43
Jo's So Mean To Josephine- Flowerpot Men 5.00
She's Fallen In Love With A Monster Man- The Revillos 3.18

CD 4: SEXBEAT (THE BANDS WHO PLAYED)

Dead Man's Autochop- Specimen 3.57
Sexbeat-Sexbeat 3.35
I.P. – Alien Sex Fiend 3.49
Deathwish- Christian Death 2.13
Sleaze- Marc and the Mambas 7.22
Propaganda- Play Dead 3.15
Roman Candle (12" Version)- Flesh For Lulu 10.18
Fats Terminal- Bone Orchard 2.45
Last Year's Wife (12" Version)- Zero LeCrêche 4.35
Dance With Me- Lords Of The New Church 3.43
Tracey's Burning- Anorexic Dread 9.33
Cuts- Lets Wreck Mother 3.06
Raymond- Turkey Bones & The Wild Dogs 8.33
The Gold Of Our Lives- Furyo 3.48
Torment- Marc and the Mambas 4.21

CD 5: HELL RAISER (THE GLAM ROCK ROOTS)

Hell Raiser- The Sweet 3.16
Telegram Sam – T Rex 3.42
Vicious- Lou Reed 2.55
All I Want Is You- Roxy Music 2.53
Amateur Hour- Sparks 3.37
Jet Boy- New York Dolls 4.41
Funtime- Iggy Pop 2.53
Ghost Rider- Suicide 2.33
Roll Away The Stone- Mott The Hoople 3.11
Mr Soft- Cockney Rebel 3.17
Needles In The Camel's Eye- Brian Eno 3.15
Only After Dark- Mick Ronson 3.31
Night Time- Wayne County and the Electric Chairs 3.28
Then He Kissed Me- Hollywood Brats 3.13
Cherry Bomb- The Runaways 2.18
Kick Out The Jams-MC5 2.45
I'm Waiting For The Man- Velvet Underground 4.37 1
Dance With The Devil- Cozy Powell 3.33
New York Groove- Hello 2.45

LP 1: THE HOP (A NIGHT ON THE DANCEFLOOR 1)

SIDE 1

Temple Of Love (Extended Version) – The Sisters Of Mercy 7.40
Let's Go To Bed – The Cure 3.34
Incubus Succubus II – Xmal Deutschland 4.43
The Light Pours Out Of Me – Magazine 3.28
Garbageman – The Cramps-3.34

SIDE 2

Kiss Kiss Bang Bang – Specimen- 5.00
Pagan Lovesong (Vibeakimbo) – Virgin Prunes 6.49
Against The Wind – Getting The Fear 3.42
The Hop – Theatre Of Hate 2.57
Fodder – The March Violets 2.30

LP 2: SLOWDIVE (A NIGHT ON THE DANCEFLOOR 2)

SIDE 1

Follow The Leaders – Killing Joke 5.35
Slowdive – Siouxsie and the Banshees 4.18
Release The Bats – The Birthday Party 2.35
We Love You – The Psychedelic Furs 3.27
Black Leather – Nightmares In Wax 5.04
Strict Tempo – Dave Ball featuring Gavin Friday 3.42

SIDE 2

Planet Claire – The B52's 4.33
My Daddy Is A Vampire – The Meteors 3.32
United – Throbbing Gristle 4.00
Collapsing New People – Fad Gadget 4.15
I Wish I Was A Girl – Wasted Youth 5.43

LP 3: ADOLESCENT SEX (A NIGHT ON THE DANCEFLOOR 3)

Side 1

Ignore The Machine – Alien Sex Fiend 6.47
Being Boiled – The Human League 4.22
Soul Inside – Soft Cell 4.31
Copped It – The Fall 4.15
Kick! – Adam & The Ants 2.06

SIDE 2

Adolescent Sex – Japan 3.42
Dr Mabuse (First Life) – Propaganda 5.02
Like An Animal – The Glove 4.42
Punch Drunk – Gene Loves Jezebel 2.23
Jo's So Mean To Josephine – Flowerpot Men 5.00

LP 4: CLUB COUNTRY (A NIGHT ON THE DANCEFLOOR 4)

SIDE 1

Resurrection Joe (Long Version) – The Cult 6.04
Club Country (12" Version) – The Associates 6.57
All About You – Scars 5.06
Your Turn To Run – Malaria! 4.09
Metal Dance – SPK 3.39

SIDE 2

This Is Not A Love Song (12" Version) – PiL 4.29
The Back Of Love – Echo and the Bunnymen 3.13
I Travel (Extended Version) – Simple Minds 6.03
The The – Uncertain Smile 4.56
Cccan't You See… – Vicious Pink 3.32

LP 5: SEXBEAT (THE BANDS WHO PLAYED)

SIDE 1

Dead Man's Autochop – Specimen 3.57
Sexbeat – Sexbeat 3.35
RIP – Alien Sex Fiend 3.49
Last Year's Wife (12" Version) – Zero LeCrêche 4.35
Sleaze – Marc and the Mambas 7.22

SIDE 2

Roman Candle (12" Version) – Flesh For Lulu 10.18
Deathwish – Christian Death 2.13
Dance With Me – Lords Of The New Church 3.43
Propaganda – Play Dead 3.15
Fats Terminal – Bone Orchard 2.45

LP 6: HELL RAISER (THE GLAM ROCK ROOTS)

SIDE 1

Hell Raiser- The Sweet 3.16
Telegram Sam – T Rex 3.42
All I Want Is You- Roxy Music 2.53
Roll Away The Stone- Mott The Hoople 3.11
Needles In The Camel's Eye- Brian Eno 3.15
Only After Dark- Mick Ronson 3.31

SIDE 2

Amateur Hour- Sparks 3.37
Jet Boy- New York Dolls 4.41
Vicious- Lou Reed 2.55
Ghost Rider- Suicide 2.33
Fun Time- Iggy Pop 2.53
Devil Gate Drive- Suzi Quatro 3.47

LP 1: SEXBEAT : A NIGHT ON THE DANCEFLOOR

SIDE 1

Kiss Kiss Bang Bang (12" Version) – Specimen 4.53
Alice – The Sisters Of Mercy 3.34
Pagan Lovesong (Vibeakimbo) – Virgin Prunes 6.49
Sexbeat – Sexbeat 3.35
Release The Bats – The Birthday Party 2.35

SIDE 2

Ignore The Machine – Alien Sex Fiend 6.47
Follow The Leaders – Killing Joke 5.35
Human Fly – The Cramps 2.12
Let's Go To Bed – The Cure 3.34
Slowdive – Siouxsie and the Banshees 4.18

LP 2: THE HOP : A NIGHT ON THE DANCEFLOOR 2

SIDE 1

Resurrection Joe (Long Version) – The Cult 6.04
Deathwish – Christian Death 2.13
The Hop – Theatre Of Hate 2.57
Soul Inside – Soft Cell 4.31
I Wish I Was A Girl – Wasted Youth 5.43

SIDE 2

Roman Candle (12" Version) – Flesh For Lulu 10.18
Incubus Succubus II – Xmal Deutschland 4.43
Propaganda – Play Dead 3.15
Punch Drunk – Gene Loves Jezebel 2.23
My Daddy Is A Vampire – The Meteors 3.32