 News
ZZ Top / Goin' 50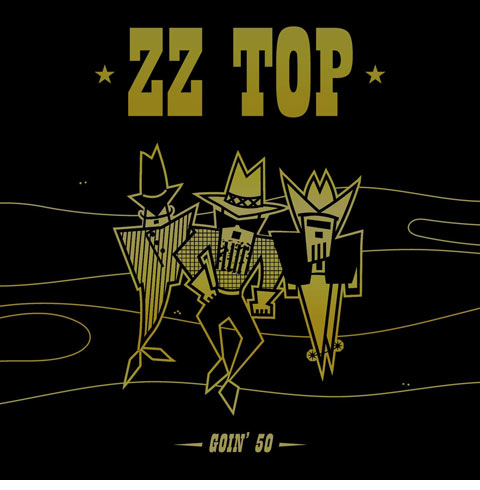 Anniversary package from the mostly bearded trio arrives in June.
Texas trio ZZ Top celebrate a half century of blues rockin' and hard livin' with a new compilation called Goin' 50.

As you might expect with a title like that, the collection features 50 tracks from Billy Gibbons, Frank Beard and Dusty Hill's career and their 15 albums, with additional extras to entice fans such as two bonus tracks, 'Salt Lick' and 'Miller's Farm' – a single and B-side respectively – that were recorded in 1969 by the original incarnation of ZZ Top.
Covering everything from 'La Grange', 'Cheap Sunglasses' and 'Tush', via their 1980s Eliminator peak of 'Sharp Dressed Man' and 'Gimme All Your Lovin'' and finishing up with tracks from their most recent studio album, 2012's La Futura Goin' 50 also offers a pair of live tracks, 'Waitin' For The Bus' and 'Jesus Just Left Chicago' from their 2016 Live Greatest Hits set.
The band are also hitting the road in honour of their anniversary, and will be touring the US throughout the summer, with illustrious support from Lynyrd Skynyrd, Cheap Trick and Bad Company all taking turns. No European dates as yet, but keep 'em peeled.
Goin' 50 comes in triple CD and 5 LP versions featuring all 50 tracks and is released 16 August 2019. An 18-track single disc round-up, for the casual listener, will also be issued on 14 June (distinguishable by its yellow cover art variation).
Compare prices and pre-order
Compare prices and pre-order
ZZ Top
Goin 50 - 5LP vinyl
Compare prices and pre-order
Goin' 50 3CD set
Disc One
La Grange
Beer Drinkers & Hell Raisers
Tush
Salt Lick
Miller's Farm
(Somebody Else Been) Shaking Your Tree
Francine
Heard It On The X
It's Only Love
Arrested For Driving While Blind
Enjoy And Get It On
I Thank You
Cheap Sunglasses
I'm Bad, I'm Nationwide
Leila
Tube Snake Boogie
Pearl Necklace
Disc Two
Gimme All Your Lovin'
Got Me Under Pressure
Sharp Dressed Man
TV Dinners
Legs
Sleeping Bag
Can't Stop Rockin'
Stages
Rough Boy
Delirious
Woke Up With Wood
Velcro Fly
Doubleback
Concrete And Steel
My Head's In Mississippi
Give It Up
Decision Or Collision
Disc Three
Viva Las Vegas
Gun Love
Pincushion
Breakaway
Girl In A T-Shirt
Fuzzbox Voodoo
She's Just Killing Me
What's Up With That
Bang Bang
Rhythmeen
Fearless Boogie
36-22-36
Piece
I Gotsta Get Paid
Waitin' For The Bus (Live)
Jesus Just Left Chicago (Live)
Goin' 50 5LP vinyl
Side 1
1. La Grange (Remastered)
2. Beer Drinkers & Hell Raisers (Remastered)
3. Tush (Remastered)
4. Salt Lick (Remastered)
5. Miller's Farm (Remastered)
6. (Somebody Else Been) Shaking Your Tree [Remastered]
7. Francine (Remastered)
Side 2
1. Heard It on the X (Remastered)
2. It's Only Love (Remastered)
3. Arrested for Driving While Blind (Remastered)
4. Enjoy and Get It On (Remastered)
5. I Thank You (Remastered)
Side 3
1. Cheap Sunglasses (Remastered)
2. I'm Bad, I'm Nationwide (Remastered)
3. Leila (Remastered)
4. Tube Snake Boogie (Remastered)
5. Pearl Necklace (Remastered)
Side 4
1. Gimme All Your Lovin' (Remastered)
2. Got Me Under Pressure (Remastered)
3. Sharp Dressed Man (Remastered)
4. TV Dinners (Remastered)
Side 5
1. Legs (2008 Remastered)
2. Sleeping Bag (Remastered)
3. Can't Stop Rockin' (Remastered)
4. Stages (Remastered)
5. Rough Boy (Remastered)
Side 6
1. Delirious (Remastered)
2. Woke up with Wood (Remastered)
3. Velcro Fly (Remastered)
4. Doubleback (Remastered)
5. Concrete and Steel (Remastered)
Side 7
1. My Head's in Mississippi (Remastered)
2. Give It Up (Remastered)
3. Decision or Collision (Remastered)
4. Viva Las Vegas (Remastered)
5. Gun Love (Remastered)
Side 8
1. Pincushion
2. Breakaway
3. Girl In A T-Shirt
4. Fuzzbox Voodoo
Side 9
1. She's Just Killing Me
2. What's Up With That
3. Bang Bang
4. Rhythmeen
5. Fearless Boogie
Side 10
1. 36-22-36
2. Piece
3. I Gotsta Get Paid
4. Waitin For The Bus (Live from Nashville)
5. Jesus Just Left Chicago (Live from Nashville)
Goin' 50 single CD
La Grange
Sharp Dressed Man
Gimme All Your Lovin'
Tush
Cheap Sunglasses
I'm Bad, I'm Nationwide
Legs
Got Me Under Pressure
Rough Boy
Sleeping Bag
Velcro Fly
Doubleback
Viva Las Vegas
Pincushion
What's Up With That
Fearless Boogie
Piece
I Gotsta Get Paid