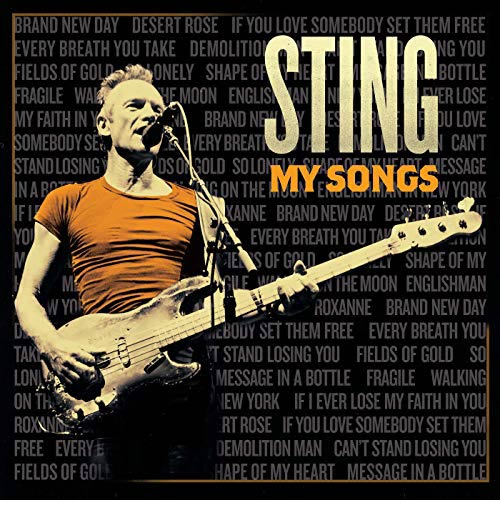 Sting tinkering with his old classics is a pointless exercise, says SDE editor Paul Sinclair

Of all the things Sting could do these days, putting out a solo album filled with new compositions doesn't appear to be high in his list of priorities. Whilst he's been quite busy in recent years, he has sought creative and personal satisfaction from his The Last Ship project, which was by nature rather collaborative, he's made a record with Shaggy (which was actually a lot of fun) and even on tour Sting has teamed up with others to keep him company (Paul Simon and now Shaggy). 2016's 57th & 9th is his only solo album in the last 15 years and after its somewhat tepid reception, Sting may well have thought 'what's the point?'

But hey, even if you easily sell out tours largely on the strength of your greatest hits, chances are your marketing 'team' will advise that you still need something new-sounding to hang it on, and if you haven't got fresh songs or perhaps a reissue to promote, what other options are available to you? Step forward the idea of 'revisiting' old songs!
Sting's My Songs is exactly such a project. He has re-recorded some of his old numbers, and it seems 'deep cuts' isn't in his vocabulary – at least for this initiative. It includes massive Police hits like 'Every Breath You Take', 'Message In A Bottle' and solo favourites such as 'Englishman In New York' and 'If You Love Somebody Set Them Free'. Some songs are complete re-recordings, while others are a Brundlefly fusion of new and old. Describing the approach, Sting picks his words carefully, although not carefully enough to avoid sounding like a double-glazing salesman: "Some of them reconstructed, some of them refitted, some of them reframed, and all of them with a contemporary focus." Remember that last phrase.
So what are these new versions like? It varies, but if there's one thing these recordings have in common it's that none of them improve on the originals. That need not render the My Songs initiative a pointless exercise, because there's much pleasure to be had from creative explorations or getting to a finished song via an alternative route, but Sting really isn't interested in that at this juncture. He's eschewing any twisty musical B-roads and opting for the sitting-in-the-middle-lane of a straight and direct motorway. He's has typed 'contemporary focus' into his sat nav and isn't going to risk not reaching that destination.
This goal, that destination, is about maximising the appeal of his back catalogue to a much younger, streaming-dominated generation. He's really shoving a needle into the temples of some great pop songs and injecting a bit of botox; filling out what he perceives as some cragginess and making them (in his eyes) fit for purpose for young listeners.
To be fair, Sting's arguments are thoughtfully presented. He told Billboard earlier this year that "sometimes songs are identified by the technology they were recorded with – recording techniques, the sound of synthesizers or the drum sound. They all date a song, so we just want to re-contemporise the stuff." In other words, he feels that some of the production is dated and getting in the way of people hearing or enjoying his old Police and solo hits. Millennials scared off by the punky rawness of the late 1970s or the reverb and bombast of the 1980s.
The problem is, while I accept that no one is denying us access to the originals, Sting is effectively creating a marketplace with two versions of these songs, the songs as released and these 'reframed/refitted/reconstructed' versions. That could be confusing. Also, has anyone ever actually said "I really like 'Every Breath You Take' but I wish it didn't sound so old-fashioned"?
Let's talk about some specifics. As far as I'm concerned "If You Love Somebody Set Them Free" is one of Sting's most enduring solo songs and should be left well alone. Alas, Mr Sumner is doing the opposite of leaving it alone. He must really hate how the original sounds, because he's constantly fiddling with this track. It was was subjected to at least eight awful dance remixes back in 1994, was remixed for the 25 Years compilation/box set back in 2011 and he's tinkered with it again for My Songs. This new version is effectively a mild dance mix that surgically removes most of the song's personality. Something like a 'Tin Tin Out' remix from the late 1990s. The vocal sounds like the original to these ears, but the drums are now programmed. Who'd want to replace Omar Hakim with a drum machine? Kate Bush chose to do the opposite with Director's Cut, replacing soulless programmed rhythms with Steve Gadd. You listen back to the original version of 'If You Love Somebody Set Them Free' and absorb the wonderful organic arrangement with that hammond, and the loose drums and the world class list of musicians (including Kenny Kirkland, Branford Marsalis) and can only shake your head in exasperation when you hear the new one.
The beautiful "Shape of My Heart" (surprisingly, not a hit back in 1993) has a percussive 'click' not in the original and in this instance does have a new vocal. It is sung perfectly well, but I'm sorry, it's simply not as good as the original. While fashions in production and musical styles may change for the better over time (or maybe not) what rarely improves is the human singing voice. Artists like Sting have a habit of trying to convince us that their voices are 'more interesting' in their later years (George Michael once said he found his singing voice in the 80s 'boring') but they're surely kidding themselves – the unbridled range and power of the 'early years' is always going to be preferable. There's no shame in losing some of your range when you get to your 50s or 60s but let's get real… it's not normally 'better'. Apart from the inferior vocal, Shape Of My Heart doesn't sound a whole lot different, which begs the question, why?
'Every Breath You Take' is fundamentally the same, although it now has a drum sound like someone hitting a cardboard box. Also, to the point above, the original had a very relaxed vocal during the verses, 35 years later Sting has to try harder and you can hear the effort. It's not as relaxing a listen. Rather like watching your kid perform in the school play. You're worried it's all going to go wrong. This song exhibits the worst attributes of My Songs. It's a new recording – and therefore 'different' – but is so similar as to be utterly pointless. There is literally NO reason to listen to this version above the original.
'I Can't Stand Losing You' is similar to 'Every Breath You Take'. The youthful exuberance is sucked from the song as a bloke in his mid-sixties tries to recreate his youth. Meanwhile 'Fields of Gold' at least boasts a slightly different intro (and outro), although like 'Shape of My Heart' Sting is convinced the key to streaming success is to change the snare sound. Not a click this time but more of a 'pfft' sound. Other than that, it all sounds fairly similar.
And the album continues in the same vein. Sting rather over enunciates the lyrics to a facsimile 'Englishman In New York' and throws in some car horns beeping over that booming drum break (for no apparent reason), while 'If I Ever Lose My Faith In You' has lost all its balls; the synth pads and fat rhythm section are the skilled veterans made redundant and replaced with work experience team of light skipping percussion and ambient styling. 'Faith' is actually quite bad, to be honest.
It's sad that, as with Paul McCartney – who recently worked with Ryan Tedder for a few tracks on the Egypt Station sessions – Sting apparently wants to sound MORE GENERIC to 'fit in' with modern musical landscapes. Neither man, it seems, can switch off the desire to be a pop star and therefore they are driven to stay 'popular' and will do whatever is required, even if it means messing with rock/pop classics (in Sting's case) or releasing new material that's close to embarrassing (McCartney).
There's another element to all this. Re-recording your old material is often financially an astute move, if your label retains rights to the original recordings. It's not clear if this is Sting's motivation, but potentially, if a Sting-penned track is up for being used for a movie or TV, Sting's representatives will be sure proffer the 'My Songs' version and potentially earn more for 'sync' rights than if they used the original. Blondie re-recorded their old hits for similar reasons back in 2014, with their Greatest Hits Redux, but at least they had the decency to bundle it as a freebie with their new album at the time (Ghosts of Download). With Sting 'My Songs' IS the new album!
Good for Sting, he's a canny operator, but it starts to dawn on you that this project is rather inward looking. It is all about Sting, what suits him, what works for his tour what gets him a (perceived) leg-up in the world of streaming and the yoof of today. Sting is the angler who buys his wife a fishing rod for Christmas, and expects her to be thrilled. We don't really get what we want (new songs, or at least interesting rearrangements of old songs) but rather we have to force a smile as he hands over what he actually wants. Thank you for my present Sting, I really hope you enjoy it.
My Songs is released on CD on 24 May 2019. The vinyl follows two weeks later.
Compare prices and pre-order
Sting
My Songs - 2LP vinyl
Compare prices and pre-order
Sting
My Songs - deluxe CD
Compare prices and pre-order
Standard CD/vinyl editions
Brand New Day
Desert Rose
If You Love Somebody Set Them Free
Every Breath You Take
Demolition Man
Can't Stand Losing You
Fields of Gold
So Lonely
Shape of My Heart
Message in a Bottle
Fragile
Walking on the Moon
Englishman in New York
If I Ever Lose My Faith in You
Roxanne (Live)
Deluxe CD bonus tracks:
Synchronicity II (Live)
Next To You (Live)
Spirits In The Material World (Live)
Fragile (Live)
Japanese Deluxe CD adds:
I Can't Stop Thinking About You (Live) (Japan Exclusive)
French Exclusive Deluxe CD adds:
Desert Rose (Extended Version) (France Exclusive)