Saturday Deluxe: Format Wars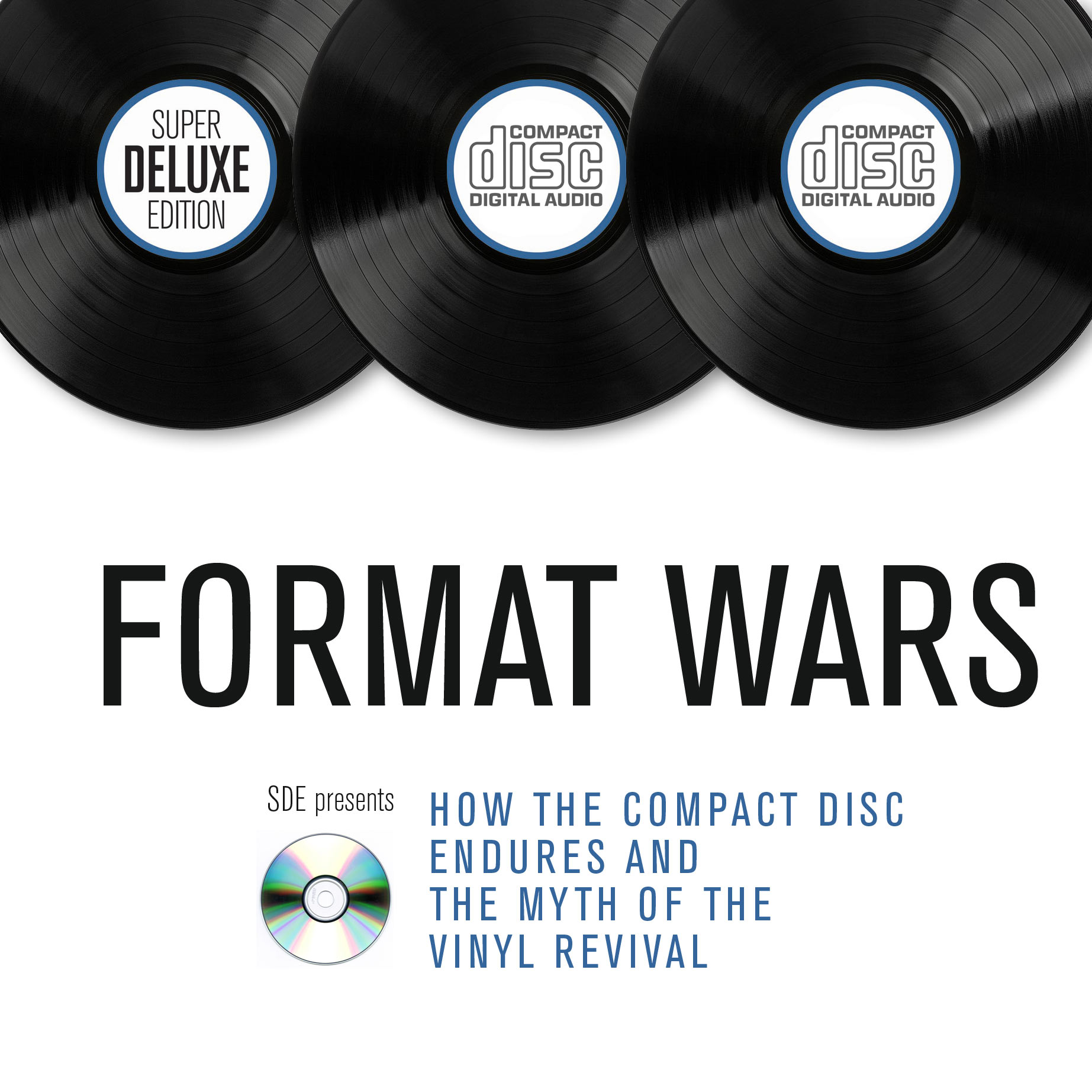 SDE editor Paul Sinclair explores the BPI's latest report into UK music consumption in 2019
Last week in the SDE Newsletter (subscribe here!) I wrote an exclusive editorial entitled 'format wars' which articulated my views on the so-called 'vinyl revival' and particularly the marginalisation of the CD format in mainstream music media. This gathered quite a bit of interest and comment, so I'm publishing it here on SDE in an expanded (but not remastered!) version, with some 'bonus' thoughts.

I want to make it clear that not only do I like vinyl, but I own thousands of vinyl records. I know there are some great things about vinyl but I'm also a big fan of the CD format and it pains me to see the industry adopting a rather laissez-faire attitude when it comes to promoting and to some extent protecting the format from what they seem to view as inevitable decline. So, without further ado, read the piece below. Figures are from the British Phonographic Industry's (BPI) report from the beginning of this year. All data quoted is from the Official Charts Company.
---
Were you aware that 4.3m vinyl records were sold in the UK in 2019? Sounds impressive, but in the same period 23.5m CDs were also bought by music fans.
Not that you'd really know it. Music media seems obsessed in bending the narrative – and bending the knee – to the perceived 'king' of formats: VINYL. The coverage is such that unless you have access to the data, you'd presume – in sales terms – that vinyl and CDs were neck and neck, or even that vinyl was ahead. Whereas actually, the reality is that CDs still sell more than five times as many units as vinyl records, in the UK.
If you think I'm a paranoid CD fanboy imagining this, then below are are few examples:
• In October last year, UK radio station Classic FM ran a story with the headline "Vinyl records to outsell CDs in 2019 for the first time in 40 years". If you read the article there are no facts (or even trends) to back this up. It's simply not true. And just to add a bit of extra absurdity to the various assertions, the same article claims that it's easy to see why people are moving to "sturdy" vinyl because CDs get "easily scratched"!
• Here's another one. This month The Quietus reported that "Vinyl Sales Continued Their Ascent" in 2020, suggesting that vinyl would soon be atop some kind of sales 'summit'. King of the castle. The truth – as the BPI's latest figures show – is that 74 percent of music consumption in the UK is now via streaming, with 18 percent from physical album sales. That 18 percent equates to 28m physical albums sold in the UK, of which – wait for it – just 4.3m were vinyl. Around 15 percent of the total. CDs have 84 percent of that market. Despite the downward sales trend, even in their report, the BPI said that the CD was "resilient". In terms of all album consumption, streaming comes first with 'streaming equivalent albums' numbering 114.2m, CDs next with 23.5m albums physically sold and then vinyl with 4.3m. But The Quietus assure us that vinyl continues its 'ascent'!?
• One can't blame The Vinyl Factory for promoting vinyl and not bigging up CDs, but at least get the facts right. They tweeted 'Vinyl sales hit record growth in 2019' which is very misleading. Vinyl sales in 2018 were 4.2m units. Last year 4.3m units were sold. The growth figures are actually a modest – 4.1 percent year-on-year. Between 2015 and 2016 the growth figures were over 50 percent, so 'growth' has dropped dramatically. More bending of the knee/narrative.
Let's not be coy, CD sales dropped by 26.5 percent last year, which is clearly a very big fall, but it's frustrating, because sometimes it seems as if record labels have accepted the CD is doomed and there is nothing they can do about it.
One thing they could do is to actually release music on CD when there is an opportunity! After issuing the vinyl package in 2018, Universal Music took a whole year to issue the Police Every Move You Make box set on CD, Sony didn't bother to release the last Bruce Springsteen remasters on CD (or the new ones) and last year's Prefab Sprout reissues weren't issued on compact disc either! BMG were virtually shamed into putting the 2018 Yazoo Four Pieces vinyl box out on CD in 2018, after initially announcing it was vinyl-only (fans complained bitterly on SDE and they relented) and back in 2017, Paul McCartney infamously wouldn't include a fourth CD in his £130 Flowers in the Dirt box set, preferring to deliver this content via digital download! What is going on? The initiative known as Record Store Day, which is designed to help independent record shops prosper, virtually ignores CDs as well. Last week, when a twitter debate ensued after the SDE newsletter editorial, the official Record Store Day twitter feed tried to defend this saying they "work on a lot of CD-only projects". Really? News to me! They also betray their favouritism to vinyl saying "the most 'exciting' format dominates." Hmm.
There are CDs when it makes sense for the project. Quite often the vinyl comes on the "Day" and the CD follows. We celebrate the stores all year long, and work on a lot of CD-only projects. The List is partly a marketing driver, and the most "exciting" format dominates.

— Record Store Day (@recordstoreday) January 12, 2020
What I find most frustrating is that the lack of proactivity. The CD made the industry BILLIONS and now that same industry has become the most fair-weather of friends. What measures are being implemented to stop or slow the natural decline? Seen any marketing campaigns recently promoting the benefits of CDs? Me neither. Meanwhile labels are ploughing time and effort into producing and marketing cassette tapes of which 80,000 were sold last year (mainly as trinkets in bundles, it has to be said).
Here's something to consider. When Steve Jobs returned to Apple in 1996 he realised that the operating system and hardware – in fact the entire Apple business – was doomed if Microsoft stopped supporting the Apple OS, with their Office suite of applications. He recognised this threat and took action, negotiating a deal with Bill Gates for a five-year commitment from Microsoft to release Microsoft Office for Macintosh.
I'm not unaware of the irony of referring to Steve Jobs, whose iPod and iTunes Music store had a terrible impact on physical music sales in the early 2000s, but you have to ask where were the visionaries in the music industry five to ten years ago who recognised the threat from car manufacturers to the CD format, as they sought to do away with CD players and switch to bluetooth audio streaming? People loved playing CDs in their car – and critically it was something you definitely couldn't do with vinyl – so where were the partnerships, incentives, joint ventures with Ford, GM, BMW etc. to ensure that they supported what was – and still is – the most popular physical music format? If there were any, I don't recall hearing about them. With no CD players in their new cars, consumers simply have another reason to stop buying them. It's a self-fulfilling prophecy. "Who buys CDs anymore?"
If CDs outsell vinyl massively – which they do – then why does the format sometimes get ignored and treated like some kind of black sheep of the physical format family? Why not take action to slow the decline? What about people who don't own a turntable and who aren't millennials? They aren't been given a choice. They, apparently, are expected to do without some of the latest reissues, which is a strange way to treat your customers. They are frustrated and have money burning a hole in their pocket because for these music fans streaming or digital downloads simply aren't a substitute for owning the physical product, and they physical product they want is the compact disc.
If feels a bit like manipulation, if I'm honest. We were told to ditch vinyl and buy CDs in the late 80s and 1990s. Now we are being encouraged to buy vinyl again and if the CD is indeed trudging very slowly towards the cliff edge of extinction, the industry appears to be giving it a big shove in the back, to help it on its way!
Of course, I realise much of this is down to money. Vinyl is a more profitable product. You only have to look at The Allman Brothers Band box set that was announced this week. The five-CD edition is about £40, the 10LP vinyl set is TEN TIMES more at around £400. That's an extreme example, but in general you're looking at £10 for a new CD and £20 for a vinyl LP. The industry clearly see vinyl as a growing market and CDs as a declining one, but things can change very quickly. After exponential growth a few years ago, vinyl sales are showing signs of plateauing at around the 4-5m mark in the UK, and it was only a few years ago that digital album downloads (which fell by over 28 percent last year) were heralded as a new era for music 'consumption'.
Streaming is now undoubtedly the future of music for the wider population. In 2010, 72.7 percent of all albums were 'consumed' via physical products. Now ten years later that figure is down to 18.2 percent. The streaming market, which didn't exist ten years ago, makes up 74.4 percent of all music consumption. We, my friends, are now part of a niche audience. A minority. I know plenty of people who no longer have a CD player in their house, or a turntable for that matter and just don't 'get' owning a CD.
But hey, being in a club is good. It's fun. It's intense and we need to stick together. The music industry should value us, and our opinions and not play us for fools. Fans who have bought CDs for 30 years aren't going to suddenly dump everything off at their local charity shop and be happy to 'rent' all their music monthly from a streaming service and neither will they switch to vinyl overnight just because they see Sgt.Pepper in Sainsbury's in a vinyl rack opposite the chicken breasts, or because a journalist for a trendy publication writes about 'the vinyl revival'. Stop manipulating us; stop these 'vinyl-only' remasters and show some respect. Time to bend the knee to the still passionate 40, 50, 60, 70 year olds who lined your pockets between the 1960s and the end of the 1990s.
Consider this. Putting cassettes to one side (and that really is a blip and pure manipulation) with 4.3m units sold, vinyl remains officially the least popular way to listen to music albums in the UK at this present time. Last year more albums were streamed (114.2m), more CDs were bought (23.5m) and even more digital albums were purchased (7.3m).
There is some light at the end of the rainbow. The BPI state in their report that "enthusiasts also love to feed their passion for music by investing in premium-quality collections and box sets. So while they may be buying fewer CDs as a whole, they are tending to spend more on enhanced versions of recordings featuring premium and collectible packaging." I think we know who they are referring to.
Also, interestingly, the BPI reported that physical remains the "kingmaker for number one albums", stating that in 29 out of the 52 weeks last year physical accounted for over HALF of the sales of the number one album. So physical is diminishing, as a proportion of the overall market, percentage wise, but punches above its weight in terms of influence.
What's your view on this situation? Please leave a comment. The BPI has made some (not all) of the data available to the public, which can be viewed here.