SDE's Self Isolation Playlist #1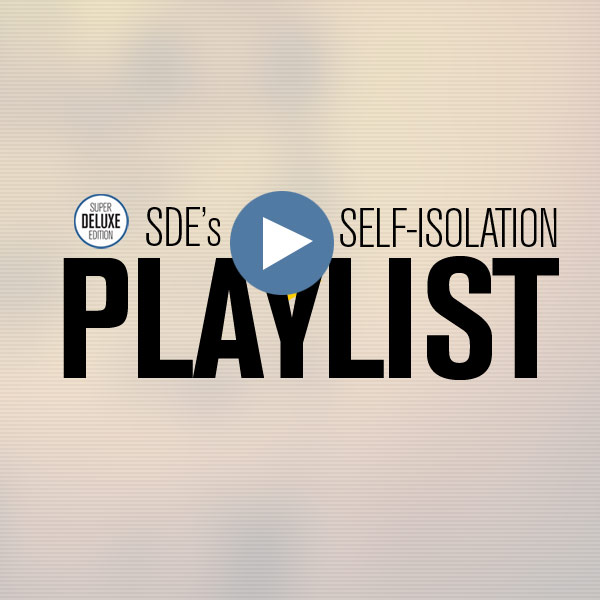 Let music help you through…
First and foremost, best wishes go out to the SDE community around the globe right now. Stay indoors and stay safe, please. In these troubled times, stuck at home, it's an opportunity to let the pleasure and the power of music shine some light into what are becoming, at best, very routine days.
I'm trying to make an effort to listen to albums that I may have been guilty of not playing very much, or maybe even at all. CDs or vinyl records that have been satisfyingly slotted into the shelving or storage system and then semi-forgotten about, for whatever reason.

With that in mind, I'll be semi-regularly posting what has been on the SDE playlist for any particular day with a view to offering some inspiration and to generate some discussion in the comments section about what you've been listening to. As you will see from the list below there's some familiar favourites, too.
Below is for yesterday, Tuesday 24 March 2020.
Snow Patrol / Final Straw SACD
I knew there was an SACD version of Snow Patrol's third album and if I ever glimpsed a copy in a charity shop I'd always give it a close look, in case it was this relatively rare variant. Lo and behold a few years back I came across it, albeit someone realised it wasn't the bog-standard CD edition and priced it up at £8. Still, a good price for this, so I duly snapped it up. It has been guilty of just sitting on the shelf since then, but with my newly set-up 5.1 system in the SDE office, I thought now would be a good time to give it a spin. I don't really know the album at all but of course I was aware of the ludicrously anthemic 'Run' which never fails to sound great. The 5.1 mix sounded really good to me, so I'll be returning to this one.
---
Act / Love & Hate: A Compact Introduction (2CD set)
This 2015 two-CD compilation from the-band-Propaganda-could-have-been (© Alan Partridge) is a brilliant overview of the short-lived career of Act (Claudia Brücken and Thomas Leer). I only listened to CD 1, but in the past I've been rather guilty of playing the various mixes of 'Snobbery & Decay' and not much else, so this was progress. Great stuff although the sheer digital nature of these recordings can get a bit tiring on the ears after a while, hence I skipped the 12-inch versions of CD 2, but I will return…
---
Tangerine Dream / Phaedra (from the In Search of Hades box)
Probably like many of you, I have the 18-disc In Search of Hades Tangerine Dream box set. But I'm still mesmerised by Phaedra so keep playing the first CD and not moving on! Such a great album and quite relaxing to work to.
---
Talking Head / Remain in Light (DualDisc)
The Talking Heads album needs no introduction, but you may not know now phenomenal the 5.1 mix is. I have the DualDisc version which I picked up on a trip to Canada back in 2010 and as mentioned above, with my new surround set-up I'm digging out more SACDs, DVD-As and DualDiscs in order to make the most of it. Didn't actually make it all the way through this – but will be returning to it. One of my very favourite albums.
---
Sting / The Dream Of The Blue Turtles (MFSL CD)
I watched the Bring On The Night documentary over the weekend and marvelled at how good Sting's band was in 1985 and how great the songs are. It's a great music documentary. Inevitably, it brought me back to his 1985 debut, although I do own the Bring On The Night live album as well, of course. This is the 'Ultradisc II' Mobile Fidelity Sound Lab edition which sounds fantastic. One thing that had never occurred to me was how Sting chose not to play bass on either the album or the tour. Interesting decision; could you imagine Paul McCartney doing the same? I made a mental note to dig out my 25 Years box set and listen to the Blue Turtles stereo remixes. Very frustrating that Sting refuses to reissue this album.
---
David Bowie / Is It Any Wonder? CD edition
The new David Bowie EP, mini-album, compilation thingy. Very enjoyable and 'Stay 97' sounds amazing. Not surprised he kept 'Baby Universal' off of Earthling, mind. Always interesting to her alternative versions of songs but I prefer the Tin Machine II original. The best thing on her is the 'live Eno mix' of 'The Man Who Sold The World' but I remember that well from the 'Strangers When We Meet' CD single back in 1995. Still Parlophone are to be applauded for giving this a physical release, and especially putting it out on CD.
---
Thanks for reading – what have you been listening to? Leave a comment.