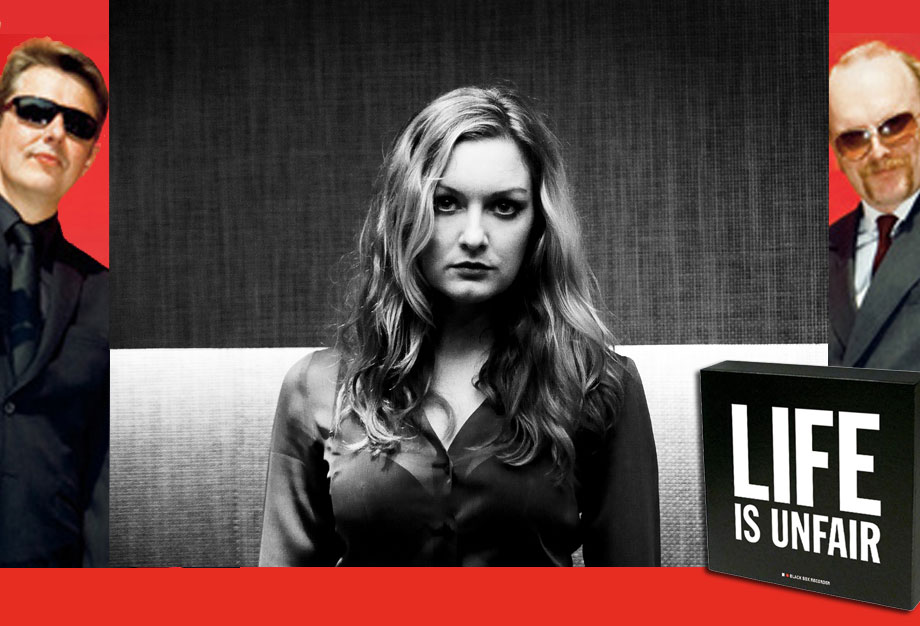 Originally conceived as as 'noise-terror' project in 1997 by bored Auteur Luke Haines and ex-Jesus and Mary Chain drummer John Moore, Black Box Recorder eventually ended up being a very different kind of band, thanks largely to the beguiling presence and vocal skills of drama student and part-time singer Sarah Nixey. Wooed by the "fascinating, charming and funny" songwriters, Nixey sang on all three albums: 1998's sublime England Made Me, The Facts Of Life from 2000, which delivered 'the hit' (and an unlikely Top Of The Pops appearance), and a belated Passionoia, issued in 2003.
These records have recently been brought together (along with a bonus disc of rarities and a DVD) in a new box set Life Is Unfair. SDE recently caught up with Nixey and asked her about her time in the band…

SuperDeluxeEdition: What were your ambitions (musical or otherwise)? Did you want to be a singer?
Sarah Nixey: I've been singing since I was a little girl and, for as long as I can remember, always considered myself to be a singer. My nursery school teacher, who happened to be an excellent pianist, would accompany me, and I would sing my favourite songs to my class. Mainly Boney M songs at that time!  When I started primary school, I joined the choir and then took part in all the school plays, performing at the local arts centre in Poole, Dorset, near to where I grew up.
I then joined a local theatre company when I was a teenager and had singing lessons with a former pop star. I used to record guide vocals for her songwriter friends from the age of 14 and she repeatedly told me that I ought to be a recording artist. At that point, I really had no ambitions to join a band, and I wasn't sure how I would go about recording songs for a living.
Mostly, I just enjoyed acting, dancing and singing, and wanted to stay in education for as long as possible so I could pursue performing without the pressure of having to make money from it, picking and choosing what I wanted to do for as long as possible.
I came to London when I was 18 years old and studied drama with the idea that I would work in theatre, onstage or backstage, and possibly find work as a session singer too.
SDE: You first met John Moore and Luke Haines when you were a backing singer in the band Balloon? How had you become involved with them and what sort of music were they playing?
SN: A couple of friends joined Balloon just as we were finishing our degrees, and the backing vocalist asked me to take her place when she was offered some work abroad. There were just three of us at that point and I was also working as an actor with a London based theatre company. I wanted to keep singing and this seemed like the perfect opportunity, as it involved recording songs and playing live. We played mainly acoustic guitar/piano based songs, with me singing harmonies to Ian Bickerton's lead vocal. I liked the songs and enjoyed the experience. Ian brought in a few more musicians to help out in the studio and play some bigger shows, and that's when I met John and Luke.
SDE: You were 23 years old at the beginning of BBR – did you have much knowledge of what Luke and John had been up to beforehand?
SN: Ian had given me a run down of John and Luke's history before I met them. I was listening to bands like Portishead, Massive Attack and The Chemical Brothers during the early to mid 1990s and didn't know much about the indie and Britpop scene, other than what Pulp and Suede were up to. Friends of mine were fans of The Auteurs and told me that Luke could be a tricky character, but I didn't know much about either of them. I had JAMC's Pyschocandy, and saw them play April Skies on TOTP, which is why I was initially keen to meet John.
SDE: What attracted you to the pair?
SN: I was quite taken by both of them from the start. I found them fascinating, charming, funny, passionate about their work, and I had never met anyone like them. Luke told me that it would take about six years to get to know him properly, and he was right. We went out drinking a lot and spent hours talking, laughing and making plans. John and I spent more time alone, probably because we were attracted to each other. It was inevitable that we ended up getting together and having our daughter.
SDE: 'Girl Singing In The Wreckage' is the first BBR song on the first album and indeed it's the first song you recorded. What did you think when you received that fax John sent you? [asking Sarah to sing in the band] Did you have any reservations, or was it a 'nothing to lose' situation?
SN: My one reservation was that I wasn't sure I wanted to be fronting the band. Whilst we were working with Balloon, John kept telling me that he loved my voice and that it was just a matter of time before I would be a lead singer. He made it happen. I loved that he faxed me a letter, and I thought the whole idea of making me famous was particular hilarious – as if that would be the thing that enticed me. I agreed to record 'Girl Singing In The Wreckage' because I really wanted to work with them, and I knew that we would make a great band.
SDE: Did you have a full-time job at this point and if so, when did you take the leap and leave it?
SN: I had just finished performing in a play and decided that I didn't like working as an actor in theatre anymore. My heart just wasn't in it. I didn't know what direction to go in at that point and hated the idea of signing on as I liked partying so much, and needed cash to do that. So I worked as a temp on and off, at various locations around London – The British Library, local Council offices and the Post Office being a few of my short term contracts. It was an insight to the working world, which I decided pretty quickly I didn't want to be part of. I stopped temping a week before I signed to Chrysalis.
SDE: In some respects, it sounds a bit controlling… John and Luke as the puppet masters pulling the strings and telling you what to do. John pithily says in the booklet "if bands were subject to normal working practises we'd have been prosecuted". Was it, in reality, anything like that? Do the boys play that side of things up a little bit?
SN: I'm not the kind of person that can be controlled. Any attempt to do that is met with a very steely response. They know this and have been on the receiving end. I'm sure they love the idea of being svengalis though!
John is referring to the time they asked me to go back into the studio when I thought I had a day off. I'd just got in after a long night and morning at a party under the arches somewhere in Vauxhall. I think I'd been in bed for an hour when I got the call to go and put down the vocal for 'Uptown Top Ranking' that Sunday morning. I slept in the cab they sent for me, and was half awake when I recorded that song. They literally placed me in front of the microphone and handed me the lyrics – I opened my mouth and slurred the words in one take. I was then put back in a cab, and went home to sleep. It's hardly being sent down a coal mine, but if we had done the same to John, it would have felt like the end of the world to him, which explains why he felt bad about it.
Most of the time, making an album only feels like hard work when you are hung over, ill (or both), or when things are going desperately wrong. It can be time consuming and boring sitting around waiting to do something, but, in my experience, the only people working fairly hard are the producer and engineer.
SDE: You write of "many interventions" in the box set booklet, in terms of mediating between John and Luke, and keeping the band on track. You must have got a bit fed up with them at times, surely?
SN: John and Luke are both passionate about what they do, and they will fiercely defend their opinions and ideas. This created tension in the band sometimes. It's easier when one person is in charge and everyone else is on a salary. That was never the case with BBR. We all had our own opinions and we would argue about what we thought was right for the song or album we were working on. They would fall out more often because they wrote the songs and had more to fight for, and I would often have to help them resolve it. Other times they would just bicker about stupid things that didn't mean that much to them, and laugh at the ridiculousness of it all. That's when I would get fed up and leave them to it.
SDE: Luke being very rude about Nude Records' Saul Galpern (and other similar 'japes') makes for entertaining prose in his 'Post Everything' book, but some of the behaviour sounds a bit childish and self-destructive at times. Were you entertained, or did you occasionally lose patience with the 'rock n roll' antics? In short, how did you put up with them?
SN: It was just part of being in BBR. If you decide to work with Luke Haines and John Moore, you have to accept that, along with their extreme talents as songwriters and musicians, you get everything else that goes with it. It was worth the risk and I would do it all over again if I had the choice. Mostly, I do admit, I'm entertained by all of their antics, but I love them both, and want the best for them. Occasionally, I have felt that they have gone too far, and they know that. It doesn't change the way I feel about them.
SDE: All the songs on the albums (apart from covers) are written by John and Luke. Did you ever have (or express) an interest in getting more involved in the songwriting side of things?
SN: I never set out to be a songwriter. In fact, it didn't occur to me that I may be able to contribute in that way until we had recorded Passionoia. I have always loved creative writing, but songwriting didn't really appeal to me then. And with music, at that time, I was more interested in the production side of things, learning how to use Cubase, and later Logic.
SDE: Luke told me you always had the power of veto – how often was that exercised?
SN: They knew when I didn't like a song. They would tentatively play something to me, knowing it wasn't quite up to scratch, but that only happened on the very odd occasion. Mostly, they got it right and it felt like the songs belonged to me.
SDE: You describe the 'Top of the Pops' experience as surreal. Did it meet your expectations? Did it actually mean any thing to you?
SN: Being on TOTP meant everything to me. We could have ended the band at that point and I would have been happy. I had been watching TOTP since I was tiny and religiously sat in front of the TV every week, waiting for the top 40 count down. I had always wanted to be on the programme, not really knowing how that might happen, but I wanted to be on that stage, in that TV studio, and just once would be enough. The whole experience felt like a dream – I wish I could relive it and take it all in properly.
SDE: There was never a fourth studio album, but like ABBA and Wings before you there was also no official 'break-up' announcement, either. In the booklet in the box set Luke says of the post-Passionoia period "none of us can be bothered to be in a group again". Is this accurate? What were your feelings at this time? 
SN: After Nude Records disappeared, and we were left in limbo for a while, I began to lose interest. I had started songwriting and was coming up with ideas of my mine. I was also looking into working in the theatre world again, but backstage this time. It was as if BBR had reached it's naturally end, and we had all survived the crash landing. We were still friends, John and I were still married – at that stage anyway – and we had our daughter to consider in all of this. It's easier to be in a band when you are young, and I was approaching thirty, wanting to do other things with my life.
SDE: The "intra-band relationship" as Haines described it – see Wings and ABBA, again! – with John Moore was described by Luke as "the beginning of the end". Is that fair, or accurate? 
SN: Luke only wanted to record one album originally, so BBR lasted much longer than he had anticipated anyway. It must be tough when two members of the band you are in, get together and disappear in a haze of domesticity. He did the same for a while and that was good timing. But the end was always in sight, and being married to John kept me interested in BBR for longer.
SDE: I have a real soft spot for 'England Made Me', but which of the three albums means the most to you and why?
SN: I love England Made Me. I hardly ever listen to any of my songs but it's the one album I could sit and listen to all the way through. It's so bleak and beautiful. My voice seems so different to how it is now, and so young. I am my own worst critic, but I can forgive the vocal imperfections on this album, and listen back with fond memories of that time. 
SDE: The band clearly had a big impact on you from both a professional and personal point of view. But it didn't give you a 'job for life', as it were, and you would have had to regroup afterwards. Any regrets?
SN: I didn't join the band with a career in mind, or job for life. Having read Steve Albini's 'The Problem With Music', I knew that it probably wasn't the best way to make your fortune. I had been used to auditioning for parts and moving on from one production to another from an early age, and I had always taken the view that nothing is permanent. I also get bored with things fairly quickly and need lots of stimulation to keep me interested in a project.
I learnt a huge amount about songwriting, music production and the music industry during my time in BBR and I don't have any regrets. I moved on from the band swiftly, and without much thought as to what might happen with BBR in the future.
SDE: There was a small BBR reunion last month at one of Luke's gigs. Any plans for some full length concerts at any point?
SN: I doubt BBR will play any full length concerts any time soon. I hardly ever get up on stage anymore, and last months small BBR reunion only came about because Luke called me the night before his gig, asking me to sing a couple of songs. I didn't want to rehearse and make a big deal out of it. When you do things like that, you realise how comfortable you are with certain musicians and how knowing them for over twenty years creates a particular rapport between band members. I have always loved being on stage with them, but I don't think playing a whole bunch of gigs with them is the right thing to do for any of us.
SDE: Your last solo album was issued back in 2011, do you have plans to release any more Sarah Nixey albums or have you moved on from the music industry?
SN: After BBR, I spent a few years working with another theatre company, producing plays this time rather than performing in them, and I also released a couple of solo albums. I started a recording studio business with my husband, Jimmy Hogarth, who is a music producer and writer. We took over Edywn Collins' studio in north west London a few years ago, renovated it and now hire out space to writers, producers, artists and bands, so I'm more involved in the music business than I've ever been.
I wasn't sure whether I would release another album. I have three children now and I've found it hard to find the time to daydream and write songs. However, I went through a period of illness and insomnia, which led to me writing lyrics in the middle of the night.  I discovered that, at 2 o'clock in the morning, most of the time, no one needs my attention or calls out for me, and so I started getting some ideas together for an album. During the early hours, several times a week, I would record demos in my home studio, then Jimmy and I recorded the songs at our studios. He's so good at knowing what to do with my songs and listens to how I want it all to sound. We played all the instruments between us, calling in a friend to play drums on one track and my eldest daughter Ava played flute on the last track of the album. Aside from that, it was just us chipping away, until we had a whole bunch of songs that I felt happy with.
I called the album 'Night Walks' and it's being released in early October. The first single, 'Coming Up For Air', is out on 13 July. I'm unsure as to whether I will play live. I've been asked by a few people to play at their nights in London venues, so I will see how I feel about that later in the year. I don't have such a strong desire to get up stage anymore, but that doesn't mean I can't be persuaded.
---
Thanks to Sarah Nixey. Life Is Unfair is out now.
Compare prices and pre-order
Black Box Recorder
Life is Unfair - box set
Track listing as per One Little Indian's website last year:
England Made Me
1. Girl Singing In The Wreckage
2. England Made Me
3. New Baby Boom
4. It's Only The End Of The World
5. Ideal Home
6. Child Psychology
7. I. C. One Female
8. Up Town Top Ranking
9. Swinging
10. Kidnapping An Heiress
11. Wonderful Life
12 Hated Sunday
The Facts Of Life
1. The Art Of Driving
2. Weekend
3. The English Motorway System
4. May Queen
5. Sex Life
6. French Rock'n'Roll
7. The Facts Of Life
8. Straight Life
9. Gift Horse
10. The Deverell Twins
11. Goodnight Kiss
Passionoia
1. The School Song
2. GSOH Q.E.D.
3. British Racing Green
4. Being Number One
5. The New Diana
6. These Are The Things
7. Andrew Ridgley
8. When Britain Refused To Sing
9. Girls Guide For The Modern Diva
10. I Ran All The Way Home
Rarities Disc
1. Facts Of Life (single version)
2. Start As You Mean To Go On
3. Soul Boy
4. Facts of Life (Chocolate Layers remix)
5. Uptown Top Ranking
5. Brutality
6. Watch Angels Not The Wire
7. Rock N Roll Suicide (BBC session)
8. Art Of Driving (BBC session)
9. Straight Life (BBC session)
10. Goodnight Kiss (BBC session)
11. Land Of Our Fathers
12. 17 and Deadly
13. Passionoia mega mix
14. Lord Lucan
15. Keep It In The Family (unreleased)
16. Do You Believe in God? (unreleased)
DVD
1. Live – filmed at the Train Driver in Eyeliner event at The Forum on 27 October 2008:
Wonderful Life
British Racing Green
England Made Me
Girl Singing In The Wreckage
I.C.One Female
Child Psychology
Lord Lucan Is Missing
VIDEOS
2. Child Psychology
3. England Made Me
4. Facts of Life
5. Art Of Driving