Hear an unreleased version of Tears For Fears' 'Woman in Chains'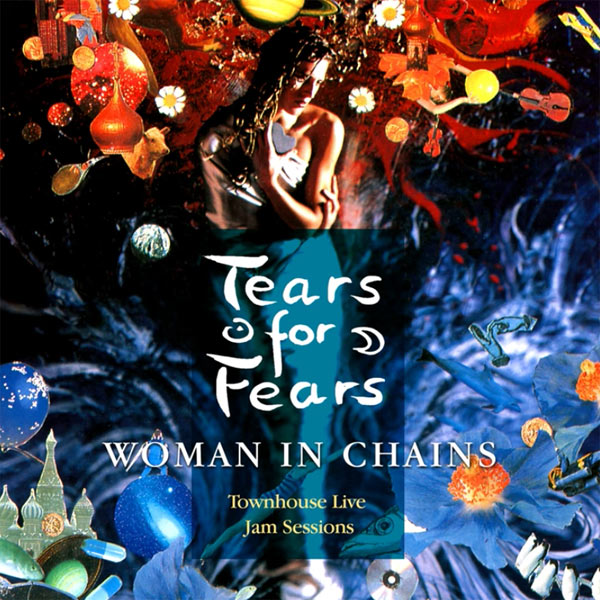 Superb alternate rendition of the 1989 single
When I was helping to research the archive audio for the forthcoming Tears For Fears The Seeds of Love reissue, we discovered that Roland Orzabal had a box full of DAT tapes which featured live-in-the-studio renditions of some songs from the album – largely 'Badman's Song' and 'Woman in Chains'!
These were duly despatched to Abbey Road Studios to be transferred and yours truly had the job of going through something like 23 hours of sessions to see if there was anything that would be suitable for release in the box set. Today, for the first time, you can hear one of those tracks – Woman in Chains.

We dubbed these 'Townhouse Jams' (since the recordings were made in London's Townhouse Studios) and they are totally live, with no overdubs. The version of 'Woman in Chains' you can hear was recorded on either 8 or 9 February 1988 (both dates are marked on the DAT tape), shortly after Oleta Adams had flown to the UK to join the sessions. Amongst the session musicians here are drummer Manu Katché (Phil Collins plays on the master studio recording) and Pino Palladino on bass.
Co-producer Dave Bascombe recorded these sessions and mixed them at the time. In an exclusive extract from the book in the super deluxe box set here's what he had to say about the band's working methods (when I interviewed him):
"I'm a bit sceptical about getting all these great players in, but it was astounding to watch and hear them. It doesn't necessarily mean you're going to end up with the best results but it's great, especially for the guy playing with them; it's a huge treat. It wasn't so much jamming, that's the thing… just endless takes. It was new ground and there was no question of anybody getting told 'that's the one,' it was just having endless permutations – we could go away and edit for days and days. It was a bit self indulgent but new ground for Roland in that sense, he'd never had a chance to play with musicians like that so why not try and get the best out of it.
My side of the glass is always tedious when you're doing that sort of stuff. Trying to come up with something to say after take 39 is impossible!"
Listen to Woman in Chains (Townhouse Live Jam) below:
This version of 'Woman in Chains' is exclusive to super deluxe edition box set of The Seeds of Love (it's on CD 4: "The Wind: Demos, Diversions and Jams") and along with the other formats, that will be released on 9 October 2020.
You can pre-order the box set over on the SDE shop. Use this link to pre-order or alternatively make use of the buy buttons below. SDE stock allocations are guaranteed – if you pre-order we will supply!

The Seeds of Love – 4CD+blu-ray box set
CD 1 – ORIGINAL ALBUM
NEW REMASTER BY ANDREW WALTER AT ABBEY ROAD
01. Woman In Chains: 6:31
02. Badman's Song: 8:32
03. Sowing The Seeds Of Love: 6:19
04. Advice For The Young At Heart: 4:50
05. Standing On The Corner Of The Third World: 5:33
06. Swords And Knives: 6:12
07. Year Of The Knife: 7:08
08. Famous Last Words: 4:26
CD 2 – THE SUN
45's AND B-SIDES
01. Sowing The Seeds Of Love – 7″ Version: 5:43
02. Tears Roll Down: 3:16
03. Woman In Chains – 7" Version: 5:28
04. Always In The Past: 4:38
05. My Life In The Suicide Ranks: 4:32
06. Woman In Chains – Instrumental: 6:30
07. Advice For The Young At Heart – 7" Version: 4:49
08. Johnny Panic And The Bible Of Dreams Instrumental: 4:18
09. Music For Tables: 3:32
10. Johnny Panic And The Bible Of Dreams Mix One: 6:22
11. Johnny Panic And The Bible Of Dreams Mix Two: 5:55
12. Sowing The Seeds Of Love – US Radio Edit: 4:04
13. Woman In Chains – US Radio Edit 1: 4:42
14. Advice For The Young At Heart – Italian Radio Edit: 3:40
15. Year Of The Knife – Canadian Single Version: 5:40
16. Johnny Panic And The Bible Of Dreams: 4:17
CD 3 – THE MOON
RADIO EDITS AND EARLY MIXES
01. Year Of The Knife – Overture: 1:47
02. Year Of The Knife – Early Mix – Instrumental: 8:50
03. Sowing The Seeds Of Love – Alternate Mix: 7:22
04. Tears Roll Down – Alternate Mix: 4:07
05. Year Of The Knife – Steve Chase 7″ Remix: 4.29
06. Badman's Song – Early Mix: 7:56
07. Advice For The Young At Heart – Instrumental: 4:56
08. Year Of The Knife – The Mix: 06:55
09. Johnny Panic And The Bible Of Dreams – Mix One Edit: 3:43
10. Sowing The Seeds Of Love – Early Mix – Instrumental: 5.55
11. Woman In Chains – US Radio Edit 2: 4:19
12. Year Of The Knife – Canadian Single Version – Instrumental: 5:40
13. Famous Last Words – French Radio Edit: 3:07
14. Woman In Chains – Reprise: 6:39
CD 4 – THE WIND
DEMOS, DIVERSIONS AND JAMS
01. Rhythm Of Life – Demo: 5:12
02. Advice For The Young At Heart – Demo: 4:52
03. Swords And Knives – Demo: 3:51
04. Famous Last Words – Demo: 4:12
05. Sowing The Seeds Of Love – Demo – Instrumental: 6:06
06. Badman's Song – Langer / Winstanley Version – Instrumental: 7:30
07. Woman In Chains – Townhouse Jam: 7:06
08. Broken – Townhouse Jam: 1:37 Tears For Fears
09. Rhythm Of Life – Townhouse Jam: 3:09
10. Badman's Song – Townhouse Jam: 8:17
11. Badman's Song – Reprise – Townhouse Jam: 2:50
12. Standing On The Corner Of The Third World – Townhouse Jam: 9:09
BLU RAY – THE RAIN
STEVEN WILSON 5.1 MIX, ORIGINAL ALBUM MIX &  NEW REMASTER
Steven Wilson 5.1 MIX
01. Woman In Chains: 6:30
02. Badman's Song: 8:32
03. Sowing The Seeds Of Love: 6:19
04. Advice For The Young At Heart: 4:55
05. Standing On The Corner Of The Third World: 5:33
06. Swords And Knives: 6:20
07. Year Of The Knife: 6:55
08. Famous Last Words: 4:11
Original Album Mix (Bob Ludwig 1989 mastering)
01. Woman In Chains: 6:31 (Original album master)
02. Badman's Song: 8:32 (Original album master)
03. Sowing The Seeds Of Love: 6:19 (Original album master)
04. Advice For The Young At Heart: 4:50 (Original album master)
05. Standing On The Corner Of The Third World: 5:33 (Original album master)
06. Swords And Knives: 6:12 (Original album master)
07. Year Of The Knife: 7:08 (Original album master)
08. Famous Last Words: 4:26 (Original album master)
New remaster (by Andrew Walter at Abbey Road)
01. Woman In Chains: 6:30 (New remaster)
02. Badman's Song: 8:32 (New remaster)
03. Sowing The Seeds Of Love: 6:19  (New remaster)
04. Advice For The Young At Heart: 4:55 (New remaster)
05. Standing On The Corner Of The Third World: 5:33 (New remaster)
06. Swords And Knives: 6:20 (New remaster)
07. Year Of The Knife: 6:55  (New remaster)
08. Famous Last Words: 4:11 (New remaster)
The Seeds of Love vinyl LP remaster (same tracks on picture disc)
Side 1
01. Woman In Chains: 6:31
02. Badman's Song: 8:32
03. Sowing The Seeds Of Love: 6:19
04. Advice For The Young At Heart: 4:50
Side 2
01. Standing On The Corner Of The Third World: 5:33
02. Swords And Knives: 6:12
03. Year Of The Knife: 7:08
04. Famous Last Words: 4:26
The Seeds of Love 2CD deluxe
CD 1 – ORIGINAL ALBUM
NEW REMASTER BY ANDREW WALTER AT ABBEY ROAD
01. Woman In Chains: 6:31
02. Badman's Song: 8:32
03. Sowing The Seeds Of Love: 6:19
04. Advice For The Young At Heart: 4:50
05. Standing On The Corner Of The Third World: 5:33
06. Swords And Knives: 6:12
07. Year Of The Knife: 7:08
08. Famous Last Words: 4:26
CD 2 – THE SUN
45's AND B-SIDES
01. Sowing The Seeds Of Love – 7" Version: 5:43
02. Tears Roll Down: 3:16
03. Woman In Chains – 7" Version: 5:28
04. Always In The Past: 4:38
05. My Life In The Suicide Ranks: 4:32
06. Woman In Chains – Instrumental: 6:30
07. Advice For The Young At Heart – 7" Version: 4:49
08. Johnny Panic And The Bible Of Dreams Instrumental: 4:18
09. Music For Tables: 3:32
10. Johnny Panic And The Bible Of Dreams Mix One: 6:22
11. Johnny Panic And The Bible Of Dreams Mix Two: 5:55
12. Sowing The Seeds Of Love – US Radio Edit: 4:04
13. Woman In Chains – US Radio Edit 1: 4:42
14. Advice For The Young At Heart – Italian Radio Edit: 3:40
15. Year Of The Knife – Canadian Single Version: 5:40
16. Johnny Panic And The Bible Of Dreams: 4:17
The Seeds of Love single CD remaster
NEW REMASTER BY ANDREW WALTER AT ABBEY ROAD
01. Woman In Chains: 6:31
02. Badman's Song: 8:32
03. Sowing The Seeds Of Love: 6:19
04. Advice For The Young At Heart: 4:50
05. Standing On The Corner Of The Third World: 5:33
06. Swords And Knives: 6:12
07. Year Of The Knife: 7:08
08. Famous Last Words: 4:26