 News
A Foot In The Door: The Best Of Pink Floyd to be issued on double vinyl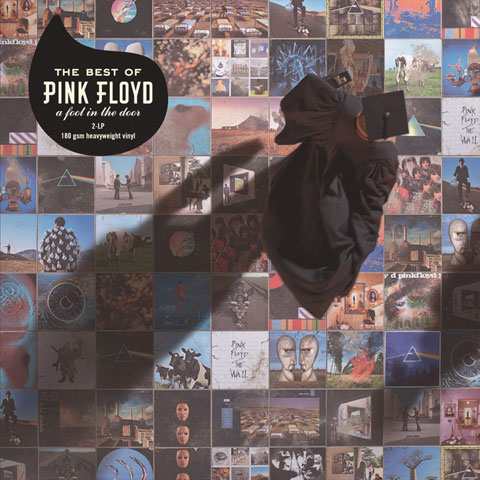 Newly mastered • First time on vinyl • Slightly amended artwork
Pink Floyd's A Foot In The Door compilation – first released in late 2011 as part of the Why Pink Floyd? reissue campaign – is to be released on vinyl for the first time in September.

The 16 song collection features some of the best-known album tracks from 1967 – 1994, including the band's first UK Top 10 single See Emily Play, Wish You Were Here, Comfortably Numb, Shine On You Crazy Diamond and High Hopes.
It also features the single mix of Another Brick In The Wall part 2 and the edit of Shine On You Crazy Diamond. These tracks were "selected by the band" seven years ago.  There is one slight change, in that this new 2LP vinyl edition restores the ringing alarm clocks at the start of Time, which were omitted on the CD release, for some reason.
The audio has been newly mastered for vinyl by James Guthrie, with Joel Plante, and with lacquers cut by Bernie Grundman of Grundman Mastering in Los Angeles, California.
Also, the original artwork – which was the last work of Storm Thorgerson – has been amended by Pink Floyd Creative Director Aubrey Powell (of Hipgnosis) and Peter Curzon, to include alternate versions of the photographs used in the original CD version. This is a gatefold double album (180g vinyl) with two separate printed inner bags.
The Best Of Pink Floyd: A Foot In The Door will now be issued on double 180g vinyl on 28 September 2018.
Compare prices and pre-order
Pink Floyd
Best of Pink Floyd: A Foot in the door 2LP vinyl
Side 1
1. Hey You (2011 Remastered Version)
2. See Emily Play (2011 Remastered Version)
3. The Happiest Days Of Our Lives
4. Another Brick In The Wall, Pt. 2
5. Have A Cigar
Side 2
1. Wish You Were Here (2011 Remastered Version)
2. Time/Breathe (In The Air) [Reprise]
3. The Great Gig In The Sky (2011 Remastered Version)
4. Money (2011 Remastered Version)
Side 3
1. Comfortably Numb (2011 Remastered Version)
2. High Hopes
3. Learning To Fly (2011 Remastered Version)
Side 4
1. The Fletcher Memorial Home (2011 Remastered Version)
2. Shine On You Crazy Diamond (Parts 1 – 5) [Edit]
3. Brain Damage (2011 Remastered Version)
4. Eclipse