 News
a-ha / Take On Me blue vinyl 7″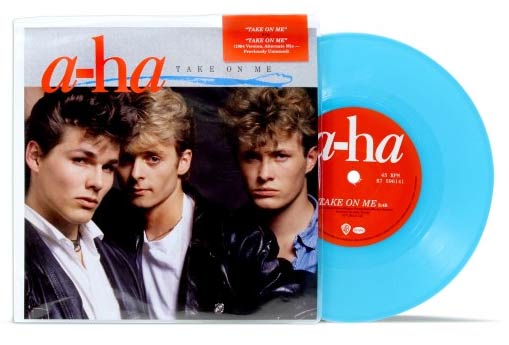 a-ha's debut single 'Take On Me' has been reissued as a limited edition blue vinyl seven-inch single to coincide with the band's Hunting High and Low tour and to tie in with the launch of a new documentary The Making Of… Take On Me.

The single topped the charts around the world (although not in the UK) in 1985 and continues to be constantly referenced culturally, in films, TV and online.
In 2015, a Record Store Day seven-inch picture disc was released for the 30th anniversary. That edition featured a live version of 'Take On Me' as the B-side, whereas this new single includes on the flipside what is described as a previously unreleased alternative mix of the 1984 version of the song (produced by Tony Mansfield).
The new Making of Take On Me documentary is being released piecemeal fashion on YouTube and the first two episodes are a fantastic deep dive into the origins of the song and the creation of that video, and there is more to come. Watch parts one and two.
The blue vinyl seven-inch is a limited edition that is exclusively available via Warner Music's Rhino stores. It is out now and can be ordered via the links below.
Take On Me (Alan Tarney 1985 single version)
Take On Me (Tony Mansfield 1984 version) alternate mix