 News
a-ha to release deluxe editions of Minor Earth Major Sky and Lifelines
2CD deluxe editions with bonus tracks • First time on vinyl • Remastered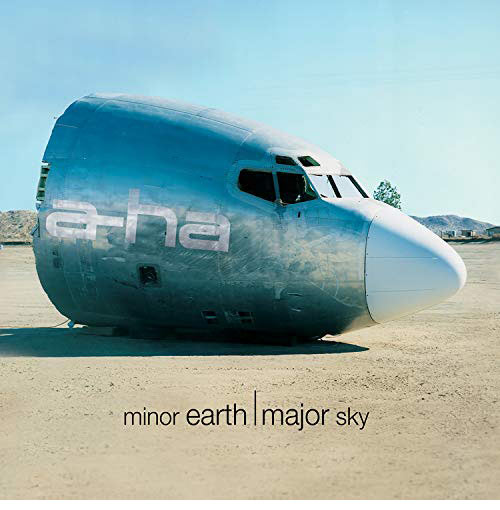 a-ha will reissue Minor Earth Major Sky and Lifelines, their 'comeback' albums that were issued at the beginning of the new millennium.

The band took a break after 1993's Memorial Beach and pursued their own interests until an invitation to perform at the 1998 Nobel Peace Prize concert in Oslo rebooted their enthusiasm for the band and resulted in the release of Minor Earth Major Sky in 2000. "They weren't super planned," says guitarist and songwriter Pål Waaktaar-Savoy of the sessions. "It came about because we wan­ted to do it. When we connect, we make a-ha music, no matter the circumstances."



It says something about the quality of the first single, 'Summer Moved On', that despite a-ha having zero profile in the UK by this point, it still scraped into the top 40. It enjoyed more success elsewhere, topping the charts in a-ha's native Norway, while reaching the top ten in Austria and Germany. Three further singles followed in mainland Europe, each with a generous selection of remixes. The album went platinum in Norway and Germany and a-ha were back.




The 2002 follow-up Lifelines, saw a more collaborative approach with each band member contributing compositions to an arguably rather bloated record that perhaps lacked the focus of its predecessor. Nevertheless, there was still much to enjoy such as the brilliantly titled 'Forever Not Yours' (the lead single in most of Europe, but not the UK which opted for 'Lifelines') and the menacing 'Did Anyone Approach You?' There was much fun to be had in collecting the European CD singles issued at this point which offered different production treatments of album tracks such as 'Turn The Lights Down' and 'You Wanted More', as well as some good (and not so good) remixes.

Apart from the odd exception, the two deluxe editions generally eschew the remixes, focusing on early versions and demos. Minor Earth Major Sky virtually exists in its entirety on the second disc in demo form and the CD is completed with a selection of live tracks.



Lifelines bonus material is similar and includes three songs that didn't make it on to the finished album: 'The Breakers', 'Sole Survivor' and 'To Show It Is To Blow It'. Not one to waste a good song, 'The Breakers' was later re-recorded by Pål's band Savoy. Both deluxe sets feature brand new sleeve notes by Kieron Tyler.

'Minor Earth Major Sky' and 'Lifelines' are both issued on vinyl for the first time as part of this reissue campaign. They are both 2LP 180g black vinyl pressings on gatefold sleeves and feature the remastered album only, without the bonus material.

Minor Earth Major Sky and Lifelines are reissued on 27 September 2019 (the US have to wait a few more weeks, with a release date of 18 October).


Minor Earth Major Sky
2CD deluxe edition
CD 1
1 Minor Earth Major Sky (2019 Remaster)
2 Little Black Heart (2019 Remaster)
3 Velvet (Remaster 2019)
4 Summer Moved On (2019 Remaster)
5 The Sun Never Shone That Day (2019 Remaster)
6 To Let You Win (2019 Remaster)
7 The Company Man (2019 Remaster)
8 Thought That It Was You (2019 Remaster)
9 I Wish I Cared (2019 Remaster)
10 Barely Hanging On (2019 Remaster)
11 You'll Never Get Over Me (2019 Remaster)
12 I Will Not Forget Her (2019 Remaster)
13 Mary Ellen Makes the Moment Count (2019 Remaster)
14 Summer Moved On (Remix)
15 Velvet (Alabaster Mix)
16 The Sun Never Shone That Day (Radio Edit)
17 Minor Earth Major Sky (Milenia Nova Remix)
CD 2
1 Minor Earth Major Sky (Early Version)
2 Little Black Heart (Alternate Mix)
3 Velvet (Early Version)
4 Summer Moved On (Early Version)
5The Sun Never Shone That Day (Early Version)
6 To Let You Win (Early Mix)
7 We Will Never Speak Again (Demo)
8 The Company Man (Early Version)
9 Life's Not Fair (Early Version of "I Wish I Cared")
10 Barely Hanging On (Early Version)
11 I Will Not Forget Her (Early Version)
12 Manhattan Skyline (Live Oslo 2001)
13 Thought That It Was You (Live Oslo 2001)
14 You'll Never Get Over Me (Live Oslo 2001)
15 Mary Ellen Makes the Moment Count (Live Oslo 2001)
16 Summer Moved On (Demo)
Lifelines
2CD deluxe edition
1. Lifelines (2019 Remaster)
2 You Wanted More (2019 Remaster)
3 Forever Not Yours (2019 Remaster)
4 There's a Reason for It (2019 Remaster)
5 Time and Again (2019 Remaster)
6 Did Anyone Approach You (2019 Remaster)
7 Afternoon High (2019 Remaster)
8 Oranges on Appletrees (2019 Remaster)
9 A Little Bit (2019 Remaster)
10 Less Than Pure (2019 Remaster)
11 Turn The Lights Down (2019 Remaster)
12 Can not Hide (2019 Remaster)
13 White Canvas (2019 Remaster)
14 Dragonfly (2019 Remaster)
15 Solace (2019 Remaster)
16 Did Anyone Approach You (Tore Johanson Mix)
17 Time and Again (Langer & Wainstanley Version)
18 Lifelines (Apoptyma Berzerk Remix)
CD 2
1 Lifelines (demo)
2 You Wanted More (Demo)
3 Forever Not Yours (Demo)
4 There's a Reason for It
5 The Breakers
6 Time and Again
7 Did Anyone Approach You (Demo)
8 Afternoon High (demo)
9 Oranges on Appletrees (Early Mix)
10 Sole Survivor
11 Less Than Pure (Demo)
12 To Show It's To Blow It
13 Turn The Lights Down (Demo)
14 Can not Hide
15 There's a Reason for It
16 One in a Million (Demo)
17 Dragonfly (demo)
18 Solace (Early Version)
19 Differences (demo)
Minor Earth Major Sky
2LP vinyl
LP1
Side 1
1. Minor Earth Major Sky
2. Little Black Heart
3. Velvet
Side 2
1. Summer Moved On
2. The Sun Never Shone That Day
3. To Let You Win
LP2
Side 1
1. The Company Man
2. Thought That It Was You
3. I Wish I Cared
4. Barely Hanging On
Side 2
1. You'll Never Get Over Me
2. I Won't Forget Her
3. Mary Ellen Makes the Moment Count
Lifelines
2LP vinyl
LP1
Side 1
1. Lifelines
2. You Wanted More
3. Forever Not Yours
4. There's a Reason for It
Side 2
1. Time and Again
2. Did Anyone Approach You
3. Afternoon High
LP2
Side 1
1. Oranges on Appletrees
2. A Little Bit
3. Less Than Pure
4. Turn the Lights Down
Side 2
1. Cannot Hide
2. White Canvas
3. Dragonfly
4. Solace