 News
Absolute Beginners soundtrack reissued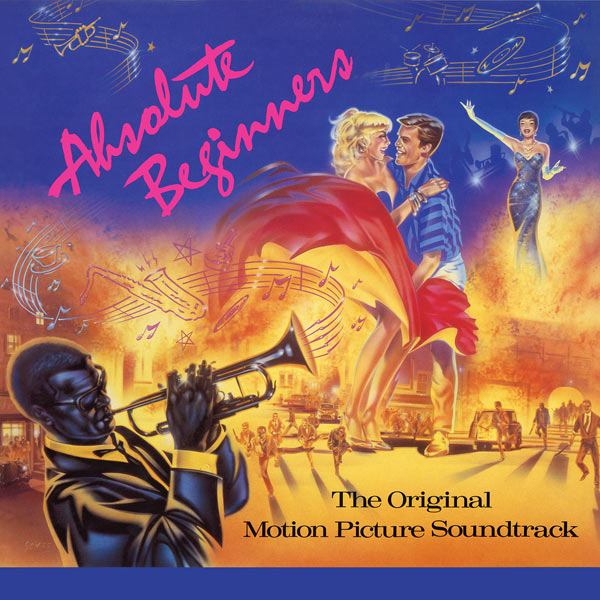 David Bowie led motion picture soundtrack returns
The soundtrack to Julien Temple's 1986 film Absolute Beginners, which featured memorable contributions from a number of artists including David Bowie, Ray Davies, The Style Council and Sade, will be reissued in July and will appear on CD in its entirety for the first time.

Bowie's title track (here in its full eight minute version) was an enormous hit in 1986, reaching number two in the UK of March of that year and providing the filmmakers with valuable publicity for what became a rather ill-fated project.
Producers Clive Langer and Alan Winstanley produced the album, working with not only the pop stars of the day (including Eighth Wonder and Smiley Culture) but also legendary jazz arranger Gil Evans.
The album features a number of tracks unavailable elsewhere. Bowie contributed three numbers, none of which appeared on any of his studio albums and likewise Sade's 'Killer Blow' can only be found on the soundtrack. The full version of The Style Council's 'Have You Ever Had It Blue' also features and in edited form was a top 20 UK hit.
Beyond these pop tracks, Absolute Beginners includes an eight-minute Jerry Dammers jazz instrumental called 'Riot City', 'Ted Ain't Dead' by Tenpole Tudor and plenty of instrumentals from Gil Evans including 'Absolute Beginners (Refrain)' which closes the album.
Back in the day, most of side four of the 2LP vinyl never made it to CD, but this 2020 reissue offers Absolute Beginners as a 2CD set and comes with a 24-page booklet which features track-by-track analysis with annotations from a few key players, such as Clive Langer, Mick Talbot etc.
Langer and Temple had been school friends and travelled through Europe together as teenagers and the two men had stayed in touch. Speaking to SDE about the genesis of the project, Clive Langer remembers that "we were working on the second Elvis Costello album, Goodbye Cruel World, and Julien [Temple] wanted to meet Elvis to discuss him writing a song for the film. So we all went out and [after a while] Julien wanted me to go so he could speak to Elvis. And then I think it occurred to him, that he needed someone to oversee the whole project."
Absolute Beginners will be released on 2CD, 2LP vinyl on 17 July 2020 via UMC/Virgin EMI. In interview with both Clive Langer and Alan Winstanley about Absolute Beginners will be published on SDE soon.
Compare prices and pre-order
Various Artists
Absolute Beginners - 2LP vinyl
Compare prices and pre-order
Various Artists
Absolute Beginners - 2CD edition
Absolute Beginners 2CD edition
CD1
Absolute Beginners – David Bowie
Killer Blow- Sade
Have You Ever Had It Blue? – The Style Council
Quiet Life – Ray Davies
Va Va Voom – Gil Evans
That's Motivation – David Bowie
Having It All – Eighth Wonder ft Patsy Kensit
Rodrigo Bay – Working Week
Selling Out – Slim Gaillard
Riot City – Jerry Dammers
CD2
Boogie Stop Shuffle (Rough And The Smooth) – Gil Evans
Ted Ain't Dead – Tenpole Tudor
Volare (Nel Blu Dipinto Di Blu) – David Bowie
Napoli – Clive Langer
Little Cat (You Never Had It So Good) – Jonas (24)
Absolute Beginners (Slight Refrain) – Gil Evans
Better Git It In Your Soul (The Hot And The Cool) – Gil Evans
Landlords And Tenants – Laurel Aitken
Santa Lucia – Ekow Abban
Cool Napoli – Gil Evans
So What? (Lyric Version) – Smiley Culture
Absolute Beginners (Refrain) – Gil Evans
Absolute Beginners 2LP vinyl
LP1
Side A
Absolute Beginners – David Bowie
Killer Blow – Sade
Have You Ever Had It Blue? – The Style Council
Quiet Life – Ray Davies
Va Va Voom – Gil Evans
Side B
That's Motivation – David Bowie
Having It All – Eighth Wonder ft Patsy Kensit
Rodrigo Bay – Working Week
Selling Out – Slim Gaillard
Riot City – Jerry Dammers
LP2
Side A
Boogie Stop Shuffle (Rough & The Smooth) – Gil Evans
Ted Ain't Dead – Tenpole Tudor
Volare (Nel Blu Dipinto Di Blu) – David Bowie
Napoli – Clive Langer
Little Cat (You Never Had It So Good) – Jonas (24)
Absolute Beginners (Slight Refrain) – Gil Evans
Side B
Better Git It In Your Soul (The Hot & The Cool) – Gil Evans
Landlords And Tenants – Laurel Aitken
Santa Lucia – Ekow Abban
Cool Napoli – Gil Evans
So What? (Lyric Version) – Smiley Culture
Absolute Beginners (Refrain) – Gil Evans