 News
David Bowie / Alabama Song 40th anniversary 7″ picture disc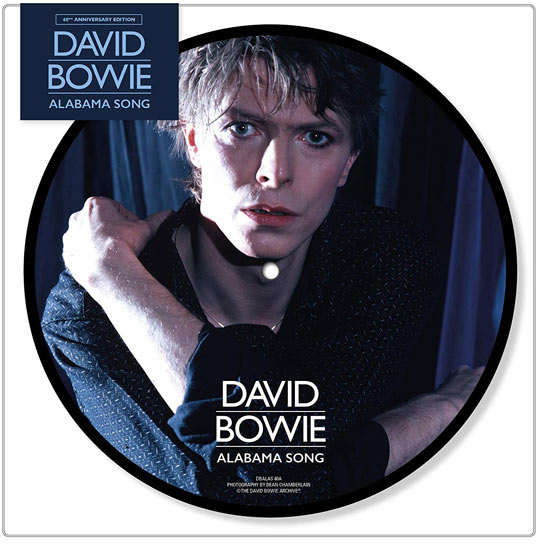 David Bowie's first 45 of the 1980s was a non-album single, a cover of Kurt Weill & Bertolt Brecht 's 'Alabama Song'. This will be reissued in February to mark the 40th anniversary as a special seven-inch picture disc, with two previously unreleased B-sides.

The original single release was noteworthy for also including Bowie's re-recording of 1969's 'Space Oddity' on the B-side, which for many was David closing the book on the 1970s and foreshadowing the 'Major Tom' references in 'Ashes to Ashes' (which would be the next single). Both tracks were included on Re:Call 3 in the 2017 A New Career In A New Town box set.
For this 40th anniversary seven-inch picture disc, Parlophone are using the 2017 remaster of 'Alabama Song' on the A-side and on the AA-side have two previously unreleased live tracks from the Earls Court Isolar II gigs of 1978 (released in 2018 as Welcome to the Blackout).
'Joe The Lion' is from the soundcheck, while 'Alabama Song' is a different performance to the one on Welcome to the Blackout. Both live tracks on this single are from the 1 July 1978 show (which means that Welcome to the Blackout must contain the 30 June version of 'Alabama Song'). It's interesting to note that rather than stay in bed and recover from the three Earls Court live performances, David Bowie actually recorded the studio version of Alabama Song the very next day (2 July 1978) Tony Visconti's Good Earth Studios in Soho, London!
'Joe The Lion' was newly mixed (by John Prestage) in July this year for this release, while 'Alabama Song' was mixed by David Bowie and David Richards in 1979.  Side A is 45 RPM while side AA appears to be 33RPM.
'Alabama Song' is reissued on 14 February 2020. The series should continue in 2020 with two big hitters, 'Ashes to Ashes' and 'Fashion'.
Compare prices and pre-order
David Bowie
alabama song - seven-inch pic disc
Side A
1. Alabama Song (2017 Remaster)
Side AA
1. Joe The Lion (Live Earls Court '78 Soundcheck)
2. Alabama Song (Live Earls Court '78)