 News
Al Stewart / Year of the Cat box set
3CD+DVD box set • Features Alan Parsons remaster and 5.1 mix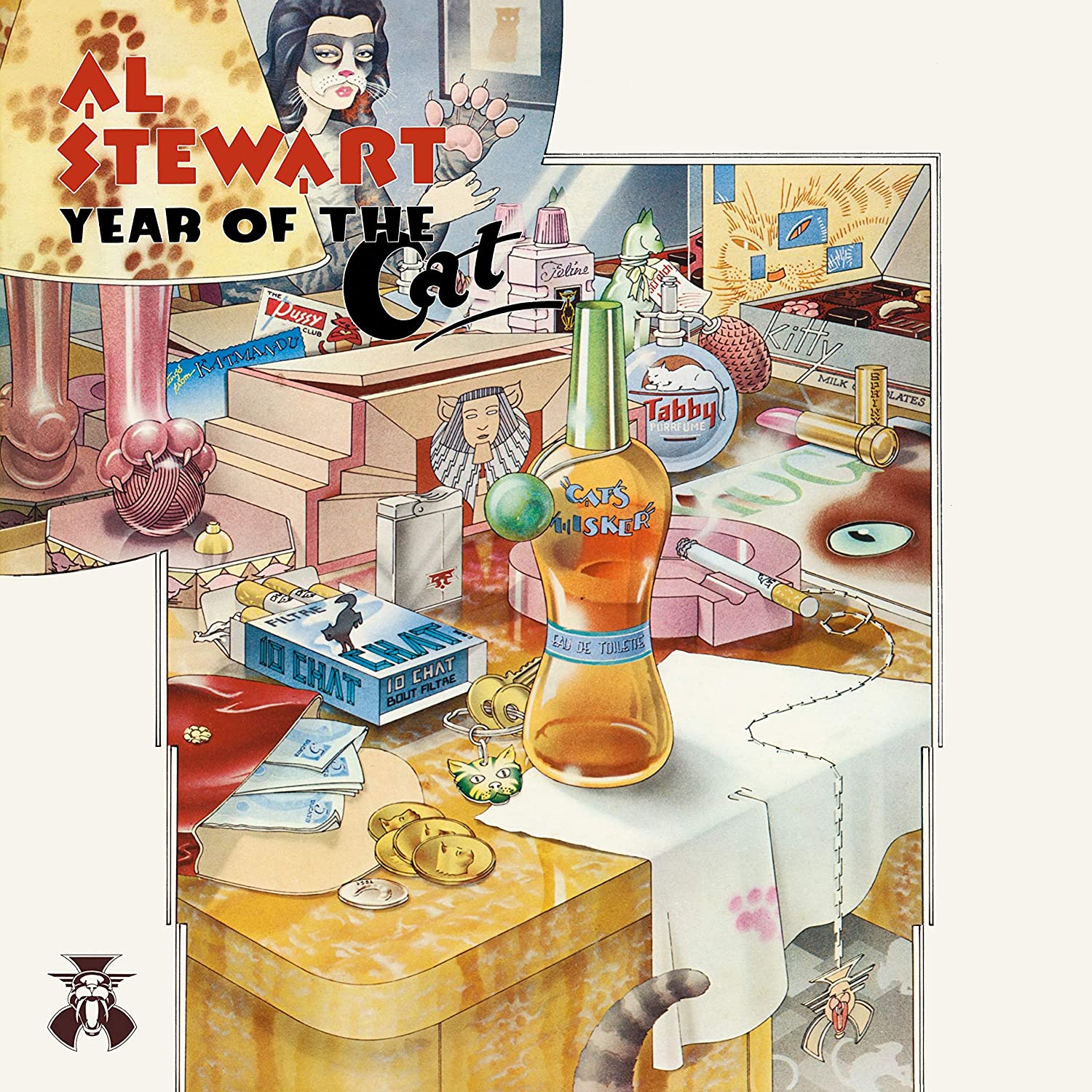 Esoteric Recordings follow up last month's 24 Carrots reissue with an anniversary box set of Al Stewart's 1976 album Year of the Cat.

Scheduled for release in March next year, this 45th anniversary edition box set (taking a leaf out of the Parlophone/Bowie playbook) includes three CDs and a DVD and features a new remaster by original producer and engineer Alan Parsons. Alan has used the first generation master tapes for this process.
Bonus material includes a new mix of 'Belsize Blues', an outtake from the original sessions, and two CDs featuring a previously unreleased gig in Seattle in October 1976 (the same month the album was issued in America).
The DVD features a new 5.1 surround sound mix (also by Parsons) and a hi-res version of the new remaster.
The box set includes an illustrated 68-page book, with notes featuring an exclusive interview with Al Stewart, and four postcards and a replica poster.
A two-CD deluxe edition will also be issued which includes the remastered album and a single bonus disc featuring nine of the 15 live tracks.
Year of the Cat will be released on 26 March 2021.
Compare prices and pre-order
Al Stewart
Year of the Cat 3CD+DVD box set
Compare prices and pre-order
Al Stewart
Year of the CAT - 2CD deluxe
Year of the Cat 3CD+DVD box set
CD 1 YEAR OF THE CAT
RE-MASTERED BY ALAN PARSONS
1. LORD GRENVILLE
2. ON THE BORDER
3. MIDAS SHADOW
4. SAND IN YOUR SHOES
5. IF IT DOESN'T COME NATURALLY, LEAVE IT
6. FLYING SORCERY
7. BROADWAY HOTEL
8. ONE STAGE BEFORE
9. YEAR OF THE CAT
BONUS TRACK
10. BELSIZE BLUES
(RECORDED AT ABBEY ROAD STUDIOS IN SEPTEMBER 1975)
CD 2: LIVE AT THE PARAMOUNT THEATER, SEATTLE – OCTOBER 1976
ALL TRACKS PREVIOUSLY UNRELEASED
1. APPLE CIDER RE-CONSTITUTION (LIVE 1976)
2. THE DARK AND THE ROLLING SEA (LIVE 1976)
3. ONE STAGE BEFORE (LIVE 1976)
4. SOHO (NEEDLESS TO SAY) (LIVE 1976)
5. NOT THE ONE (LIVE 1976)
6. ON THE BORDER (LIVE 1976)
7. BROADWAY HOTEL (LIVE 1976)
8. ROADS TO MOSCOW (LIVE 1976)
CD 3: LIVE AT THE PARAMOUNT THEATER, SEATTLE – OCTOBER 1976
ALL TRACKS PREVIOUSLY UNRELEASED
1. NOSTRADAMUS (LIVE 1976)
2. SIRENS OF TITAN (LIVE 1976)
3. THE POST WORLD WAR TWO BLUES (LIVE 1976)
4. YEAR OF THE CAT (LIVE 1976)
5. SAND IN YOUR SHOES (LIVE 1976)
6. CAROL (LIVE 1976)
7. IF IT DOESN'T COME NATURALLY, LEAVE IT (LIVE 1976)
DVD: YEAR OF THE CAT – 5.1 mix and hi-res stereo mix
THE NEW 5.1 SURROUND SOUND MIX & ORIGINAL 96 KHZ / 24-BIT RE-MASTERED STEREO MIX BY ALAN PARSONS
1. LORD GRENVILLE
2. ON THE BORDER
3. MIDAS SHADOW
4. SAND IN YOUR SHOES
5. IF IT DOESN'T COME NATURALLY, LEAVE IT
6. FLYING SORCERY
7. BROADWAY HOTEL
8. ONE STAGE BEFORE
9. YEAR OF THE CAT
Year of the Cat 2CD deluxe
CD 1 YEAR OF THE CAT
RE-MASTERED BY ALAN PARSONS
1. LORD GRENVILLE
2. ON THE BORDER
3. MIDAS SHADOW
4. SAND IN YOUR SHOES
5. IF IT DOESN'T COME NATURALLY, LEAVE IT
6. FLYING SORCERY
7. BROADWAY HOTEL
8. ONE STAGE BEFORE
9. YEAR OF THE CAT
BONUS TRACK
10. BELSIZE BLUES
(RECORDED AT ABBEY ROAD STUDIOS IN SEPTEMBER 1975)
CD 2: LIVE AT THE PARAMOUNT THEATER, SEATTLE – OCTOBER 1976
ALL TRACKS PREVIOUSLY UNRELEASED
1. APPLE CIDER RE-CONSTITUTION (LIVE 1976) (PREVIOUSLY UNRELEASED)
2. THE DARK AND THE ROLLING SEA (LIVE 1976) (PREVIOUSLY UNRELEASED)
3. ONE STAGE BEFORE (LIVE 1976) (PREVIOUSLY UNRELEASED)
4. ON THE BORDER (LIVE 1976) (PREVIOUSLY UNRELEASED)
5. BROADWAY HOTEL (LIVE 1976) (PREVIOUSLY UNRELEASED)
6. ROADS TO MOSCOW (LIVE 1976) (PREVIOUSLY UNRELEASED)
7. YEAR OF THE CAT (LIVE 1976) (PREVIOUSLY UNRELEASED)
8. SAND IN YOUR SHOES (LIVE 1976) (PREVIOUSLY UNRELEASED)
9. IF IT DOESN'T COME NATURALLY LEAVE IT (LIVE 1976) (PREVIOUSLY UNRELEASED)