 News
Be-Bop Deluxe / Sunburst Finish box set
3CD+DVD box set • Remastered • Unreleased tracks • 5.1 mix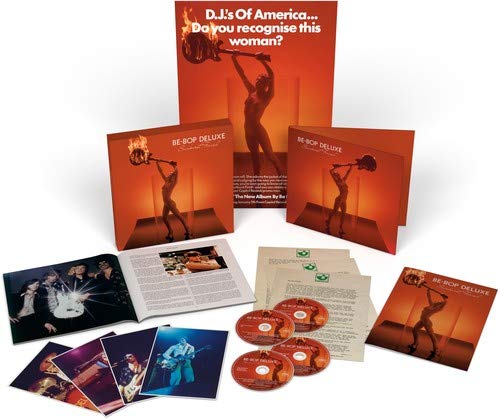 This November, Esoteric Recordings will reissue a four-disc box set edition of English prog rock group Be-Bop Deluxe's 1976 album Sunburst Finish.

It was the band's third album and featured the line-up of Bill Nelson (vocals, guitars, keyboards), Charlie Tumahai (bass, vocals), Andy Clark (keyboards) and Simon Fox (drums).

The first CD in this four-disc box delivers a newly remastered version of the original stereo mix, along with a bonus cut of the seven-inch version of  'Ships in the Night', which was the band's one and only top 30 hit in the UK. The second disc offers a brand new 2018 stereo remix of the album along with six previously unreleased bonus cuts, while the third and final CD brings together BBC Radio One radio sessions – 'In Concert' and John Peel (both from early 1976).

The DVD (region free, NTSC) includes a new 5. 1 surround sound mix by engineer Stephen W. Tayler and offers the new stereo mix and remastered original mix in hi-res. Some video content closes this disc: an appearance on BBC TV's The Old Grey Whistle Test and a previously unreleased 1976 Harvest Records promotional video for 'Ships in the Night'.

As can be seen by the image above, the presentation looks good; the set includes a 68-page book with unseen photos and an essay of recollections by Bill Nelson. You also get a replica tour programme, postcards and poster.

The Sunburst Finish box set is released on 16 November 2018. A 2CD edition features the first two CDs from the four-disc box set.


Compare prices and pre-order
Be Bop Deluxe
Sunburst Finish - 3CD+DVD box set
Compare prices and pre-order
BE BOP DELUXE
Sunburst Finish - 2CD edition
Sunburst Finish
box set
CD 1
Sunburst Finish:
Original stereo mix remastered
1. Fair Exchange
2. Heavenly Homes
3. Ships in the Night
4. Crying to the Sky
5. Sleep That Burns
6. Beauty Secrets
7. Life in the Air Age
8. Like an Old Blues
9. Crystal Gazing
10. Blazing Apostles
Bonus track
11. Ships in the Night (A-side Single Version)
CD 2
Sunburst Finish
: The 2018 stereo remix
1. Fair Exchange (New Stereo Mix)
2. Heavenly Homes (New Stereo Mix)
3. Ships in the Night (New Stereo Mix)
4. Crying in the Sky (New Stereo Mix)
5. Sleep That Burns (New Stereo Mix)
6. Beauty Secrets (New Stereo Mix)
7. Life in the Air Age (New Stereo Mix)
8. Like an Old Blues (New Stereo Mix)
9. Crystal Gazing (New Stereo Mix)
10. Blazing Apostles (New Stero Mix)
Previously unreleased bonus tracks
11. Ships in the Night (First Version)
12. Beauty Secrets (First Version)
13. The Mystery (Demo)
14. Crystal Gazing (Alternate Vocal Version)
15. Crying to the Sky (First Version)
16. Ships in the Night (Alternate Vocal Version)
CD 3
BBC Radio One 'In Concert' 15 January 1976
1. Life in the Air Age (live)
2. Sister Seagull (live)
3. Ships in the Night (live)
4. Maid in Heaven (live)
5. Third Floor Heaven (live)
6. Blazing Apostles (live)
BBC Radio One 'John Peel Session' 10th FEBRUARY 1976
7. Crying in the Sky (BBC John Peel Sessions)
8. Piece of Mine (BBC John Peel Session)
9. Blazing Apostles (BBC John Peel Session)
DVD
Sunburst Finish
: The new 5.1 surround sound mix, new 96 kHz/24-bit stereo mix and 96 kHz / 24-bit original stereo mix
1. Fair Exchange (5.1 Surround Mix)
2. Heavenly Homes (5.1 Surround Mix)
3. Ships in the Night (5.1 Surround Mix)
4. Crying in the Night (5.1 Surround Mix)
5. Sleep That Burns (5.1 Surround Mix)
6. Beauty Secrets (5.1 Surround Mix)
7. Life in the Air (5.1 Surround Mix)
8. Like an Old Blues (5.1 Surround Mix)
9. Crystal Gazing (5.1 Surround Mix)
10. Blazing Apostles (5.1 Surround Mix)
BBC TV 'The Old Grey Whistle Test' session 13th January 1976
11. Ships in the Night (Old Grey Whistle Test)
12. Fair Exchange (The Old Grey Whistle Test)
13. Ships in the Night (Un-released Promo Video, 1976 Harvest Records)