 News
Best of Billy Bragg at the BBC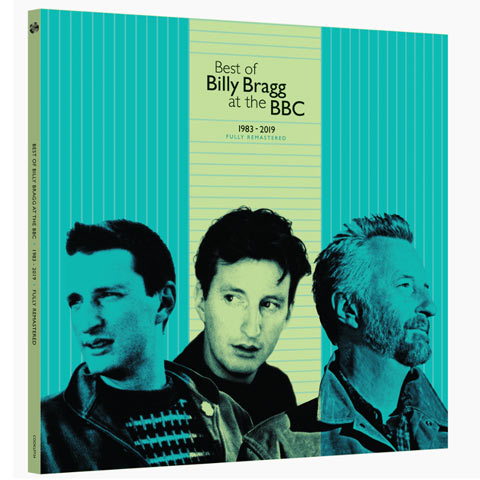 3LP or 2CD • Signed sets available • Exclusive white vinyl
Billy Bragg will release a new album Best of Billy Bragg at the BBC 1983-2019 next month.

The 38-track collection is 'fully remastered' and features 38 tracks compiled from the BBC archive spanning 1983 – 2019. It includes selected highlights from sessions for John Peel, David Jensen, Janice Long, Phill Jupitus, Bob Harris, Tom Robinson and more. Many are apparently previously unreleased.
Speaking about this set, Bragg says: "Work in progress. That's how John Peel thought of his evening sessions, offering artists the opportunity to try out new songs in a studio environment. That's how I looked at them too. …The songs were so new, you can hear I'm still feeling my way into them. Several were conceived and written the night before the session. In one case, I actually composed a song from scratch while the show was on air. That rawness was always a key component of my BBC sessions, the thrill of putting something out there for the very first time. And here I've collected all the best moments across 36 years of my ongoing work in progress."
There are two main formats available – 3LP black vinyl and 2CD – although special variants, exclusives, signed editions and bundles are available via Billy's official store. These include triple WHITE vinyl with a signed print, a 2CD set with a signed booklet and more. Most of the items come with a quite groovy looking 48mm enamel badge of Billy's Burns Steer guitar.
The 2CD edition is released on 20 September 2019, while the vinyl aficionados amongst you will need to wait until 11 November for 'your' editions.
Compare prices and pre-order
Billy Bragg
Best of Billy Bragg at the BBC - 2CD edition
Compare prices and pre-order
Billy Bragg
Best of Billy Bragg at the BBC - 3LP vinyl

Enamel 'guitar' badge

Signed print only via the official store
Best of Billy Bragg at the BBC 3LP vinyl
SIDE 1
1 A New England (John Peel session, 27th July 1983)
2 Fear Is A Man's Best Friend [Cale] (John Peel session, 27th July 1983)
3 Love Gets Dangerous (John Peel session, 27thJuly 1983)
4 Like Soldiers Do (David Jensen session, 22ndDecember 1983)
5 The Man In The Iron Mask (w/ Dave Woodhead) (David Jensen session, 22ndDecember 1983)
6 The Saturday Boy (David Jensen session, 22ndDecember 1983)
7 A Lover Sings (John Peel session, 18thSeptember 1984)
SIDE 2
8 Between The Wars (John Peel session, 18thSeptember 1984)
9 A13, Trunk Road To The Sea [Troup/Bragg] (w/ Wiggy) (Saturday live, 13th October 1984)
10 There Is Power In A Union (John Peel session, 20th August 1985)
11 Days Like These (John Peel session, 20thAugust 1985)
12 Scholarship Is The Enemy Of Romance (Janice Long session, 18th December 1985)
13 Greetings To The New Brunette (John Peel session, 2nd September 1986)
14 Ideology (John Peel session, 2nd September 1986)
15 The Warmest Room (John Peel session, 2ndSeptember 1986)
SIDE 3
16 She's Got a New Spell (John Peel session, 30th August 1988)
17 Valentine's Day Is Over (John Peel session, 30th August 1988)
18 The Short Answer (John Peel session, 30th August 1988)
19 Rotting On Remand (John Peel session, 30th August 1988)
20 The Few (John Peel session, 12th May 1991)
SIDE 4
21 Accident Waiting To Happen (w/ Wiggy) (John Peel session, 12th May 1991)
22 Tank Park Salute (w/ Cara Tivey) (John Peel session, 12th May 1991)
23 Brickbat (John Peel session, 13th October 1995)
24 This Gulf Between Us (John Peel session, 13thOctober 1995)
25 Goal Hanger (London Music Week live, 1st May 1997)
26 The Boy Done Good [Bragg/Marr] (London Music Week live, 1st May 1997)
SIDE 5
27 From Red To Blue (London Music Week live, 1st May 1997)
28 The Busy Girl Buys Beauty (Janice Long Paris Theatre London Live, October 1999)
29 It Says Here (Janice Long Paris Theatre London Live, October 1999)
30 Lonesome Traveller [Hays] (John Peel session, 8thDecember 2004)
31 Goodbye, Goodbye (Phill Jupitus live, 30th March 2007)
32 Way Over Yonder In The Minor Key [Guthrie/Bragg] (Bob Harris live, 6th May 2012)
33 No-One Knows Nothing Anymore (Latitude Festival live, 18th July 2014)
SIDE 5
34 Levi Stubbs' Tears (Glastonbury live, 26th June 2015)
35 Why We Build The Wall [Anais Mitchell] (Tom Robinson live Buxton Opera House, 21st January 2017)
36 I Ain't Got No Home [Guthrie] (w/ CJ Hillman) (Radio 2 Folk Awards live, 5th April 2017)
37 The Space Race Is Over (Tom Robinson Now Playing 6Music 'Billy Bragg Takeover', 14th July 2019)
38 St. Swithin's Day (Tom Robinson Now Playing 6Music 'Billy Bragg Takeover', 14th July 2019)

Signed CD booklet only via the official store
Best of Billy Bragg at the BBC 2CD edition
CD 1
1 A New England (John Peel session, 27th July 1983)
2 Fear Is A Man's Best Friend [Cale] (John Peel session, 27th July 1983)
3 Love Gets Dangerous (John Peel session, 27thJuly 1983)
4 Like Soldiers Do (David Jensen session, 22ndDecember 1983)
5 The Man In The Iron Mask (w/ Dave Woodhead) (David Jensen session, 22ndDecember 1983)
6 The Saturday Boy (David Jensen session, 22ndDecember 1983)
7 A Lover Sings (John Peel session, 18th September 1984)
8 Between The Wars (John Peel session, 18th September 1984)
9 A13, Trunk Road To The Sea [Troup/Bragg] (w/ Wiggy) (Saturday live, 13th October 1984)
10 There Is Power In A Union (John Peel session, 20th August 1985)
11 Days Like These (John Peel session, 20thAugust 1985)
12 Scholarship Is The Enemy Of Romance (Janice Long session, 18th December 1985)
13 Greetings To The New Brunette (John Peel session, 2nd September 1986)
14 Ideology (John Peel session, 2nd September 1986)
15 The Warmest Room (John Peel session, 2ndSeptember 1986)
16 She's Got a New Spell (John Peel session, 30thAugust 1988)
17 Valentine's Day Is Over (John Peel session, 30th August 1988)
18 The Short Answer (John Peel session, 30thAugust 1988)
19 Rotting On Remand (John Peel session, 30thAugust 1988)
CD 2
1 The Few (John Peel session, 12th May 1991)
2 Accident Waiting To Happen (w/ Wiggy) (John Peel session, 12th May 1991)
3 Tank Park Salute (w/ Cara Tivey) (John Peel session, 12th May 1991)
4 Brickbat (John Peel session, 13th October 1995)
5 This Gulf Between Us (John Peel session, 13thOctober 1995)
6 Goal Hanger (London Music Week live, 1st May 1997)
7 The Boy Done Good [Bragg/Marr] (London Music Week live, 1st May 1997)
8 From Red To Blue (London Music Week live, 1st May 1997)
9 The Busy Girl Buys Beauty (Janice Long Paris Theatre London Live, October 1999)
10 It Says Here (Janice Long Paris Theatre London Live, October 1999)
11 Lonesome Traveller [Hays] (John Peel session, 8thDecember 2004)
12 Goodbye, Goodbye (Phill Jupitus live, 30th March 2007)
13 Way Over Yonder In The Minor Key [Guthrie/Bragg] (Bob Harris live, 6th May 2012)
14 No-One Knows Nothing Anymore (Latitude Festival live, 18th July 2014)
15 Levi Stubbs' Tears (Glastonbury live, 26th June 2015)
16 Why We Build The Wall [Anais Mitchell] (Tom Robinson live Buxton Opera House, 21st January 2017)
17 I Ain't Got No Home [Guthrie] (w/ CJ Hillman) (Radio 2 Folk Awards live, 5th April 2017)
18 The Space Race Is Over (Tom Robinson Now Playing 6Music 'Billy Bragg Takeover', 14th July 2019)
19 St. Swithin's Day (Tom Robinson Now Playing 6Music 'Billy Bragg Takeover', 14th July 2019)