 News
Bob Dylan / The Rolling Thunder Revue: The 1975 Live Recordings 14CD box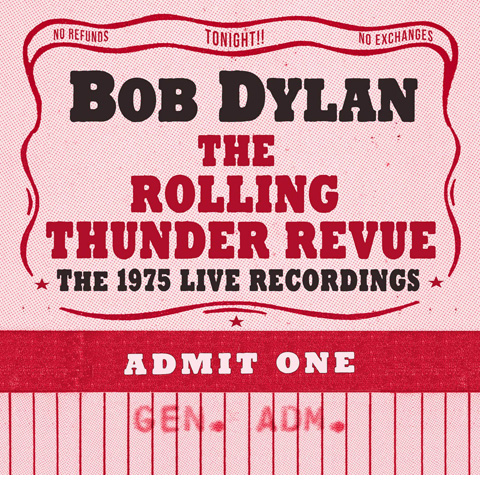 Five Complete Sets From Rolling Thunder Revue Concerts • First Leg, Rehearsal Performances, Rarities And More
Sony's Legacy Recordings will issue a massive 14CD box set edition of Bob Dylan's 1975 'Rolling Thunder Revue' tour next month.

The comprehensive 14CD box set includes all five of Dylan's full sets from that tour that were professionally recorded. The collection also delivers recently unearthed rehearsals at New York's S.I.R. studios and the Seacrest Motel in Falmouth, MA plus a bonus disc showcasing one-of-a-kind performances from the tour.
The box features 148 tracks in all, with more than 100 of those never previously released. This box comes with a 52-page booklet featuring rare and never-before-seen Rolling Thunder Revue photos and an essay by novelist/musician Wesley Stace.
The previously released The Bootleg Series Volume 5 on vinyl, back in print for the first time since 2002 as a 3LP set with a 64-page booklet.
The 14CD box is tremendous value on Amazon in the UK at just £59 and also very cheap too if you're in France. Also check out that superb JPC.de pre-order price for the 3LP set, it's HALF the Amazon UK price.
The Rolling Thunder Revue: The 1975 Live Recordings box will be issued on 7 June 2019.
Compare prices and pre-order
Dylan, Bob
Rolling Thunder Revue - 14CD box
Compare prices and pre-order
Dylan, Bob
Rolling Thunder Revue - 3LP vinyl set
Bob Dylan – Rolling Thunder Revue: The 1975 Live Recordings 14CD box set
DISC 1
October 19, 1975 – S.I.R. Rehearsals, New York, NY
1. Rake and Ramblin' Boy* [incomplete]
2. Romance in Durango* [incomplete]
3. Rita May*
4. I Want You# [incomplete]
5. Love Minus Zero/No Limit* [incomplete]
6. She Belongs to Me* [incomplete]
7. Joey [incomplete]
8. Isis
9. Hollywood Angel [incomplete]
10. People Get Ready#~
11. What Will You Do When Jesus Comes?#
12. Spanish Is the Loving Tongue
13. The Ballad of Ira Hayes
14. One More Cup of Coffee (Valley Below)*
15. Tonight I'll Be Staying Here with You
16. This Land Is Your Land
17. Dark as a Dungeon*
DISC 2
October 21, 1975 – S.I.R. Rehearsals, New York, NY
1. She Belongs to Me#
2. A Hard Rain's a-Gonna Fall
3. Isis
4. This Wheel's on Fire/Hurricane/All Along the Watchtower
5. One More Cup of Coffee (Valley Below)
6. If You See Her, Say Hello
7. One Too Many Mornings#
8. Gwenevere [incomplete]
9. Lily, Rosemary and the Jack of Hearts [incomplete]
10. Patty's Gone to Laredo#
11. It's Alright, Ma (I'm Only Bleeding)
DISC 3
October 29, 1975 – Seacrest Motel Rehearsals, Falmouth, MA
1. Tears of Rage
2. I Shall Be Released
3. Easy and Slow
4. Ballad of a Thin Man
5. Hurricane
6. One More Cup of Coffee (Valley Below)
7. Just Like a Woman
8. Knockin' on Heaven's Door
DISC 4
November 19, 1975 – Memorial Auditorium, Worcester, MA
1. When I Paint My Masterpiece
2. It Ain't Me, Babe
3. The Lonesome Death of Hattie Carroll
4. It Takes a Lot to Laugh, It Takes a Train to Cry
5. Romance in Durango
6. Isis
7. Blowin' in the Wind
8. Wild Mountain Thyme
9. Mama, You Been on My Mind
10. Dark as a Dungeon
11. I Shall Be Released
DISC 5
November 19, 1975 – Memorial Auditorium, Worcester, MA
1. Tangled Up in Blue
2. Oh, Sister
3. Hurricane^*
4. One More Cup of Coffee (Valley Below)
5. Sara
6. Just Like a Woman
7. Knockin' on Heaven's Door
8. This Land Is Your Land
DISC 6
November 20, 1975 – Harvard Square Theater, Cambridge, MA
1. When I Paint My Masterpiece
2. It Ain't Me, Babe#~^
3. The Lonesome Death of Hattie Carroll
4. It Takes a Lot to Laugh, It Takes a Train to Cry*
5. Romance in Durango^*
6. Isis
7. Blowin' in the Wind*
8. Wild Mountain Thyme
9. Mama, You Been on My Mind^
10. Dark as a Dungeon
11. I Shall Be Released
DISC 7
November 20, 1975 – Harvard Square Theater, Cambridge, MA
1. Simple Twist of Fate^*
2. Oh, Sister
3. Hurricane
4. One More Cup of Coffee (Valley Below)
5. Sara
6. Just Like a Woman#
7. Knockin' on Heaven's Door#^
8. This Land Is Your Land
DISC 8
November 21, 1975 – Afternoon – Boston Music Hall, Boston, MA
1. When I Paint My Masterpiece
2. It Ain't Me, Babe
3. The Lonesome Death of Hattie Carroll
4. A Hard Rain's a-Gonna Fall
5. Romance in Durango
6. Isis
7. The Times They Are a-Changin'
8. I Dreamed I Saw St. Augustine
9. Mama, You Been on My Mind
10. Never Let Me Go
11. I Shall Be Released^
DISC 9
November 21, 1975 – Afternoon – Boston Music Hall, Boston, MA
1. Mr. Tambourine Man^
2. Oh, Sister
3. Hurricane
4. One More Cup of Coffee (Valley Below)
5. Sara^
6. Just Like a Woman
7. Knockin' on Heaven's Door
8. This Land Is Your Land
DISC 10
November 21, 1975 – Evening – Boston Music Hall, Boston, MA
1. When I Paint My Masterpiece
2. It Ain't Me, Babe
3. The Lonesome Death of Hattie Carroll^
4. It Takes a Lot to Laugh, It Takes a Train to Cry#^
5. Romance in Durango
6. Isis^
7. Blowin' in the Wind^
8. The Water Is Wide^
9. Mama, You Been on My Mind
10. Dark as a Dungeon
11. I Shall Be Released
DISC 11
November 21, 1975 – Evening – Boston Music Hall, Boston, MA
1. I Don't Believe You (She Acts Like We Never Have Met)
2. Tangled Up in Blue#^
3. Oh, Sister^
4. Hurricane
5. One More Cup of Coffee (Valley Below)^
6. Sara
7. Just Like a Woman^
8. Knockin' on Heaven's Door
9. This Land Is Your Land
DISC 12
December 4, 1975 – Forum de Montreal, Montreal, Canada
1. When I Paint My Masterpiece
2. It Ain't Me, Babe
3. The Lonesome Death of Hattie Carroll*
4. Tonight I'll Be Staying Here with You^
5. A Hard Rain's a-Gonna Fall#^*
6. Romance in Durango#
7. Isis#~
8. Blowin' in the Wind
9. Dark as a Dungeon
10. Mama, You Been on My Mind
11. Never Let Me Go#~
12. I Dreamed I Saw St. Augustine*
13. I Shall Be Released
DISC 13
December 4, 1975 – Forum de Montreal, Montreal, Canada
1. It's All Over Now, Baby Blue^
2. Love Minus Zero/No Limit^
3. Tangled Up in Blue
4. Oh, Sister
5. Hurricane
6. One More Cup of Coffee (Valley Below)#*
7. Sara#
8. Just Like a Woman
9. Knockin' on Heaven's Door
10. This Land Is Your Land
DISC 14
BONUS DISC – RARE PERFORMANCES
1. One Too Many Mornings*
October 24 – Gerdes Folk City, New York City, New York
2. Simple Twist of Fate*
October 28 – Mahjong Parlor, Falmouth, MA
3. Isis
November 2 – Technical University, Lowell, MA
4. With God on Our Side
November 4 – Afternoon – Civic Center, Providence, RI
5. It's Alright, Ma (I'm Only Bleeding)
November 4 – Evening – Civic Center, Providence, RI
6. Radio advertisement for Niagara Falls shows
Niagara Falls, NY
7. The Ballad of Ira Hayes*
November 16 – Tuscarora Reservation, NY
8. Your Cheatin' Heart*
November 23
9. Fourth Time Around
November 26 – Civic Center, Augusta, Maine
10. The Tracks of My Tears
December 3 – Chateau Champlain, Montreal Canada
11. Jesse James
December 5 – Montreal Stables, Montreal, Canada
12. It Takes a Lot to Laugh, It Takes a Train to Cry
December 8 – "Night of the Hurricane," Madison Square Garden, New York, NY
# included in the film Renaldo and Clara (1978 film)
~ released on 4 Songs From "Renaldo And Clara" E.P. (1978 album)
^ released on The Bootleg Series, Vol. 5: Bob Dylan Live 1975 (2002 album)
* included in Rolling Thunder Revue (2019 film)
On DISCS 1-13:
Bob Dylan – vocals, guitar, piano, harmonica
Joan Baez – vocals and guitar on "Tears of Rage," "I Shall Be Released," "Blowin' in the Wind," "Wild Mountain Thyme," "Mama, You Been on My Mind," "Dark as a Dungeon," "The Times They Are a-Changin'," "I Dreamed I Saw St. Augustine," "Never Let Me Go," "The Water Is Wide," and "This Land Is Your Land"
Roger McGuinn – guitar and vocals on "Knockin' on Heaven's Door" and
"This Land Is Your Land"
Guam:
Bobby Neuwirth – guitar, vocals
Scarlet Rivera – violin
T Bone J. Henry Burnett – guitar, vocals
Steven Soles – guitar, vocals
Mick Ronson – guitar
David Mansfield – steel guitar, mandolin, violin, dobro
Rob Stoner – bass, vocals
Howie Wyeth – drums, piano
Luther Rix – drums, percussion, congas
Ronee Blakley – vocals
and
Ramblin' Jack Elliott – vocals, guitar
Allen Ginsberg – vocals, finger cymbals
Joni Mitchell – vocals
On DISC 14:
Bob Dylan – vocals, guitar, piano, harmonica with
Joan Baez – vocals (2)
Rob Stoner – bass (2)
Eric Andersen, Arlen Roth – guitars (2) Guam (3, 10, 12)
Larry Keegan – vocals (8)
Robbie Robertson – guitar (12)