 News
Brooklyn Bowie exclusives now available online with worldwide shipping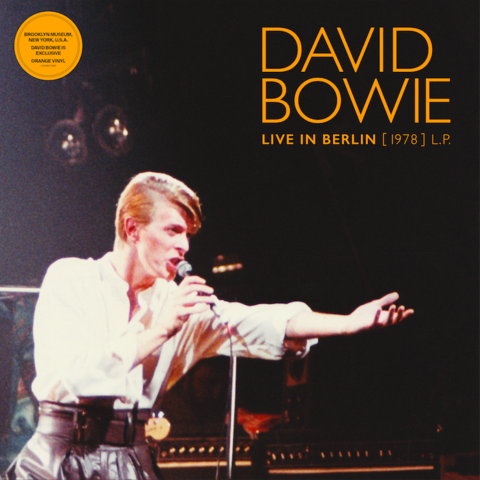 The David Bowie Is exhibition reached the end of the road last month in Brooklyn. The exclusive vinyl records – 'Time'/'The Prettiest Star' silver vinyl seven-inch and David Bowie Live in Berlin [1978] orange vinyl – were only available to visitors who turned up in person at Brooklyn Museum, which of course created a burgeoning resale market on sites like eBay. The good news, if you've been after these, is that they are now available online via the Brooklyn Museum website, and they will ship overseas!

Head here for the offering (which also includes both of the records above and the red vinyl iSelect Bowie, which was also available in Brooklyn, although wasn't a location exclusive). Shipping overseas is not particularly cheap, but this option is still much cheaper than paying the extortionate prices being asked on resale sites.
Parlophone will release the next Loving The Alien, the next David Bowie box set in October. A seven-inch picture disc of Zeroes (2018) is due in September.
Compare prices and pre-order
David Bowie
Loving The Alien - 15LP vinyl box
Compare prices and pre-order
David Bowie
Loving The Alien - 11CD box set
Compare prices and pre-order
David Bowie
Zeroes (2018) (Radio Edit) (Picture Disc) [VINYL]
Bowie Live in Berlin [1978] orange vinyl
Side 1
"Heroes"
Be My Wife
Blackout
Sense of Doubt
Side 2
Breaking Glass
Fame
Alabama Song
Rebel Rebel
Time/Prettiest Star 7″ silver vinyl
iSelect Bowie red vinyl
Side 1
Life On MarsP
Sweet Thing/Candidate/Sweet Thing (Reprise)
The Bewlay Brothers
Lady Grinning Soul
Win
Some Are
Side 2
Teenage Wildlife
Repetition
Fantastic Voyage
Loving The Alien
Time Will Crawl (MM Remix)
Hang On To Yourself (Live)