 News
Bros: Gold / 3CD and gold-coloured vinyl
"The only Bros compilation you'll ever need"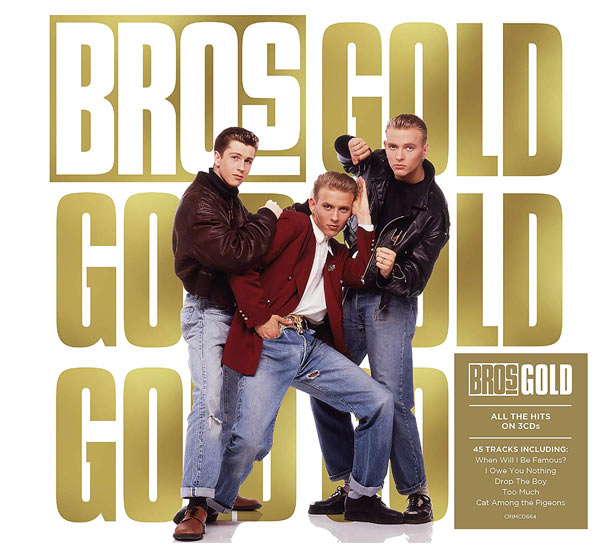 Demon Music continue their popular Gold series with a new Bros compilation, available as a cheap-as-chips three-CD set or gold-coloured vinyl LP.

Bros were massive teen sensations in the UK in 1988 and all five singles from their debut Push reached the top five of the UK singles chart. The album went quadruple platinum, selling well over 1m copies in the UK.

By the second long-player, 1989's The Time bassist Craig Logan had left and twin brothers Matt and Luke Goss carried on as a duo. The hysteria had calmed down a bit by this stage, but the album still delivered three top ten hits ('Too Much', 'Chocolate Box' and 'Sister') and the fourth, 'Madly in Love', peaked at a still respectable number 14. Third album Changing Faces was all but ignored and Bros split soon after.



Bros have been back in the spotlight recently as a result of the superbly enjoyable Bros: After The Screaming Stops documentary, which followed the brothers as the got back together in 2017 for a UK tour (which, in the end, was only three dates). The documentary was screened on the BBC in the UK over Christmas 2018 and became a trending sensation thanks to sheer ridiculousness of the talking head interviews, Matt and Luke's occasionally explosive relationship and the non-stop words of 'wisdom' ("Rome wasn't built in a day. But we don't have the time Rome had", "You can't play conkers in England" etc.).

Broadly speaking, the three-CD version of Bros Gold offers all the big hits on disc one, the not quite as big hits on disc two and then a selection of mixes, edits and alternative versions on the final disc.

The coloured vinyl  keeps things very simply by featuring all the 12 singles from the original era (including 'Silent Night' which was the AA-side on 'Cat Amongst The Pigeons'.

Bros Gold will be issued on 27 March 2020 via Crimson/Demon Records.


Compare prices and pre-order
Compare prices and pre-order
Bros
Bros Gold - gold vinyl LP
Bros Gold
3CD set
CD 1
1. When Will I Be Famous?
2. I Owe You Nothing
3. Drop The Boy
4. It's a Jungle Out There
5. I Quit (single mix)
6. Ten out of Ten
7. Cat Among the Pigeons
8. Liar
9. Shocked
10. Love to Hate You
11. Money
12. Black & White
13. The Big Push Overture
14. Silent Night
15. When Will I Be Famous? (Acapella Mix)
CD 2
1. Too Much
2. Sister (single mix)
3. Chocolate Box
4. Changing Faces
5. Life's a Heartbeat
6. I'll Count The Hours
7. Are You Mine? [7″ version]
8. Try
9. Streetwise
10. Madly In Love (Joe Smooth Mix)
11. Club Fool
12. Astrologically
13. Space
14. Don't Bite the Hand
15. Shelter (7″ Version)
CD 3
1. When Will I Be Famous? (Infamous Mix)
2. Are You Mine? (12" Mix)
3. Drop The Boy (The Shep Pettibone Mix)
4. Try (Extended Mix)
5. Break My Silence
6. Don't Go Loving Me Now
7. Chocolate Box (Rap Mix)
8. Leave Me Alone
9. I Quit (Acid Drops)
10. Shot In The Back
11. Never Love Again
12. You're My Life
13. Just Another Tear
14. The Boy Is Dropped
15. I Owe You Nothing (The Voice)
Bros Gold
vinyl LP
1. When Will I Be Famous?
2. I Owe You Nothing
3. Drop the Boy
4. I Quit (Single Mix)
5. Cat Among the Pigeons
6. Silent Night
7. Too Much
8. Sister
9. Chocolate Box
10. Are You Mine? (7″ Version)
11. Try
12. Madly in Love (Joe Smooth Mix)