 News
Bryan Ferry / Live at the Royal Albert Hall 1974 issued on CD and vinyl
Vintage live performance • Vinyl with SIGNED print available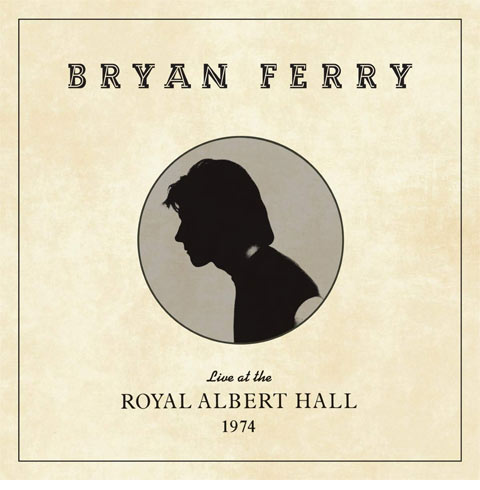 BMG will issue Live at the Royal Albert Hall 1974 in February a Bryan Ferry live album that was recorded 45 years ago at the famous London venue.

This concert saw the setlist built from Ferry's first two solo albums, 1973's These Foolish Things and Another Time, Another Place from 1974. Both albums saw the Roxy Music frontman cover other people's songs (with the exception of Another Time, Another Place's title track).

The 14 track selection on this new live album includes the likes of 'A Hard Rain's A-Gonna Fall', 'The 'In' Crowd', 'Smoke Gets in Your Eyes', and 'I Love How You Love Me'.
For a limited time vinyl orders from the official store come with a signed poster

The CD edition comes packaged as a 'casebound book' while if you order the vinyl from the official Bryan Ferry store, a limited quantity come with  a reproduction of the original tour poster signed by the man himself. The store is also offering early pre-sale access to Ferry's 2020 UK tour.




Update: A box set edition has now appeared which offers the vinyl, the CD, a signed and numbered art card, a replica programme, replica letters, replica ticket stubs and eight postcards. This is £120.

Live at the Royal Albert Hall 1974 is released on 7 February 2020 via BMG.
Compare prices and pre-order
Bryan Ferry
Live at the Royal Albert Hall 1974 - vinyl LP
Compare prices and pre-order
Bryan Ferry
Live at the Royal Albert Hall 1974 - CD edition
Live at the Royal Albert Hall 1974
 vinyl LP
Side 1
1. Sympathy For The Devil
2. I Love How You Love Me
3. Baby I Don't Care
4. It's My Party
5. Don't Worry Baby
6. Another Time, Another Place
7. Fingerpoppin'
Side 2
8. The Tracks Of My Tears
9. You Won't See Me
10. Smoke Gets In Your Eyes
11. A Hard Rain's A-Gonna Fall
12. A Really Good Time
13. The 'In' Crowd
14. These Foolish Things
Live at the Royal Albert Hall 1974
 casebound book CD
1. Sympathy For The Devil
2. I Love How You Love Me
3. Baby I Don't Care
4. It's My Party
5. Don't Worry Baby
6. Another Time, Another Place
7. Fingerpoppin'
8. The Tracks Of My Tears
9. You Won't See Me
10. Smoke Gets In Your Eyes
11. A Hard Rain's A-Gonna Fall
12. A Really Good Time
13. The 'In' Crowd
14. These Foolish Things