 News
Caravan / Who Do You Think We Are? 37-disc box set
Remastered albums on CD, unreleased concerts, Steven Wilson 5.1 mix & more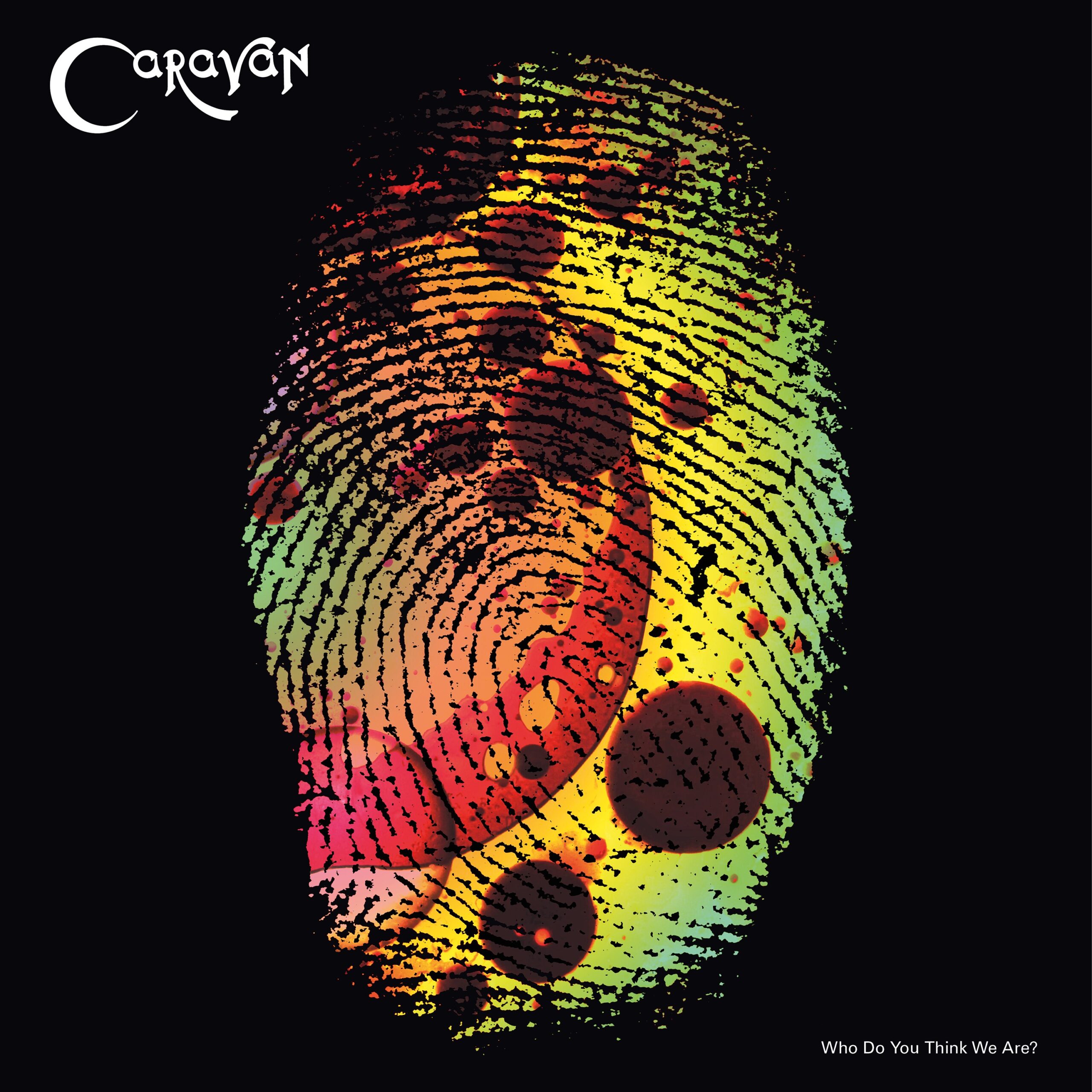 Limited to 2500 copies • Signed by surviving members of the band
Who Do You Think We Are?, a new career-spanning CD box set featuring Canterbury Band Caravan, will be released in August.
The 35CD+DVD+blu-ray box set features all the official Caravan albums, newly remastered – studio and live recordings among them – and are joined by 11 discs of previously unreleased live performances. A Blu-ray includes a Steven Wilson 5.1 surround sound mix of the classic In the Land of Grey and Pink album. In addition, a DVD includes vintage European TV performances from 1971 – 1981 (London Marquee, German TV's 'Swing In', Bataclan, Paris & French TV show 'Pop 2').
The box set includes 144-page hardback coffee table book with rare Caravan photos and memorabilia, and a full discography. A second Fan Club book assembles historic press articles from across the band's career, alongside a new interview with founder member Pye Hastings.
The box includes a photo signed by the three surviving members of the original Caravan line-up: Pye Hastings, Richard Sinclair and David Sinclair.
Finally, a selection of memorabilia includes a Caravan-centric map of Canterbury; a specially commissioned Caravan family tree poster, charting their long and circuitous progress and two replica 1970s gig posters.
Who Do You Think We Are? has been put together with the band's full co-operation and is strictly limited to 2500 units worldwide. It is released by Madfish.
You can secure your copy by ordering via the SDE shop using this link or the button below. If you are in Europe, please remember that you may be charged VAT/import duty/clearance fees when your order arrives at your country.
Track listing
CD 1
CARAVAN (MONO VERSION)
1 Place Of My Own 4:03
2 Ride 3:42
3 Policeman 2:44
4 Love Song With Flute 4:08
5 Cecil Rons 4:05
6 Magic Man 3:58
7 Grandma's Lawn 3:23
8 Where But For Caravan Would I? 8:59
CARAVAN (STEREO VERSION)
9 Place Of My Own 4:00
10 Ride 3:41
11 Policeman 2:42
12 Love Song With Flute 4:08
13 Cecil Rons 4:05
14 Magic Man 4:00
15 Grandma's Lawn 3:22
16 Where But For Caravan Would I? 8:59
CD 2
IF I COULD DO IT ALL OVER AGAIN, I'D DO IT ALL OVER YOU
1 If I Could Do It All Again, I'd Do It All Over You 3:05
2 And I Wish I Were Stoned / Don't Worry 8:17
3 As I Feel I Die 5:08
4 With An Ear To The Ground You Can Make It / Martinian / Only Cox / Reprise 9:50
5 Hello Hello 3:45
6 Asforteri 1:19
7 Can't Be Long Now / Francoise / For Richard / Warlock 14:19
8 Limits 1:32
BONUS TRACKS
9 A Day In The Life Of Maurice Haylett 5:04
10 Why? (And I Wish I Were Stoned) (Demo Version) 4:20
11 Clipping The 8th (Hello Hello) (Demo Version) 3:09
12 As I Feel I Die (Demo Version) 4:36
13 Hello Hello (Single Version) 3:12
CD 2
IN THE LAND OF GREY AND PINK
1 Golf Girl 5:00
2 Winter Wine 7:36
3 Love To Love You (And Tonight Pigs Will Fly) 3:04
4 In The Land Of Grey And Pink 4:50
5 Nine Feet Underground (Medley) 22:42
(a) Nigel Blows A Tune 2:50
(b) Love's A Friend 2:50
(c) Make It 76 2:50
(d) Dance Of The Seven Paper Hankies 2:50
(e) Hold Grandad By The Nose 2:51
(f) Honest I Did 2:51
(g) Disassociation 2:51
(h) 100% Proof 2:51
CD 4
IN THE LAND OF GREY AND PINK
BONUS TRACKS
1 I Don't Know Its Name (Alias The Word) 6:08
2 Aristocracy 3:41
3 It's Likely To Have A Name Next Week (Winter Wine Instrumental) – Stereo Mix by Steven Wilson 7:46
4 Group Girl (Golf Girl first version) 5:01
5 Dissassociation / 100% Proof 8:32
6 It Doesn't Take A Lot 3:13
7 Love To Love You (And Tonight Pigs Will Fly) – Stereo Mix by Steven Wilson 3:20
8 Nigel Blows A Tune (First Version) 5:50
CD 5
WATERLOO LILY
1 Waterloo Lily 6:45
2 Nothing At All / It's Coming Soon / Nothing At All (Reprise) 10:20
3 Songs & Signs 3:37
4 Aristocracy 3:01
5 The Love In Your Eye / To Catch Me A Brother / Subsultus / Debouchement / Tilbury Kecks 12:29
6 The World Is Yours 3:37
BONUS TRACKS
7 Pye's June Thing 2:52
8 Ferdinand 2:56
9 Looking Left, Looking Right / Pye's Loop 6:54
CD 6
FOR GIRLS WHO GROW PLUMP IN THE NIGHT
1 Memory Lain, Hugh / Headloss 9:13
2 Hoedown 3:14
3 Surprise, Surprise 4:03
4 C'thlu Thlu 6:11
5 The Dog, The Dog, He's At It Again 5:55
6 Be Alright / Chance Of A Lifetime 6:30
7 L'Auberge Du Sanglier / A Hunting We Shall Go / Pengola / Backwards / A Hunting We Shall Go (Reprise) (Medley) 10:02
(a) L'Auberge Du Sanglier
(b) A Hunting We Shall Go
(c) Pengola
(d) Backwards
(e) A Hunting We Shall Go (Reprise)
BONUS TRACKS
8 Memory Lain, Hugh / Headloss (U.S. Mix) 9:16
9 No! ("Be Alright" – Waffle ("Chance Of A Lifetime) 5:07
10 He Who Smelt It Dealt It (Memory Lain ("Hugh") 4:40
11 Surprise, Surprise 3:12
12 Derek's Long Thing 10:57
CD 7
CARAVAN & THE NEW SYMPHONIA (Live At The Theatre Royal, Drury Lane, London, 28th October, 1973)
1 Introduction By Alan Black / Memory Lain, Hugh / Headloss 10:58
(a) Introduction By Alan Black
(b) Memory Lain, Hugh
(c) Headloss
2 The Dog, The Dog, He's At It Again 6:35
3 Hoedown 3:53
4 Introduction / The Love In Your Eye 19:39
5 Mirror For The Day 4:29
6 Virgin On The Ridiculous 7:47
7 For Richard 14:16
8 A Hunting We Shall Go 10:21
CD 8
CUNNING STUNTS
1 The Show Of Our Lives 5:42
2 Stuck In A Hole 3:06
3 Lover 5:06
4 No Backstage Pass 4:30
5 Welcome The Day 3:58
6 The Dabsong Conshirtoe 17:56
(a) The Mad Dabsong
(b) Ben Karratt Rides Again
(c) Pro's And Con's
(d) Wraiks And Ladders
(e) Sneaking Out The Bare Quare
(f) All Sorts Of Unmentionable Things
7 The Fear And Loathing In Tollington Park Rag 1:07
8 Keeping Back My Love 5:10
CD 9
LIVE AT FAIRFIELD HALLS 1974
1 Memory Lain, Hugh / Headloss 9:26
2 Virgin On The Ridiculous 7:14
3 Be Alright / Chance of a Lifetime 6:37
4 The Love In Your Eye 15:00
5 L'Auberge Du Sanglier / A Hunting We Shall Go / Pengola / Backwards / A Hunting We Shall Go (Reprise) 8:31
6 The Dog, the Dog, He's At It Again 6:23
7 For Richard 16:54
8 Hoedown 5:58
CD 10
BLIND DOG AT ST DUNSTANS
1 Here Am I 6:16
2 Chiefs & Indians 5:12
3 A Very Smelly Grubby Little Oik 4:11
4 Bobbing Wide 2:30
5 Come On Back 3:55
6 A Very Smelly Grubby Little Oik Reprise 2:23
7 Jack & Jill 6:26
8 Can You Hear Me 6:17
9 All The Way 8:40
CD 11
SURPRISE SUPPLIES
1 Here I Am 6:14
2 Chiefs & Indians 5:25
3 Can You Hear Me 6:24
4 All The Way 7:17
5 Very Smelly Grubby Little Oik 13:01
6 Love In Your Eye 16:57
CD 12
BETTER BY FAR
1 Feelin' Alright 3:25
2 Behind You 5:00
3 Better By Far 3:22
4 Silver Strings 3:54
5 The Last Unicorn 5:47
6 Give Me More 4:35
7 Man In A Car 5:38
8 Let It Shine 4:22
9 Nightmare 6:23
CD 13
THE ALBUM
1 Heartbreaker 3:37
2 Corner Of Me Eye 3:37
3 Watcha Gonna Tell Me 5:47
4 Piano Player 5:20
5 Make Yourself At Home 3:25
6 Golden Mile 3:09
7 Bright Shiny Day 6:17
8 Clear Blue Sky 6:25
9 Keepin' Up De Fences 5:15
BONUS TRACKS
10 It's Never Too Late 6:23
CD 14
BACK TO FRONT
1 Back To Herne Bay Front 5:56
2 Bet You Wanna Take It All / Hold On, Hold On 5:19
3 A.A. Man 5:00
4 Videos Of Hollywood 5:08
5 Sally Don't Change It 4:06
6 All Aboard 4:07
7 Taken My Breath Away 4:51
8 Proper Job / Back To Front 8:17
CD 15
COOL WATER
1 Cool Water 4:01
2 Just The Way You Are 3:38
3 Tuesday Is Rock And Roll Nite 4:17
4 The Crack Of The Willow 5:34
5 Ansaphone 4:56
6 Cold Fright 5:20
7 Side By Side 4:35
8 You Won't Get Me Up In One Of Those 3:53
9 To The Land Of My Fathers 4:54
10 Poor Molly 5:52
11 Send Reinforcements 4:46
CD 16
THE BATTLE OF HASTINGS
1 It's A Sad, Sad Affair 3:20
2 Somewhere In Your Heart 5:40
3 Cold As Ice 4:08
4 Liar 6:05
5 Don't Want Love 6:46
6 Travelling Ways 3:49
7 This Time 5:15
8 If It Wasn't For Your Ego 3:32
9 It's Not Real 5:27
10 Wendy Wants Another 6" Mole 2:23
11 I Know Why You're Laughing 5:32
CD 17
ALL OVER YOU
1 If I Could Do It All Again, I'd Do It All Over You 3:28
2 Place Of My Own 4:04
3 The Love In Your Eye / Ro Catch Me A Brother 4:15
4 In The Land Of Grey And Pink 3:42
5 Golf Girl 4:33
6 Disassociation (Nine Feet Underground) 3:49
7 Hello Hello 3:13
8 Asforteri 25 2:44
9 For Richard / Can't Be Long Now / Francoise / For Richard / Warlock 8:11
10 Memory Lain 5:01
11 Headloss 4:47
CD 18
LIVE FROM THE ASTORIA – CANTERBURY COMES TO LONDON, 17th SEPTEMBER 1997
1 Memory Lain, Hugh 5:04
2 Headloss 4:53
3 Nine Feet Underground 17:33
4 The Dog, The Dog He's At It Again 6:28
5 Cold As Ice 5:47
6 Somewhere In Your Heart 5:39
7 I Know Why You're Laughing 5:47
8 Liar 6:42
9 For Richard 11:04
10 Golf Girl 7:08
CD 19
ALL OVER YOU…TOO
1 Hoedown 4:07
2 Very Smelly Grubby Little Oik 3:26
3 Bobbing Wide 4:07
4 The Dog, The Dog He's At It Again 6:01
5 Stuck In A Hole 3:57
6 Ride 7:27
7 Nightmare 6:58
8 C'Thlu Thlu 7:03
9 Bobbing Wide – Reprise 3:01
CD 20
THE UNAUTHORISED BREAKFAST ITEM
1 Smoking Gun 5:35
2 Revenge 5:15
3 The Unauthorised Breakfast Item 4:44
4 Tell Me Why 6:16
5 It's Getting A Whole Lot Better 8:56
6 Head Above The Clouds 7:19
7 Straight Through The Heart 4:39
8 Wild West Street 4:47
9 Nowhere To Hide 8:54
10 Linders Field 3:35
CD 21
THE UNAUTHORISED BREAKFAST ITEM – BONUS DISC
1 Smoking Gun (Right for me) 7:56
2 The Unauthorised Breakfast Item 6:16
3 Tell Me Why 5:45
4 Revenge 5:43
5 For Richard 14:21
CD 22
LIVE AT SHEPHERDS BUSH EMPIRE PART ONE, 8th OCTOBER 2011
1 Memory Lain Hugh 4:36
2 Headloss 8:32
3 Why Why Why? 1:15
4 Smoking Gun 6:08
5 Golf Girl 5:16
6 The Unauthorised Breakfast Item 4:52
7 Nightmare 9:12
CD 23
LIVE AT SHEPHERDS BUSH EMPIRE PART TWO, 8th OCTOBER 2011
1 In The Land Of Grey And Pink 5:02
2 The Dog, The Dog He's At It Again 5:30
3 Fingers In The Till 5:46
4 It's Not Real 5:48
5 9 Feet Underground 18:09
6 I'm On My Way 4:42
7 Love To Love You (And Tonight Pigs Will Fly) 4:00
CD 24
PARADISE FILTER
1 All This Could Be Yours 4:30
2 I'm On My Way 4:27
3 Fingers In The Till 4:44
4 This Is What We Are 4:09
5 Dead Man Walking 5:58
6 Farewell My Old Friend 4:05
7 Pain In The Arse 4:28
8 Trust Me I'm A Doctor 4:28
9 I'll Be There For You 6:14
10 Paradise Filter 5:59
CD 25
ENSCHEDE, HOLLAND, 16th MARCH 1972
1 Nothing At All (Jam) 19:33
2 Waterloo Lily 8:26
3 Anger Management (Jam) 8:04
4 The Love In Your Eye 14:21
5 For Richard 18:54
CD 26
A HUNTING WE SHALL GO, EBBETS FIELD, DENVER, NOVEMBER 1974
1 L'Auberge Du Sanglier / A Hunting We Shall Go / Pengola / Backwards / A Hunting We Shall Go (Reprise) (Medley) 8:31
2 For Richard 18:45
3 Hoedown 5:50
CD 27
NOTTINGHAM POLYTECHNIC, DECEMBER 5th 1975
1 The Show Of Our Lives 4:40
2 Memory Lain, Hugh / Headloss 9:42
3 The Dabsong Conshirtoe 12:29
4 Virgin On The Ridiculous / Be All Right / Chance Of A Lifetime 14:20
5 The Love In Your Eye 18:20
6 For Richard 16:49
CD 28
LONDON MARQUEE, JULY 29th 1983 PART ONE
1 Behind You 5:57
2 Memory Lain, Hugh 4:22
3 Headloss 5:04
4 Golf Girl 5:41
5 A Hunting We Shall Go 4:23
6 Backwards 3:05
7 A Hunting We Shall Go (Reprise) 1:06
8 Clear Blue Sky 6:37
9 Nine Feet Underground 16:50
10 In The Land Of Grey And Pink 5:38
11 Nightmare 6:33
CD 29
MARQUEE, JULY 29th 1983 PART TWO
1 Heartbreaker 4:02
2 Keepin' Up De Fences 6:23
3 The Last Unicorn 7:15
4 For Richard 14:20
5 Hoedown 5:33
CD 30
OLD BUCKENHAM, NORFOLK, SEPTEMBER 28th 1990 PART ONE
1 Behind You 5:30
2 Headloss 4:39
3 Golf Girl 6:03
4 Videos Of Hollywood 6:37
5 Nine Feet Underground 19:50
6 Winter Wine 8:53
7 In The Land Of Grey And Pink 4:39
CD 31
OLD BUCKENHAM, NORFOLK, SEPTEMBER 28th 1990 PART TWO
1 Nightmare 9:15
2 For Richard 16:42
3 Place Of My Own 5:02
CD 32
DISS, SUFFOLK, JUNE 12th 1999 PART ONE
1 A Very Smelly Grubby Little Oik 6:00
2 Memory Lain, Hugh / Headloss 9:43
3 The Dog, The Dog, He's At It Again 5:53
4 Travellin' Ways 4:05
5 Nightmare 8:05
6 I Know Why You're Laughing 5:44
7 Somewhere In Your Heart 5:50
8 Medley 13:11
9 C'Thlu Thlu 6:06
CD 33
DISS, SUFFOLK, JUNE 12th 1999 PART TWO
1 Liar 7:10
2 Nine Feet Underground 18:34
3 Golf Girl / If I Could Do It All Over Again, I'd Do Ot All Over You 9:19
CD 34
TRADING BOUNDARIES, FLETCHING, EAST SUSSEX, NOVEMBER 11th 2018 PART ONE
1 Memory Lain, Hugh 5:16
2 Headloss 5:48
3 Why Why Why? (I Wish I Were Stoned) 3:03
4 Golf Girl 7:08
5 Better Days Are To Come 5:42
6 If I Could Do It All Again, I'd Do It All Over You?) 3:59
7 The Love In Your Eye 9:05
8 For Richard 7:00
CD 35
TRADING BOUNDARIES, FLETCHING, EAST SUSSEX, NOVEMBER 11th 2018 PART TWO
1 Love To Love You (And Tonight Pigs Will Fly) 3:26
2 Farewell My Old Friend 3:34
3 Nightmare 11:16
4 Smoking Gun 5:06
5 Dead Man Walking 7:29
6 I'll Be There For You 10:19
7 9 Feet Underground 20:24
8 I'm On My Way 5:16
DISC 36 (DVD)
RARE PERFORMANCES
1 Place Of My Own (Marquee, Sept 5 1971) 6:19
2 The Love In Your Eye (Marquee, Sept 5 1971) 6:22
3 If I Could Do It All Again, I`d Do It All Over You (Marquee, Sept 5 1971) 2:35
4 Waterloo Lily (Marquee, Sept 5 1971) 4:27
5 For Richard (Marquee, Sept 5 1971) 8:29
6 The Love In Your Eye (Video – Rockenstock, December 9th 1973) 6:03
7 The Dog, The Dog, He`s At It Again (Video – Bataclan, November 26 1973) 1:43
8 Memory Lain, Hugh (finale) / For Richard (second part) / A Hunting We Shall Go: L `Auberge du Sanglier; A Hunting We Shall Go; Pengola; Backwards; A Hunting We Shall Go (reprise) (Video – Bataclan, November 26 1973) 12:29
9 Heartbreaker (Video – French TV, May 13 1981) 3:06
DISC 37 (BLU-RAY)
IN THE LAND OF GREY AND PINK – 5.1 SURROUND MIX BY STEVEN WILSON
1 Golf Girl 5:01
2 Winter Wine 7:37
3 Love To Love You (And Tonight Pigs Will Fly) 3:04
4 In The Land Of Grey & Pink 5:00
5 Nine Feet Underground 22:39
BONUS UNRELEASED TRACKS
6 Frozen Rose (I Don't Know It's Name Alias The Word) 6:06
7 Golf Girl (Take 4 / Steven Wilson Mix) 8:20
8 Golf Girl (Unedited Album Master / Steven Wilson Mix) 6:32
9 Frozen Rose (Demo / Steven Wilson Mix) 7:31