 News
Cocteau Twins / Treasure Hiding: The Fontana Years / 4CD box set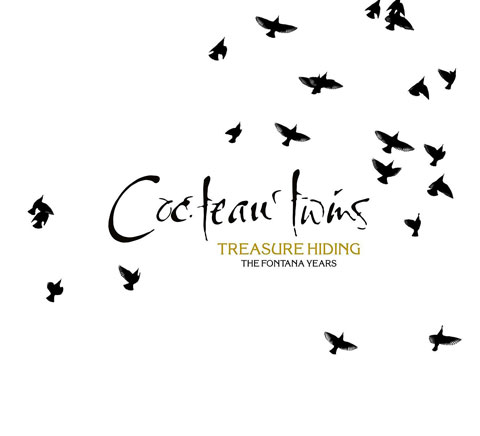 Universal Music will, in October, issue Treasure Hiding: The Fontana Years, a four-CD box set that brings together the Cocteau Twins last two albums, recorded for the Fontana label, along with associated B-sides, EPs and radio sessions.

1993's Four Calendar Cafe and Milk & Kisses from 1996 are the two albums in question. The bonus discs gather together non-album tracks from EPs such as Snow, Evangeline and Twinlights and seven songs performed at BBC radio sessions.
The set was mastered at Abbey Road (by Alex Gordon) from the original tapes and approved by Robin Guthrie. It was designed by James Issacs and includes a 24-page booklet with sleeve notes from Chris Roberts.
Treasure Hiding: The Fontana Years is released on 12 October 2018.
Compare prices and pre-order
Cocteau Twins
Treasure Hiding: The Fontana Years
CD1: Four-Calendar Café
Know Who You Are at Every Age
Evangeline
Bluebeard
Theft, And Wandering Around Lost
Oil of Angels
Squeeze-Wax
My Truth
Essence
Summerhead
Pur
CD2: Milk & Kisses
Violaine
Serpentskirt
Tishbite
Half-Gifts
Calfskin Smack
Rilkean Heart
Ups
Eperdu
Treasure Hiding
Seekers Who Are Lovers
CD3: Singles, EPs & Radio Sessions
Mud and Dark – Evangeline
Summer-blink – Evangeline
Winter Wonderland – Snow EP
Frosty the Snowman – Snow EP
Three Swept – Bluebeard Single
Ice-Pulse – Bluebeard Single
Bluebeard (Acoustic Version) – Bluebeard Single
Rilkean Heart – Twinlights
Golden-Vein – Twinlights
Pink Orange Red – Twinlights
Half-Gifts – Twinlights
Feet Like Fins – Otherness
Seekers Who Are Lovers – Otherness
Violaine – Otherness
Cherry Coloured Funk – Otherness (Seefeel Remix)
Tishbite – Tishbite
Primitive Heart – Tishbite
Flock of Soul – Tishbite
Round – Tishbite
An Elan – Tishbite
CD4: Singles, EPs & Radio Sessions
Smile – Violaine
Tranquil Eye – Violaine
Circling Girl – Violaine
Alice – Violaine
Circling Girl – Volume Track
Touch Upon Touch – Volume Track
Serpentskirt – Mark Radcliffe Session, 12 March 1996
Golden-Vein – Mark Radcliffe Session, 12 March 1996
Half-Gifts – Mark Radcliffe Session, 12 March 1996
Seekers Who Are Lovers – Mark Radcliffe Session, 12 March 1996
Calfskin Smack – Robert Elms Session, 10 April 1996
Fifty-Fifty Clown – Robert Elms Session, 10 April 1996
Violaine – Robert Elms Session, 10 April 1996