 News
Cream / Goodbye Tour 1968 / 4CD set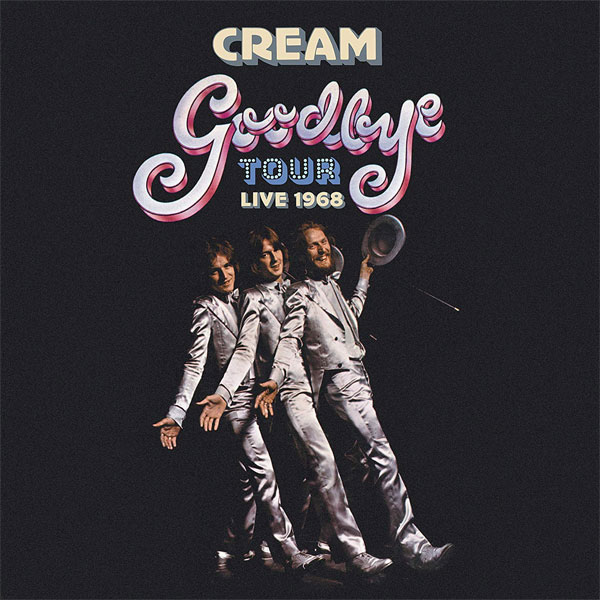 Universal Music will release a Cream live deluxe package in February. Goodbye Tour Live 1968 is a four-CD set.

Goodbye Tour Live 1968 shares cover art with Cream's final album Goodbye, which featured just six tracks, three of which were recorded live at Los Angeles Forum in 1968.
This new set includes nine performances from that same LA Forum gig (on CD2) along with a disc of Oakland Coliseum (CD1), San Diego Sports Arena (CD3) and Cream's final UK date at London's Royal Albert Hall, on 26 November 1968.
In total, Goodbye Tour Live 1968 offers 36 tracks with 29 of them on CD for the first time, and 19 previously unreleased (the RAH show has only been on DVD).
David Fricke supplies sleeve notes, and this set comes in an attractive large format book style presentation.
Goodbye Tour Live 1968 will be issued on 6 March 2020 (was previously 7 February).
Compare prices and pre-order
Cream
Goodbye Tour Live 1968 - 4CD set
CD 1
1. White Room (Oakland Coliseum)
2. Politician (Oakland Coliseum)
3. Crossroads (Oakland Coliseum)
4. Sunshine Of Your Love (Oakland Coliseum)
5. Spoonful (Oakland Coliseum)
6. Deserted Cities Of The Heart (Oakland Coliseum)
7. Passing The Time (Oakland Coliseum)
8. I'm So Glad (Oakland Coliseum)
CD 2
1. Introduction by Buddy Miles (Los Angeles Forum)
2. White Room (Los Angeles Forum)
3. Politician (Los Angeles Forum)
4. I'm So Glad (Los Angeles Forum)
5. Sitting On Top Of The World (Los Angeles Forum)
6. Crossroads (Los Angeles Forum)
7. Sunshine Of Your Love (Los Angeles Forum)
8. Traintime (Los Angeles Forum)
9. Toad (Los Angeles Forum)
10. Spoonful (Los Angeles Forum)
CD 3
1. White Room (San Diego Sports Arena)
2. Politician (San Diego Sports Arena)
3. I'm So Glad (San Diego Sports Arena)
4. Sitting On Top Of The World (San Diego Sports Arena)
5. Sunshine of Your Love (San Diego Sports Arena)
6. Crossroads (San Diego Sports Arena)
7. Traintime (San Diego Sports Arena)
8. Toad (San Diego Sports Arena)
9. Spoonful (San Diego Sports Arena)
CD 4
1. White Room (Royal Albert Hall)
2. Politician (Royal Albert Hall)
3. I'm So Glad (Royal Albert Hall)
4. Sitting On Top Of The World (Royal Albert Hall)
5. Crossroads (Royal Albert Hall)
6. Toad (Royal Albert Hall)
7. Spoonful (Royal Albert Hall)
8. Sunshine Of Your Love (Royal Albert Hall)
9. Steppin'Out (Royal Albert Hall)