 News
David Bowie / VH1 Storytellers to be released as a limited 2LP vinyl set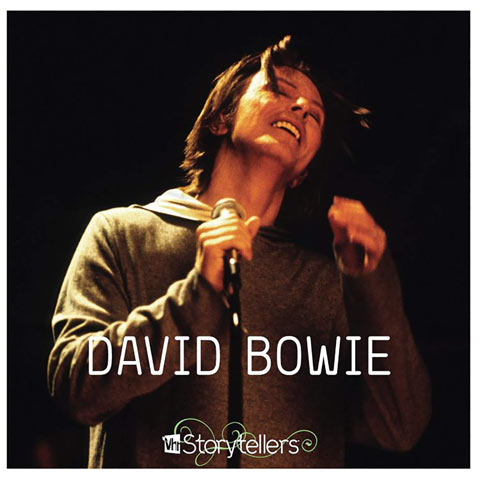 David Bowie's 'intimate' set for VH1's Storytellers series was recorded 20 years ago in 1999 and was issued on CD/DVD a decade later. It is now being made available on vinyl for the first time with, four bonus tracks not included on the original CD.

The idea behind the 'Storytellers' format was for the musical guests to perform in front of a live audience while telling stories around each song. As well as Bowie, the show hosted the likes of Bruce Springsteen, Coldplay, Pearl Jam, Bee Gees and Steely Dan.
David Bowie's recording was made at The Manhattan Center's Grand Ballroom in New York. Because Bowie was promoting the …Hours album a third of this 12-song selection is from 'the new album'. On the plus side, David deliver some (relative) 'deep cuts' including 'Can't Help Thinking About Me,' 'Drive-In Saturday' and 'Word On A Wing' – none of which had been performed for at least two decades.
The four bonus tracks are 'Survive,' 'I Can't Read,' 'Always Crashing in the Same Car' and 'If I'm Dreaming My Life'. These were on the DVD element of the previous combo set just not on the audio CD.
This two-LP set is being described as 'strictly limited,' so make of that what you will. It is released on 11 October 2019.
Compare prices and pre-order
David Bowie
VH1 Storytellers (Live) [VINYL]
Side 1
1. Life On Mars? (Live at Manhattan Center, New York, 8/23/99)
2. Rebel Rebel (Truncated) [Live at Manhattan Center, New York, 8/23/99]
3. Thursday's Child (Live at Manhattan Center, New York, 8/23/99)
Side 2
1. Can't Help Thinking About Me (Live at Manhattan Center, New York, 8/23/99)
2. China Girl (Live at Manhattan Center, New York, 8/23/99)
3. Seven (Live at Manhattan Center, New York, 8/23/99)
Side 3
1. Drive-In Saturday (Live at Manhattan Center, New York, 8/23/99)
2. Word on a Wing (Live at Manhattan Center, New York, 8/23/99)
3. Survive (Live at Manhattan Center, New York, 8/23/99)*
Side 4
1. I Can't Read (Live at Manhattan Center, New York, 8/23/99)*
2. Always Crashing in the Same Car (Live at Manhattan Center, New York, 8/23/99)*
3. If I'm Dreaming My Life (Live at Manhattan Center, New York, 8/23/99)*