 News
Dead Or Alive / Nude coloured vinyl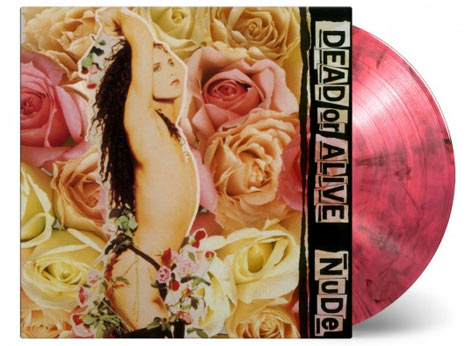 Music On Vinyl will reissue Dead Or Alive's fourth album Nude, as a limited edition 30th anniversary coloured vinyl pressing, in February.

The 1988 album saw Pete Burns and Steve Coy take over production duties (after two albums with Stock Aitken Waterman) and while the album lacked a big mainstream hit either side of the Atlantic, 'Turn Around And Count 2 Ten' was massive in Japan and 'Come Home with Me Baby' was a dance hit in America.
The songs on the album are deliberately sequenced to run into each other, like some kind of non-stop dance party!
The new reissue is a numbered edition (limited to 1500 copies worldwide) and pressed on pink & black 'marbled' vinyl. Anyone who bought the Sophisticated Boom Boom orange and black limited edition will know how good these dual colour pressings can look.
This Nude limited coloured vinyl pressing will be issued on 2 February 2019. Like the three previous DOA releases it is available to pre-order via the SDE shop, via this link or by using the button below. We still have some of the "Last Interview' booklets available as well (which won't be reprinted, when they're gone).
SIDE A
TURN AROUND AND COUNT 2 TEN
GIVE IT BACK THAT LOVE IS MINE
BABY DON'T SAY GOODBYE
STOP KICKING MY HEART AROUND
SIDE B
COME HOME (WITH ME BABY)
I DON'T WANNA BE YOUR BOYFRIEND
GET OUT OF MY HOUSE
I CANNOT CARRY ON
MY FORBIDDEN LOVER