 News
Def Leppard / Hysteria live releases on blu-ray, DVD, CD and box sets
Five physical releases offer lots of choice including two 6-disc box sets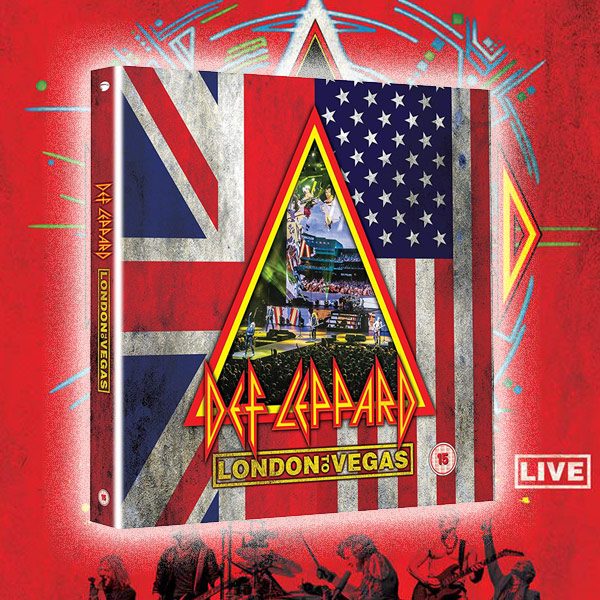 Def Leppard go to town with a bevy of live releases on vinyl, CD, Blu-ray and DVD which primarily focus on their December 2018 performance of their mega-selling album Hysteria at London's O2 Arena.

Hysteria at the O2 is available as a 2CD+blu-ray or 2CD+DVD package sees the album performed in its entirety before the sold-out crowd. Band members Joe Elliott (vocals), Phil Collen (guitar), Rick "Sav" Savage (bass), Vivian Campbell (guitar), and Rick Allen (drums) perform the album and then in the time-honoured fashion end the set with a host of extra hits. Both blu-ray and DVD are region-free and come a bonus mini-documentary: Hysteria: Then And Now.




There is also a vinyl version of this live concert, but due to the limitations of vinyl for this release they stick strictly to the 12-track version of Hysteria with no extras. Simply called Hysteria Live, this is a limited edition set pressed on 2LP 'crystal clear' vinyl.

For collector's there are two limited edition six-disc box sets that effectively bring together Hysteria at the O2 and audio and video of the band's 2019 Las Vegas residency at Zappos Theatre in Planet Hollywood. Dubbed Hits Vegas, Live at Planet Hollywood this is a 28-song 'deep dive' which includes the hits along with rarities such as 'Too Late For Love,' 'Billy's Got A Gun,' and 'Slang' and some intimate acoustic renditions of some tracks.

Like the Hysteria at the O2, Hits Vegas, Live at Planet Hollywood also comes with a behind-the-scenes bonus feature. To be clear about the content, the London to Vegas sets offer a blu-ray and 2CDs for each venue/performance, which gives you a total of the six discs. However, if you haven't upgraded to blu-ray yet (get on with it!) then Eagle Rock, who are releasing this, are also offering a version with DVDs.

Hits Vegas…  appears to be exclusive to the two limited edition box sets which also come with a 40-page hardcover book. The audio includes Dolby 5.1 and DTS on the DVDs and DTS-HD Master Audio on the blu-rays. Running times are 113 mins for O2 and 162 mins for Vegas. All DVDs and blu-rays are all-region/region-free.

Everything is released on 29 May 2020 (was 24 April).


London to Vegas
– 2 x blu-ray + 4CD
Aspect Ratio: 16:9 / Picture Format: NTSC / Audio Formats: LPCM Stereo, DTS-HD Master Audio
Format: Region A/B/C / Subtitles: English / Disc Format: 2BD50+4CD
Hits Vegas, Live At Planet Hollywood
– on blu-ray and 2CD
Total running time: 162 mins
1 Die Hard the Hunter
2 Animal
3 Excitable
4 Foolin'
5 Too Late for Love
6 Billy's Got a Gun
7 Slang
8 Promises
9 Paper Sun
10 Let it Go
11 Mirror, Mirror (Look into my Eyes)
12 Bringin' On the Heartbreak
13 Switch 625
14 Let Me Be The One
15 We Belong
16 Have You Ever Needed Someone So Bad
17 Two Steps Behind
18 Now
19 Rocket
20 Let's Get Rocked
21 Hysteria
22 Love Bites
23 Armageddon It
24 Pour Some Sugar on Me
25 Action
26 Let's Go
27 Rock of Ages
28 Photograph
Hysteria At The O2 –
on blu-ray and 2CD
Total running time: 162 mins
1 Intro
2 Women
3 Rocket
4 Animal
5 Love Bites
6 Pour Some Sugar On Me
7 Armageddon It
8 Stephen Clark Tribute
9 Gods Of War
10 Don't Shoot Shotgun
11 Run Riot
12 Hysteria
13 Excitable
14 Love And Affection
15 Encore
16 Wasted
17 When Love And Hate Collide
18 Let's Get Rocked
19 Rock Of Ages
20 Photograph  
London to Vegas
– 2 x DVD + 4CD
Aspect Ratio: 16:9 / Picture Format: NTSC / Audio Formats: Dolby Digital Stereo, Dolby Digital 5.1, DTS Surround Sound
Format: Region 0 / Subtitles: English / Disc Format: 2DVD9+4CD
Hits Vegas, Live At Planet Hollywood
– on blu-ray and 2CD
Total running time: 162 mins
1 Die Hard the Hunter
2 Animal
3 Excitable
4 Foolin'
5 Too Late for Love
6 Billy's Got a Gun
7 Slang
8 Promises
9 Paper Sun
10 Let it Go
11 Mirror, Mirror (Look into my Eyes)
12 Bringin' On the Heartbreak
13 Switch 625
14 Let Me Be The One
15 We Belong
16 Have You Ever Needed Someone So Bad
17 Two Steps Behind
18 Now
19 Rocket
20 Let's Get Rocked
21 Hysteria
22 Love Bites
23 Armageddon It
24 Pour Some Sugar on Me
25 Action
26 Let's Go
27 Rock of Ages
28 Photograph
Hysteria At The O2 –
on blu-ray and 2CD
Total running time: 113 mins
1 Intro
2 Women
3 Rocket
4 Animal
5 Love Bites
6 Pour Some Sugar On Me
7 Armageddon It
8 Stephen Clark Tribute
9 Gods Of War
10 Don't Shoot Shotgun
11 Run Riot
12 Hysteria
13 Excitable
14 Love And Affection
15 Encore
16 Wasted
17 When Love And Hate Collide
18 Let's Get Rocked
19 Rock Of Ages
20 Photograph
Hysteria Live
2LP clear vinyl
LP 1
Side A
1 Women
2 Rocket
3 Animal
Side B
1 Love Bites
2 Pour Some Sugar On Me
3 Armageddon It
LP 2
Side A
1 Gods Of War
2 Don't Shoot Shotgun
3 Run Riot
Side B
1 Hysteria
2 Excitable
3 Love And Affection
Hysteria at the O2
2CD+Blu-ray or 2CD+DVD
Total running time: 113 mins
1 Intro
2 Women
3 Rocket
4 Animal
5 Love Bites
6 Pour Some Sugar On Me
7 Armageddon It
8 Stephen Clark Tribute
9 Gods Of War
10 Don't Shoot Shotgun
11 Run Riot
12 Hysteria
13 Excitable
14 Love And Affection
15 Encore
16 Wasted
17 When Love And Hate Collide
18 Let's Get Rocked
19 Rock Of Ages
20 Photograph