 News
Did It Again: BMG 'improve' the Kylie hits set you bought three months ago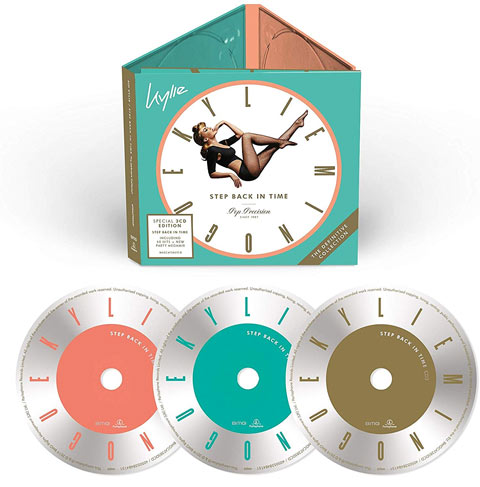 In a move that even Paul McCartney might have considered as 'overdoing it' BMG have announced a new triple-disc version of Kylie Minogue's Step Back In Time hits compilation little over THREE MONTHS after they issued ten different physical variants the first time around.

What was originally subtitled the 'definitive collection' now becomes, er, more definitive as a three-CD edition is offered with a bonus disc that includes extra tracks (including 'Chocolate', 'Did It Again', 'Some Kind Of Bliss', 'Word Is Out') and a new "40 minute party megamix", containing 18-tracks in one continuous mix by James Wiltshire (F9)."
In what must surely be a new record, there will be less than five months between the release dates of the original and this new 'improved' version.
Expect your 'old' Step Back In Time compilation to receive it's P45 in the post. It will be officially redundant on 22 November although please note it will not be required to work its notice period. The label would like to thank it for its valuable contribution (to the coffers) but its services are sadly no longer required. Best of luck for the future.
The special 3CD edition of Step Back In Time is out released on 22 November 2019.
Compare prices and pre-order
Kylie Minogue
step back in time - 3CD edition
CD: 1
1. Can't Get You out of My Head
2. Spinning Around
3. Love at First Sight
4. Dancing
5. In Your Eyes
6. Slow
7. All the Lovers
8. I Believe in You
9. In My Arms
10. On a Night like This
11. Your Disco Needs You
12. Please Stay
13. 2 Hearts
14. Red Blooded Woman
15. The One
16. Come into My World
17. Wow
18. Get Outta My Way
19. Timebomb
20. Kids (with Robbie Williams)
21. Stop Me from Falling
22. New York City
CD 2
1. Step Back in Time
2. Better the Devil You Know
3. Hand on Your Heart
4. Wouldn't Change a Thing
5. Shocked (DNA 7″ Mix)
6. Especially For You (with Kylie Minogue) – Jason Donovan
7. I Should Be So Lucky
8. Celebration
9. The Loco-Motion (7″ Mix)
10. Give Me Just a Little More Time
11. Never Too Late
12. Got to Be Certain
13. Tears On My Pillow
14. Je ne sais pas pourquoi
15. What Kind of Fool? (Heard All That Before)
16. What Do I Have to Do?
17. Confide in Me (Radio Mix)
18. Breathe (Radio Edit)
19. Put Yourself in My Place (Radio Mix)
20. Where the Wild Roses Grow (2011 – Remaster) – Nick Cave & The Bad Seeds & Kylie Minogue
CD 3
1. Into the Blue
2. I Was Gonna Cancel
3. Chocolate (Radio Edit)
4. Did It Again (Radio Edit)
5. Some Kind of Bliss (Radio Edit)
6. Word Is Out
7. If You Were with Me Now (with Keith Washington)
8. It's No Secret
9. Step Back in Time (Section) [F9 Megamix]
10. I Should Be So Lucky (F9 Megamix)
11. What Do I Have to Do? (F9 Megamix)
12. Hand on Your Heart (F9 Megamix)
13. Better the Devil You Know (F9 Megamix)
14. Shocked (DNA Mix) [F9 Megamix]
15. Step Back in Time (F9 Megamix)
16. Confide in Me (F9 Megamix)
17. On a Night like This (F9 Megamix)
18. Your Disco Needs You (F9 Megamix)
19. Spinning Around (F9 Megamix)
20. Love at First Sight (F9 Megamix)
21. Can't Get Blue Monday out of My Head (F9 Megamix)
22. The One (Instrumental) [F9 Megamix]
23. Slow (Acapella) [F9 Megamix]
24. The One (F9 Megamix)
25. All the Lovers (F9 Megamix)
26. Dancing (F9 Megamix)