 News
Dollar / Ultimate Dollar 7-disc box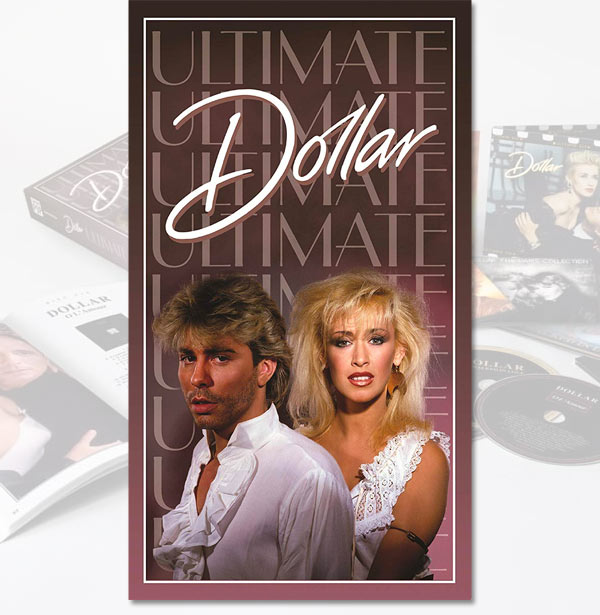 6CD+DVD box set • Remastered • New 'vintage' remixes
A new box set Ultimate Dollar offers albums, rarities and videos from early 80s pop duo Dollar.

David Van Day and Thereza Bazar enjoyed a string of hits in the late 1970s and early 1980s including 'Love's Gotta Hold on Me' and the Trevor Horn-produced 'Mirror Mirror (Mon Amour)'. They released three albums between 1979 and 1982 (not including Carrere rehash The Very Best of Dollar) and after splitting in 1983, returned for a few more singles (including top ten hit 'Oh L'Amour') before calling it a day once more.
Ultimate Dollar brings all these together – and more – across six CDs and one DVD. Each album (Shooting Stars, The Paris Collection and The Dollar Album) has been remastered (from the original tapes) and expanded, with The Dollar Album filling two CDs.
Bonus material includes remixes, instrumentals, demos and specially commissioned 2019 'vintage' extended mixes 12-inch mixes of 'Mirror Mirror', 'Give Me Back My Heart', 'Hand Held In Black And White', 'Videotheque', 'Give Me Some Kinda Magic' and 'Love's Gotta Hold On Me'. These have been created from the original multi-tracks and are done in very much in the style of 80s extended remixes.
Disc five sees their two Arista Records singles (an album never materialised) on CD for the first time (there are lots of remixes) whilst the final CD covers the London Records era of 'O L'amour' and 'It's Nature's Way (No Problem)'. The former was a cover of the Erasure single which reached number seven in the charts. Again, loads of remixes as well as a newly discovered track 'Tell Me You Love Me' from 1988.
The DVD features "every promo video made" and a selection of Top of The Pops appearances.
This package has been overseen by Thereza Bazar and the big booklet features an introduction with comments from Thereza and David. There's also a track-by-track commentary from Thereza and others involved in the releases, as well as photos, detailed liner notes on each disc, and complete lyrics.
At the same time as this box, a new 2CD Dollar Greatest Hits will be released which is comprehensive in as much that it includes the all the singles and the new track and adds a bonus disc of remixes. Finally, a gold-coloured vinyl pressing of first album Shooting Stars will also be released. The audio is remastered and this is back on vinyl for the first time since 1979.
The Ultimate Dollar box set, the 2CD greatest hits and the gold vinyl will be issued on 29 November 2019.
Compare prices and pre-order
Dollar
Ultimate Dollar - 6CD+DVD box
Compare prices and pre-order
Dollar
Dollar Greatest Hits - 2CD
Compare prices and pre-order
Dollar
Shooting Stars - gold vinyl
Ultimate Dollar / 6CD+DVD box set
DISC ONE: CD
SHOOTING STARS
1. OVERTURE
2. SHOOTING STAR
3. TOKYO
4. STAR CONTROL
5. WHO WERE YOU WITH IN THE MOONLIGHT
6. I NEED YOUR LOVE
7. RING RING
8. LOVE'S GOTTA HOLD ON ME
9. LOVE STREET
10. I WANNA HOLD YOUR HAND
11. SHOOTING STAR (ALTERNATIVE 7" MIX)
12. TALKING 'BOUT LOVE
13. LOVE ONE ANOTHER
14. STAR CONTROL (B-SIDE MIX)
15. LOVE'S GOTTA HOLD ON ME (2019 EXTENDED VERSION)
16. TALKING 'BOUT LOVE (2019 EXTENDED VERSION)
17. WHAT DO YOU DO (1977 DEMO)
18. LOVE'S GOTTA HOLD ON ME (INSTRUMENTAL)
19. I WANNA HOLD YOUR HAND (INSTRUMENTAL)
DISC TWO: CD
THE PARIS COLLECTION
1. RADIO
2. THE GIRLS ARE OUT TO GET YA
3. YOUNG LOVE
4. YOU TAKE MY BREATH AWAY
5. LOVE AT FIRST SIGHT
6. TAKIN' A CHANCE ON YOU
7. EBONY
8. NO MANS LAND
9. DON'T CHANGE YOUR LIFE
10. HEARTBEAT (LOVE ME SLOWLY)
11. LOVE DON'T COME EASY
12. LIVING EACH DAY FOR YOU
13. RADIO (DEMO)
14. DON'T CHANGE YOUR LIFE (DEMO)
15. NO MANS LAND (DEMO)
16. EBONY (DEMO)
17. ONE OF THOSE NIGHTS (DEMO)
18. THE GIRLS ARE OUT TO GET YA (ALTERNATIVE 1980 MIX)
DISC THREE: CD
THE DOLLAR ALBUM PART 1
1. MIRROR MIRROR (MON AMOUR)
2. GIVE ME BACK MY HEART
3. HAND HELD IN BLACK AND WHITE
4. PINK AND BLUE
5. I GOT YOUR NUMBER WRONG
6. GUESSING GAMES
7. GIVE ME SOME KINDA MAGIC
8. VIDEOTHEQUE
9. DANGEROUS BLONDES
10. YOU MADE ME LOVE YOU
11. ANYONE WHO'S ANYONE
12. SECOND TIME AROUND
13. TWO HEARTS
14. LIVING A LIFE OF DREAMS
15. HAND HELD IN BLACK AND WHITE (EXTENDED MIX)
16. I GOT YOUR NUMBER WRONG (ALTERNATIVE MIX)
17. SECOND TIME AROUND (LONG VERSION)
18. GUESSING GAMES (ALTERNATIVE MIX)
19. MIRROR MIRROR (MON AMOUR) (DEMO)
DISC FOUR: CD

THE DOLLAR ALBUM PART 2
1. MIRROR MIRROR (MON AMOUR) (2019 EXTENDED VERSION)
2. HAND HELD IN BLACK AND WHITE (2019 EXTENDED VERSION)
3. GIVE ME BACK MY HEART (2019 EXTENDED VERSION)
4. VIDEOTHEQUE (2019 EXTENDED VERSION)
5. GIVE ME SOME KINDA MAGIC (2019 EXTENDED VERSION)
6. MIRROR MIRROR (MON AMOUR) (BACKING TRACK)
7. GIVE ME BACK MY HEART (INSTRUMENTAL)
8. HAND HELD IN BLACK AND WHITE (BACKING TRACK)
9. GIVE ME SOME KINDA MAGIC (BACKING TRACK)
10. ANYONE WHO'S ANYONE (INSTRUMENTAL)
11. PINK AND BLUE (ALTERNATIVE MIX)
12. DANGEROUS BLONDES (ALTERNATIVE MIX)
13. GIVE ME SOME KINDA MAGIC (ALTERNATIVE MIX)
14. GIVE ME BACK MY HEART (THE JOURNEY)
DISC FIVE: CD
WE WALKED IN LOVE
1. WE WALKED IN LOVE (7" VERSION)
2. LOVE TONIGHT
3. IF THIS IS LOVE
4. WE WALKED IN LOVE (EXTENDED VERSION)
5. WE WALKED IN LOVE (ALTERNATIVE MIX)
6. WE WALKED IN LOVE (DUB MIX)
7. WE WALKED IN LOVE (INSTRUMENTAL)
8. HAVEN'T WE SAID GOODBYE BEFORE (7" VERSION)
9. HAVEN'T WE SAID GOODBYE BEFORE (EXTENDED MIX)
10. HAVEN'T WE SAID GOODBYE BEFORE (NIGHTMARE MIX)
11. HAVEN'T WE SAID GOODBYE BEFORE (US DANCE MIX)
12. HAVEN'T WE SAID GOODBYE BEFORE (IAN LEVINE 7" MIX)
13. HAVEN'T WE SAID GOODBYE BEFORE (BOBBY ELI'S HI ENERGY MIX)
14. PLATINUM RAP (EXTENDED VERSION)
DISC SIX: CD

O L'AMOUR
1. O L'AMOUR
2. O L'AMOUR (EXTRA BEAT BOYS 12" MIX)
3. O L'AMOUR (EURO BEAT VERSION)
4. O L'AMOUR (ORIGINAL MIX)
5. O L'AMOUR (ALTERNATIVE 7" MIX)
6. O L'AMOUR (INSTRUMENTAL)
7. B-BEAT
8. IT'S NATURE'S WAY (NO PROBLEM)
9. DIA Y NOCHE
10. IT'S NATURE'S WAY (NO PROBLEM) (EXTENDED VERSION)
11. IT'S NATURE'S WAY (NO PROBLEM) (SPANISH VERSION)
12. IT'S NATURE'S WAY (NO PROBLEM) (ACID TONGUE REMIX)
13. IT'S NATURE'S WAY (NO PROBLEM) (DUB)
14. IT'S NATURE'S WAY (NO PROBLEM) (INSTRUMENTAL)
15. DIA Y NOCHE
16. TELL ME YOU LOVE ME
DISC SEVEN: DVD
1. SHOOTING STAR (PROMO VIDEO)
2. SHOOTING STAR (TOTP OCTOBER 1978)
3. SHOOTING STAR (TOTP DECEMBER 1978)
4. WHO WERE YOU WITH IN THE MOONLIGHT (TOTP MAY 1979)
5. LOVE'S GOTTA HOLD ON ME (TOTP SEP 1979)
6. I WANNA HOLD YOUR HAND (PROMO VIDEO)
7. I WANNA HOLD YOUR HAND (TOTP JAN 1980)
8. THE GIRLS ARE OUT TO GET YA (PROMO VIDEO)
9. TAKIN' A CHANCE ON YOU (PROMO VIDEO)
10. MIRROR MIRROR (MON AMOUR) (PROMO VIDEO)
11. GIVE ME BACK MY HEART (PROMO VIDEO)
12. GIVE ME SOME KINDA MAGIC (PROMO VIDEO)
13. WE WALKED IN LOVE (PROMO VIDEO)
14. O L'AMOUR (PROMO VIDEO)
15. IT'S NATURE'S WAY (NO PROBLEM) (PROMO VIDEO)
16. THE DOLLAR ALBUM (TV ADVERT)
17. VIDEOTHEQUE (THE DOLLAR ALBUM SHORT TV CLIP)
18. GIVE ME SOME KINDA MAGIC (THE DOLLAR ALBUM SHORT TV CLIP)
Dollar / Greatest Hits 2CD
DISC ONE
1. SHOOTING STAR
2. WHO WERE YOU WITH IN THE MOONLIGHT
3. LOVE'S GOTTA HOLD ON ME
4. I WANNA HOLD YOUR HAND
5. LOVE STREET
6. RING RING
7. THE GIRLS ARE OUT TO GET YA
8. TAKIN' A CHANCE ON YOU
9. YOU TAKE MY BREATH AWAY
10. HAND HELD IN BLACK AND WHITE
11. MIRROR MIRROR (MON AMOUR)
12. GIVE ME BACK MY HEART
13. VIDEOTHEQUE
14. GIVE ME SOME KINDA MAGIC
15. TWO HEARTS
16. WE WALKED IN LOVE
17. HAVEN'T WE SAID GOODBYE BEFORE
18. O L'AMOUR
19. IT'S NATURE'S WAY (NO PROBLEM)
20. SUGAR SUGAR
21. IT DOESN'T MATTER
DISC TWO
1. LOVE'S GOTTA HOLD ON ME (2019 EXTENDED VERSION)
2. TALKING 'BOUT LOVE (2019 EXTENDED VERSION)
3. WHO WERE YOU WITH IN THE MOONLIGHT (2006 EXTENDED DANCE MIX)
4. HAND HELD IN BLACK AND WHITE (EXTENDED MIX)
5. MIRROR MIRROR (MON AMOUR) (2019 EXTENDED VERSION)
6. WE WALKED IN LOVE (EXTENDED VERSION)
7. HAVEN'T WE SAID GOODBYE BEFORE (EXTENDED MIX)
8. O L'AMOUR (EXTRA BEAT BOYS 12" MIX)
9. IT'S NATURE'S WAY (NO PROBLEM) (EXTENDED VERSION)
10. SUGAR SUGAR (PWL SWEETNESS BEATS MIX)
11. IT DOESN'T MATTER (JAZZ MIX)
12. SUGAR SUGAR (EXTRA BEAT BOYS 12" MIX)
Dollar / Shooting Stars gold vinyl LP
SIDE ONE
1. OVERTURE
2. SHOOTING STAR
3. TOKYO
4. STAR CONTROL
5. I WANNA HOLD YOUR HAND
SIDE TWO
1. WHO WERE YOU WITH IN THE MOONLIGHT
2. I NEED YOUR LOVE
3. RING RING
4. LOVE'S GOTTA HOLD ON ME
5. LOVE STREET