 News
Eagles / Live From The Forum MMXVIII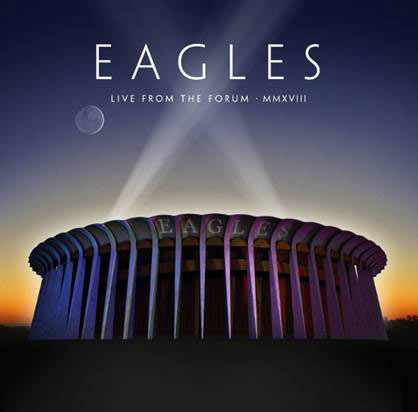 Four physical editions including 2CD+Blu-ray and 4LP vinyl
Live From The Forum MMXVIII is a new Eagles live release of a 26-song performance filmed and recorded at LA's The Forum venue in 2018.

The 2018 North American tour featured Don Henley, Joe Walsh, and Timothy B. Schmit, with Vince Gill and Deacon Frey and the quintet arrived at the Forum for three sold-out, concerts on September 12, 14, and 15.

4LP edition of Live From The Forum MMXVII
The event was filmed on fourteen 4K cameras and of course the set is full of all of those classic hits such as 'Hotel California', 'Take It Easy', 'Life in the Fast Lane', 'Desperado' and more. It also features some of the individual members' biggest solo successes (Henley's 'Boys Of Summer', Walsh's 'Rocky Mountain Way', and Gill's 'Don't Let Our Love Start Slippin' Away').
This release is being offered as a 2CD+blu-ray combo pack, a 2CD+DVD edition, a big 4LP vinyl box and a 2CD set.
Live From The Forum MMXVIII is released on 16 October 2020.
LIVE FROM THE FORUM MMXVIII 2CD+blu-ray or 2CD+DVD
CD 1
1. SEVEN BRIDGES ROAD
2. Joe Walsh: "How ya doin?"
3. TAKE IT EASY
4. ONE OF THESE NIGHTS
5. Don Henley: "Good evening, ladies and gentlemen"
6. TAKE IT TO THE LIMIT
7. TEQUILA SUNRISE
8. IN THE CITY
9. Timothy B. Schmit: "Hey, everybody, that's Joe Walsh"
10. I CAN'T TELL YOU WHY
11. NEW KID IN TOWN
12. Don Henley: "Just want to thank all of you…"
13. HOW LONG
14. Deacon Frey: "Hello, everybody…"
15. PEACEFUL EASY FEELING
16. OL' 55
17. LYIN' EYES
18. LOVE WILL KEEP US ALIVE
19. Vince Gill: "How about a nice hand for California, man…"
20. DON'T LET OUR LOVE START SLIPPIN' AWAY
21. THOSE SHOES
CD 2
1. ALREADY GONE
2. WALK AWAY
3. Joe Walsh: "Is everybody OK?"
4. LIFE'S BEEN GOOD
5. THE BOYS OF SUMMER
6. HEARTACHE TONIGHT
7. FUNK #49
8. LIFE IN THE FAST LANE
9. HOTEL CALIFORNIA
10. ROCKY MOUNTAIN WAY
11. DESPERADO
12. THE LONG RUN
DVD and Blu-ray features the same 33 tracks above
LIVE FROM THE FORUM MMXVIII 4LP vinyl edition
LP 1 – SIDE 1
1. SEVEN BRIDGES ROAD
2. Joe Walsh: "How ya doin?"
3. TAKE IT EASY
4. ONE OF THESE NIGHTS
5. Don Henley: "Good evening, ladies and gentlemen"
6. TAKE IT TO THE LIMIT
LP 1 – SIDE 2
1. TEQUILA SUNRISE
2. IN THE CITY
3. Timothy B. Schmit: "Hey, everybody, that's Joe Walsh"
4. I CAN'T TELL YOU WHY
LP 2 – SIDE 3
1. NEW KID IN TOWN
2. Don Henley: "Just want to thank all of you…"
3. HOW LONG
4. Deacon Frey: "Hello, everybody…"
5. PEACEFUL EASY FEELING
6. OL' 55
LP 2 – SIDE 4
1. LYIN' EYES
2. LOVE WILL KEEP US ALIVE
3. Vince Gill: "How about a nice hand for California, man…"
4. DON'T LET OUR LOVE START SLIPPIN' AWAY
LP 3 – SIDE 5
1. THOSE SHOES
2. ALREADY GONE
3. WALK AWAY
LP 3 – SIDE 6
1. Joe Walsh: "Is everybody OK?"
2. LIFE'S BEEN GOOD
3. THE BOYS OF SUMMER
4. HEARTACHE TONIGHT
LP 4 – SIDE 7
1. FUNK #49
2. LIFE IN THE FAST LANE
3. HOTEL CALIFORNIA
LP 4 – SIDE 8
1. ROCKY MOUNTAIN WAY
2. DESPERADO
3. THE LONG RUN