 News
Elton John / Madman Across The Water 50th anniversary reissue
3CD+blu-ray and 4LP vinyl box sets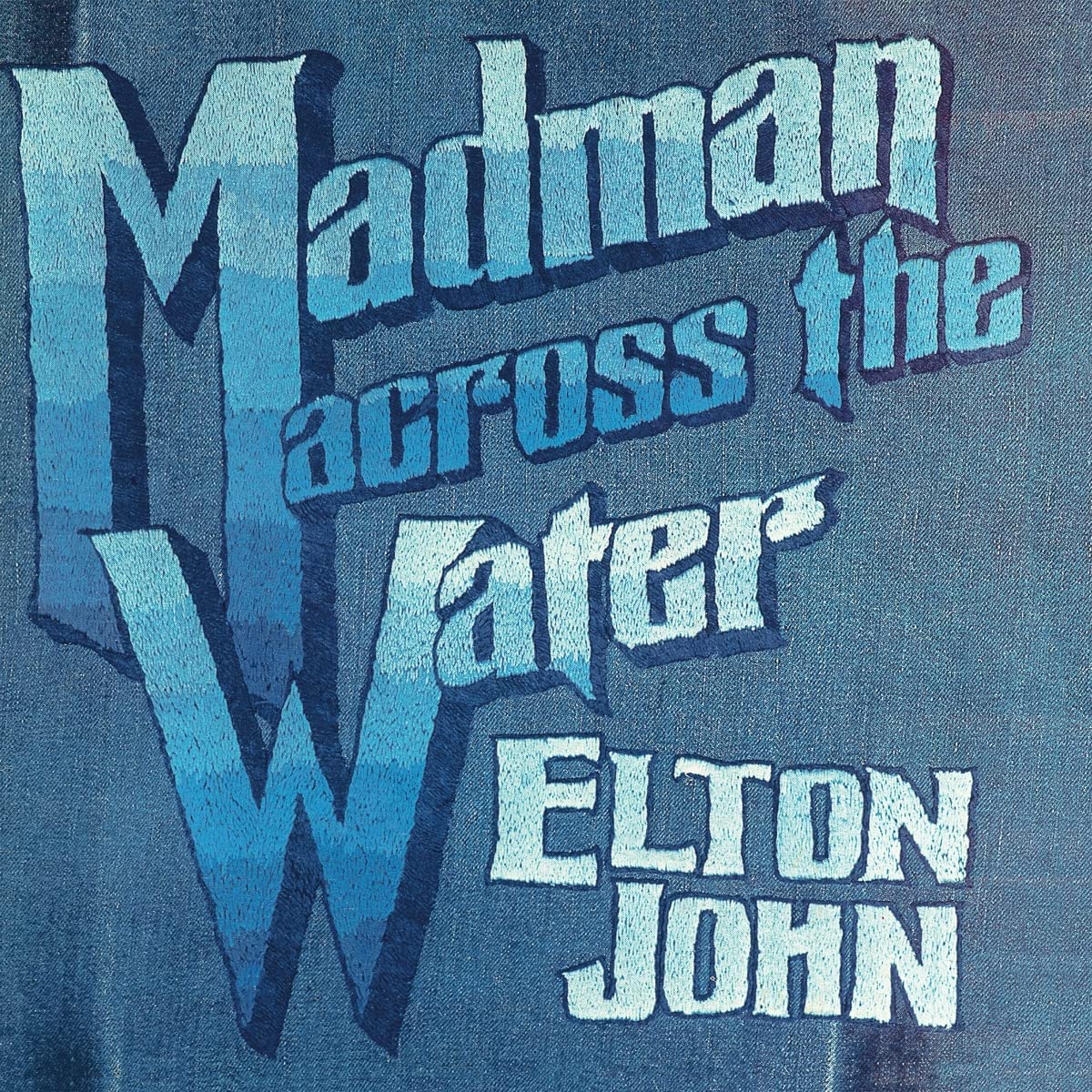 Elton John's 1971 album Madman Across The Water will be reissued for its (belated) 50th anniversary in June.
The album was Elton's fourth and it spawned the singles 'Tiny Dancer' and 'Levon' (the latter wasn't issued in the UK). Recorded at Trident Studios in Central London in February and August 1971, it was the first album where all five players of Elton's fabled band line up (Dee Murray, Nigel Olsson, Davey Johnstone and Ray Cooper) were featured. The album also featured Yes keyboardist Rick Wakeman, who plays Hammond organ on three songs.
The album was actually only a modest hit in the UK (peaked at #41) but reached number eight in America paving the way for Elton's mega-years and six consecutive number one albums!
There are four physical formats for the 50th anniversary of Madman Across The Water and all of them contain Bob Ludwig's 2016 remaster of the main album. A 3CD+blu-ray super deluxe contains rarities including piano demos of the album and the audio of the BBC Sounds For Saturday concert, broadcast on BBC in 1972.
The blu-ray contains a 5.1 mix by Greg Penny (originally issued in 2004 on the SACD), plus video of the Sounds For Saturday concert and Elton's 1971 Old Grey Whistle Test performance. The box set includes a 104-page hard-cover book with introductions by Elton and Bernie, photos and notes featuring interviews with many who helped make Madman Across The Water, plus a reproduction 1971 poster, as well as memorabilia and artwork taken from the Rocket Archive.
All the audio from the three CDs in the super deluxe set will also be available on a 4LP vinyl box. The box set includes photos, an essay with interviews with those who helped make the album as well as memorabilia and artwork taken from the Rocket Archive. The album will also be available as a limited edition blue and white coloured 180g LP.
A 2CD deluxe is effectively discs one and two from the super deluxe edition and there's also a limited edition single LP pressed on coloured 'propeller' vinyl (D2C only).
Madman Across The Water will be reissued on 10 June 2022 via UMC/EMI.
Compare prices and pre-order
Elton John
Madman Across The Water - 3CD+blu-ray super deluxe
Compare prices and pre-order
Elton John
Madman Across The Water - 4LP vinyl box set
Compare prices and pre-order
Elton John
Madman Across The Water - 2CD deluxe
Tracklisting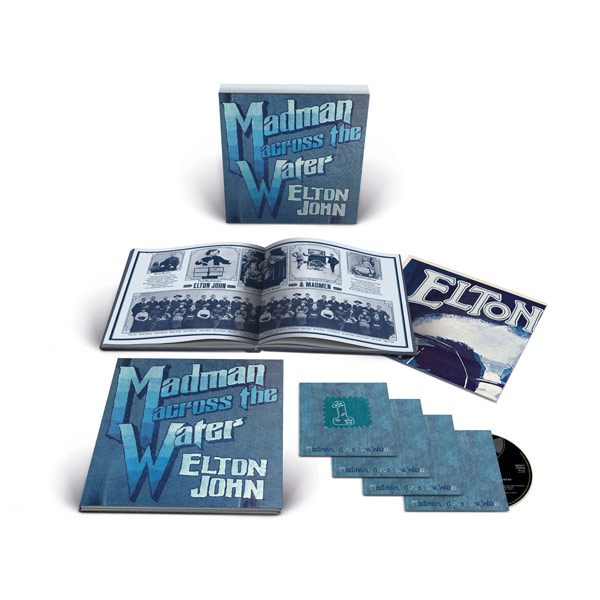 Madman Across The Water Elton John
/
3CD+blu-ray super deluxe
CD 1

Tiny Dancer (2016 Bob Ludwig Remaster)
Levon (2016 Bob Ludwig Remaster)
Razor Face (2016 Bob Ludwig Remaster)
Madman Across The Water (2016 Bob Ludwig Remaster)
Indian Sunset (2016 Bob Ludwig Remaster)
Holiday Inn (2016 Bob Ludwig Remaster)
Rotten Peaches (2016 Bob Ludwig Remaster)
All The Nasties (2016 Bob Ludwig Remaster)
Goodbye (2016 Bob Ludwig Remaster)
Indian Sunset (Live Radio Broadcast)
Madman Across The Water (Original Version, featuring Mick Ronson)
Rock Me When He's Gone
Levon (Mono Single Version)
Razor Face (Extended Version)

CD 2

Madman Across The Water (1970 Piano Demo)
Tiny Dancer (Piano Demo)
Levon (Piano Demo)
Razor Face (Piano Demo)
Madman Across The Water (1971 Piano Demo)
Indian Sunset (Piano Demo)
Holiday Inn (Piano Demo)
Rotten Peaches (Piano Demo)
All The Nasties (Piano Demo)
Goodbye (Piano Demo)
Rock Me When He's Gone (Piano Demo)
Rock Me When He's Gone (Full Version)

CD 3

Tiny Dancer (BBC Sounds For Saturday)
Rotten Peaches (BBC Sounds For Saturday)
Razor Face (BBC Sounds For Saturday)
Holiday Inn (BBC Sounds For Saturday)
Indian Sunset (BBC Sounds For Saturday)
Levon (BBC Sounds For Saturday)
Madman Across The Water (BBC Sounds For Saturday)
Goodbye (BBC Sounds For Saturday)

Taped November 11, 1971 / transmitted April 29, 1972

Blu-ray

Audio

Greg Penny 5.1 mix of Madman Across The Water

Audio-Visual

Sounds For Saturday (Taped November 11, 1971 / transmitted April 29, 1972)
Old Grey Whistle Test (Transmitted on December 7, 1971)
Tracklisting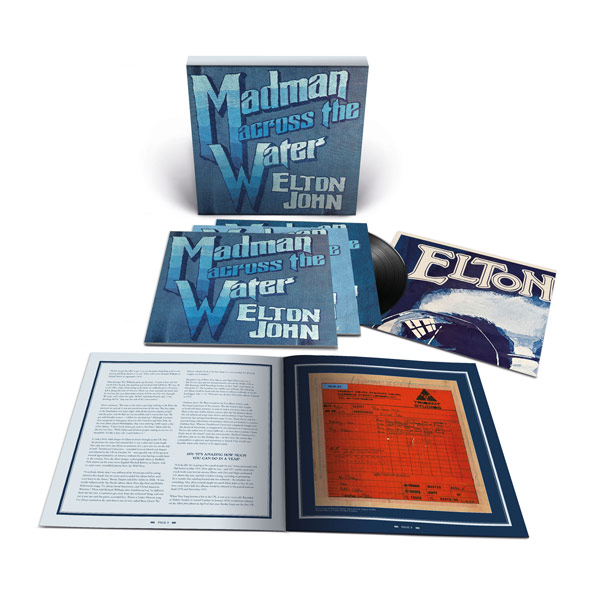 Madman Across The Water Elton John
/
4LP vinyl box set
LP 1

Side A

 Tiny Dancer (2016 Bob Ludwig Remaster)
Levon (2016 Bob Ludwig Remaster)
Razor Face (2016 Bob Ludwig Remaster)
Madman Across The Water (2016 Bob Ludwig Remaster)

Side B

Indian Sunset (2016 Bob Ludwig Remaster)
Holiday Inn (2016 Bob Ludwig Remaster)
Rotten Peaches (2016 Bob Ludwig Remaster)
All The Nasties (2016 Bob Ludwig Remaster)
Goodbye (2016 Bob Ludwig Remaster)

LP 2

Side A

Indian Sunset (Live Radio Broadcast)
Madman Across The Water (Original Version, featuring Mick Ronson)
Rock Me When He's Gone
Levon (Mono Single Version)

Side B

Razor Face (Extended Version)
Rock Me When He's Gone (Piano Demo)
Rock Me When He's Gone (Full Version)

LP 3

Side A

Madman Across The Water (1970 Piano Demo)
Tiny Dancer (Piano Demo)
Levon (Piano Demo)
Razor Face (Piano Demo)
Madman Across The Water (1971 Piano Demo)

Side B

Indian Sunset (Piano Demo)
Holiday Inn (Piano Demo)
Rotten Peaches (Piano Demo)
All The Nasties (Piano Demo)
Goodbye (Piano Demo)

LP 4

Side A

Tiny Dancer (BBC Sounds For Saturday)
Rotten Peaches (BBC Sounds For Saturday)
Razor Face (BBC Sounds For Saturday)
Holiday Inn (BBC Sounds For Saturday)

Side B

Indian Sunset (BBC Sounds For Saturday)
Levon (BBC Sounds For Saturday)
Madman Across The Water (BBC Sounds For Saturday)
Goodbye (BBC Sounds For Saturday)

Taped November 11, 1971 / transmitted April 29, 1972
Tracklisting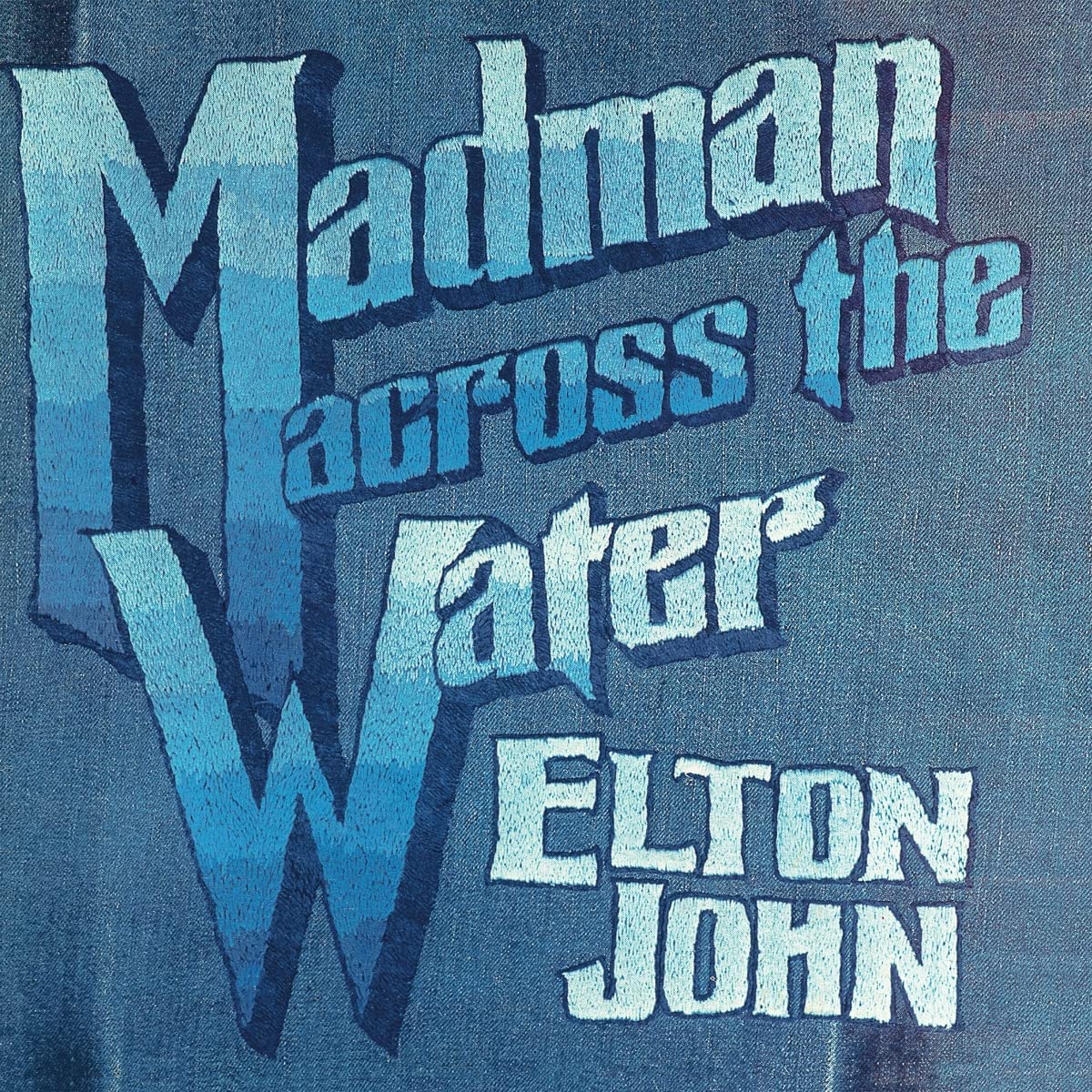 Madman Across The Water Elton John
/
2CD deluxe
CD 1

Tiny Dancer (2016 Bob Ludwig Remaster)
Levon (2016 Bob Ludwig Remaster)
Razor Face (2016 Bob Ludwig Remaster)
Madman Across The Water (2016 Bob Ludwig Remaster)
Indian Sunset (2016 Bob Ludwig Remaster)
Holiday Inn (2016 Bob Ludwig Remaster)
Rotten Peaches (2016 Bob Ludwig Remaster)
All The Nasties (2016 Bob Ludwig Remaster)
Goodbye (2016 Bob Ludwig Remaster)
Indian Sunset (Live Radio Broadcast)
Madman Across The Water (Original Version, featuring Mick Ronson)
Rock Me When He's Gone
Levon (Mono Single Version)
Razor Face (Extended Version)

CD 2

Madman Across The Water (1970 Piano Demo)
Tiny Dancer (Piano Demo)
Levon (Piano Demo)
Razor Face (Piano Demo)
Madman Across The Water (1971 Piano Demo)
Indian Sunset (Piano Demo)
Holiday Inn (Piano Demo)
Rotten Peaches (Piano Demo)
All The Nasties (Piano Demo)
Goodbye (Piano Demo)
Rock Me When He's Gone (Piano Demo)
Rock Me When He's Gone (Full Version)