 News
Elvis Presley / Aloha from Hawaii via Satellite
50th anniversary 3CD+blu-ray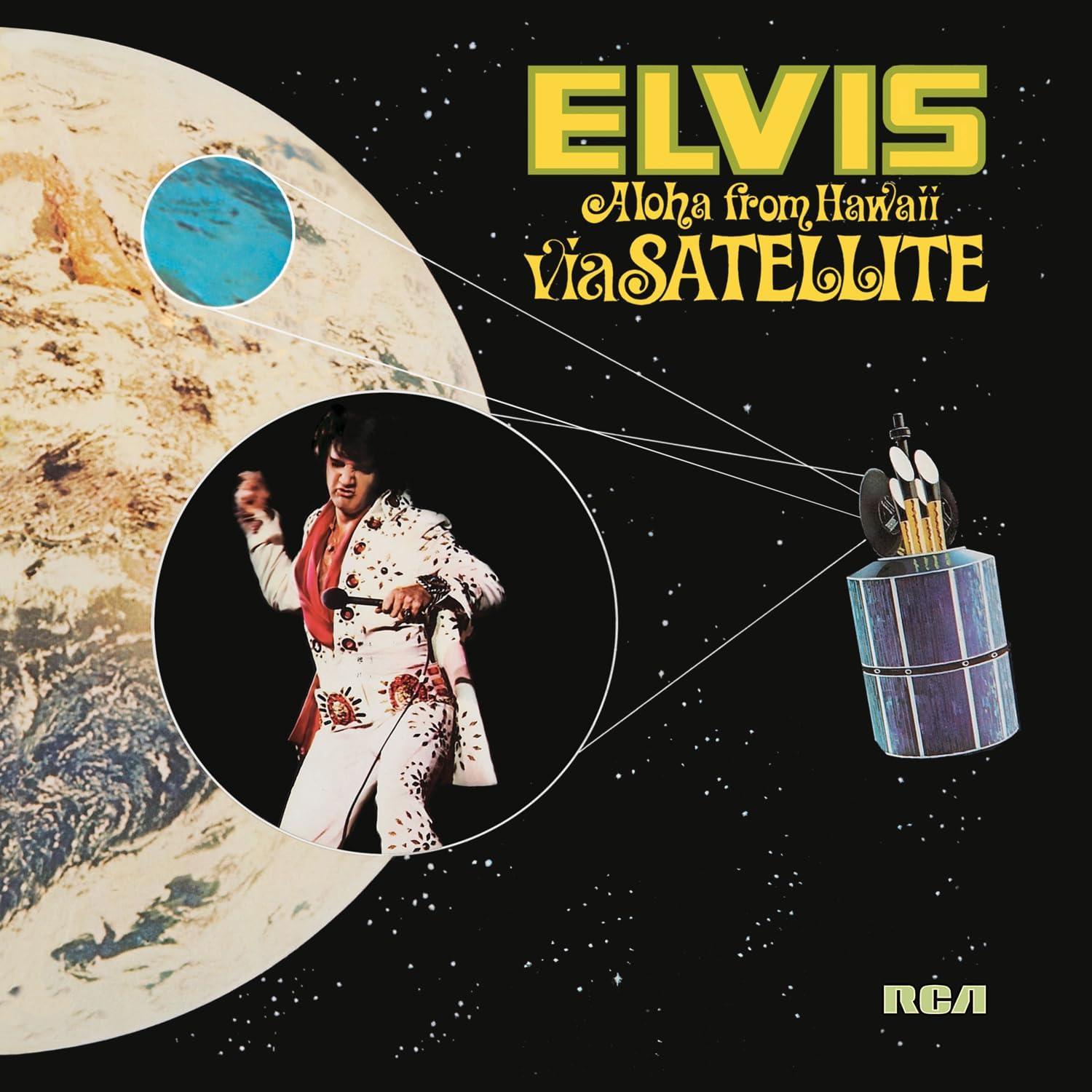 Elvis Presley's 1973 Honolulu concert was broadcast by satellite around the world and the resulting live album was called Aloha from Hawaii via Satellite.
This was reissued as 2CD set back in 2013 for its 40th anniversary, but a decade later Sony are expanding it even more and are offering a 3CD+blu-ray box set edition.
Previously, the concert was remastered, but this time around the audio (on CD 1) has been newly remixed. The second disc features the rehearsal show (from two days earlier, 12 January 1973) which presumably is the same remixed version from 2013. The third audio disc offers a complete after-show bonus song performance while the blu-ray delivers the TV concert, plus rehearsal concert and bonus songs (it's not clear if the rehearsal/bonus songs are just audio).
A 2LP gatefold vinyl edition will also be available which contains highlights from the CD box set
Aloha from Hawaii via Satellite will be reissued on 11 August 2023 via Sony's Legacy Recordings. The CD box is less than £27 via Amazon UK which seems decent value.
Compare prices and pre-order
Presley, Elvis
Aloha from Hawaii via satellite - 3CD + blu-ray
Compare prices and pre-order
Presley, Elvis
Aloha from Hawaii via Satellite - 2LP vinyl
Tracklisting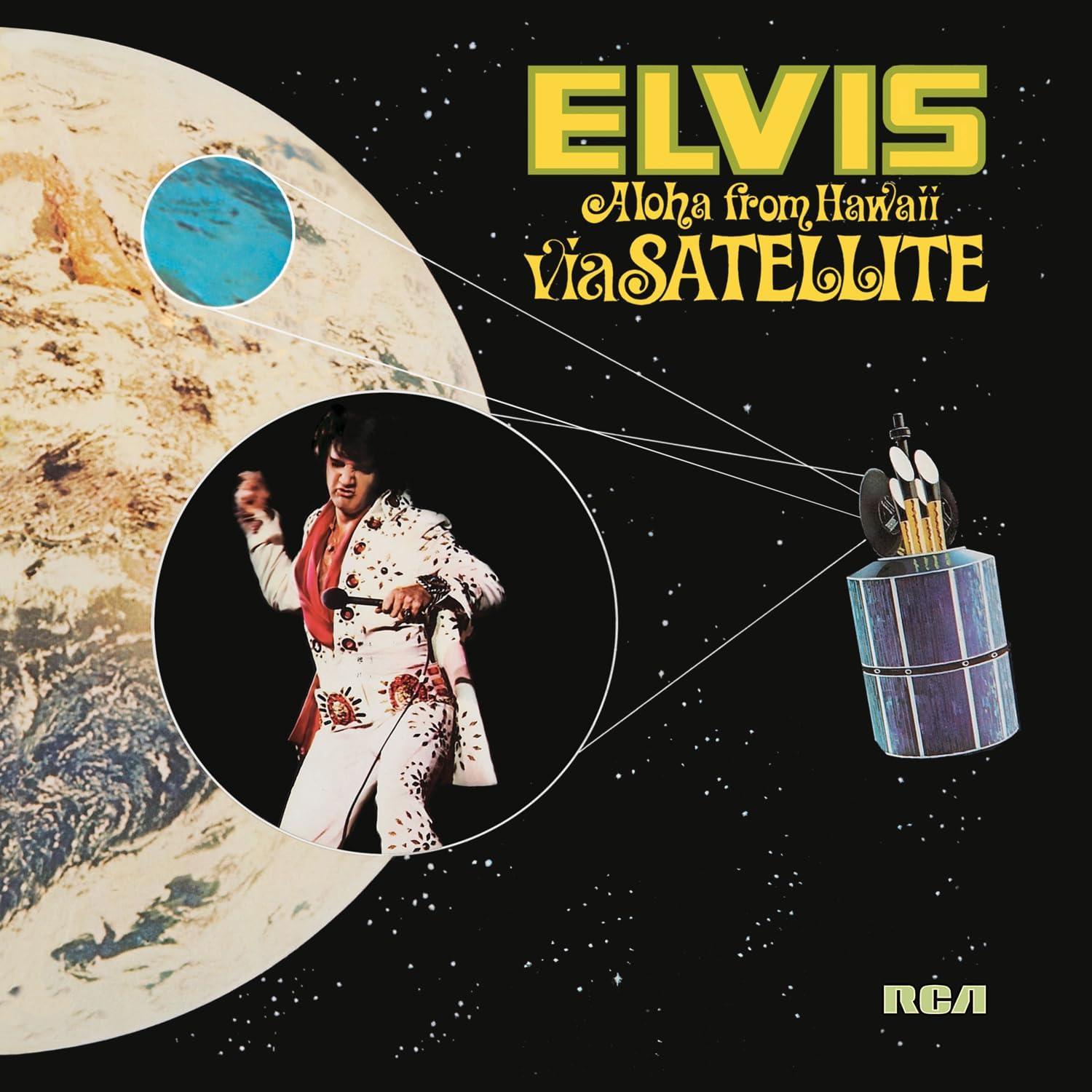 Aloha From Hawaii via Satellite Elvis Presley
/
50th anniversary edition
CD 1: Live from Hawaii via Satellite (newly mixed)

Recorded live at the Honolulu International Center Arena January 14, 1973, 12:30 AM

Introduction: Also Sprach Zarathustra (Theme From 2001: A Space Odyssey)
See See Rider
Burning Love
Something
You Gave Me A Mountain
Steamroller Blues
My Way
Love Me
Johnny B. Goode
It's Over
Blue Suede Shoes
I'm So Lonesome I Could Cry
I Can't Stop Loving You
Hound Dog
What Now My Love
Fever
Welcome To My World
Suspicious Minds
Introductions by Elvis
I'll Remember You
Medley: Long Tall Sally / Whole Lotta Shakin' Goin' On
An American Trilogy
A Big Hunk O' Love
Can't Help Falling In Love
Closing Vamp

CD 2: Rehearsals

Recorded live at the Honolulu International Center Arena, January 12, 1973, 9:00 PM

Introduction: Also Sprach Zarathustra (Theme From 2001: A Space Odyssey)
See See Rider
Burning Love
Something
You Gave Me A Mountain
Steamroller Blues
My Way
Love Me
It's Over
Blue Suede Shoes
I'm So Lonesome I Could Cry
Hound Dog
What Now My Love
Fever
Welcome To My World
Suspicious Minds
Introductions by Elvis
I'll Remember You
An American Trilogy
A Big Hunk O' Love
Can't Help Falling In Love
Closing Vamp

CD 3: Bonus performances

Recorded without an audience at the Honolulu International Center Arena, January 14, 1973, 3:00 AM, as special bonus songs for the U.S. version of ALOHA FROM HAWAII.

Blue Hawaii -rehearsal, takes 1-2
Ku-U-I-Po – rehearsal
Ku-U-I-Po – take 1
Ku-U-I-Po – take 2 (incomplete)
Ku-U-I-Po – take 3 (incomplete)
Ku-U-I-Po – take 4
No More – take 1
No More – take 2
No More – take 3
No More – take 4
Hawaiian Wedding Song – take 1
Hawaiian Wedding Song – rehearsal
Hawaiian Wedding Song – take 2
Hawaiian Wedding Song – take 3
Early Morning Rain – take 1
Early Morning Rain – take 2

Blu-ray

TV broadcast of Aloha from Hawaii via Satellite plus rehearsals and bonus songs