 News
Elvis Presley / Elvis On Tour
50th anniversary 6CD+blu-ray collection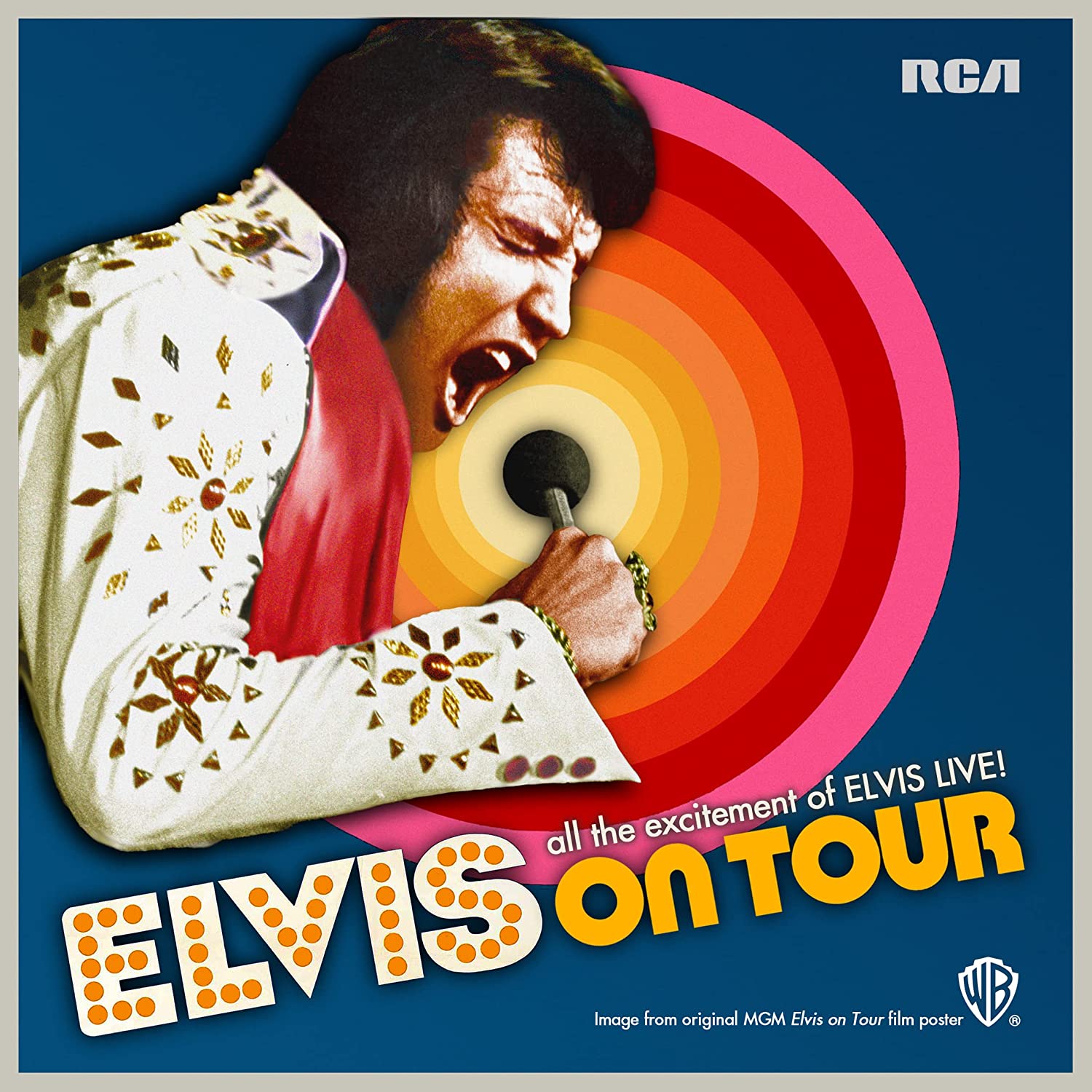 Sony are to release a new Elvis Presley box set called Elvis On Tour. This 6CD+blu-ray package follows The King on his 1972 North American tour and includes audio from four of the shows, two rehearsals and the concert film on blu-ray.
The first three CDs in this set feature performances from 9th, 10th and 14th April 1972 respectively; that's Hampton Roads Coliseum, Virginia; Richmond Coliseum, Virginia; and Greensboro Coliseum, North Carolina. All three are previously unreleased. The fourth CD features the 18th April gig at the Convention Center Arena, San Antonio, Texas, and includes material that was part of 2003's Elvis: Close-Up box set, however it has been newly remixed for this release.
Tour rehearsals constitute CDs five and six. CD 5 has audio recorded live at RCA Recording Studios in Hollywood, California, on 30th and 31st March 1972. This is mostly unreleased, although some were issued on a couple of the specialist 'Follow That Dream' releases in 2001 and 2004 (Elvis On Tour – The Rehearsals and Sunset Boulevard, respectively).
CD 6 is all completely unreleased and offers more of the 31 March rehearsals at RCA and includes unreleased takes on Kris Kristofferson's 'For The Good Times'. In total, this Elvis On Tour box set features a total of 145 audio tracks, 91 of which are previously unreleased.
The documentary on the blu-ray exists because filmmakers Pierre Adidge and Robert Abel went on the road with Elvis Presley to chronicle this tour. As well as the on-stage performances, the film includes backstage footage, with the original press release boasting that Elvis On Tour offered "the first intimate look at the enigmatic country boy who became the world's most celebrated musician". The MGM film would go on to win 'Best Documentary Film' at the 30th Golden Globes Awards, in 1973. This was released on VHS/Laserdisc in the early 1980s and was issued by Warner Home Video in 2010 on DVD and blu-ray.
The Elvis On Tour box set will be released on 27 January 2023 (was 2 December 2022) via RCA/Legacy Recordings

Compare prices and pre-order
Presley, Elvis
Elvis On Tour - 6CD+blu-ray box set
Tracklisting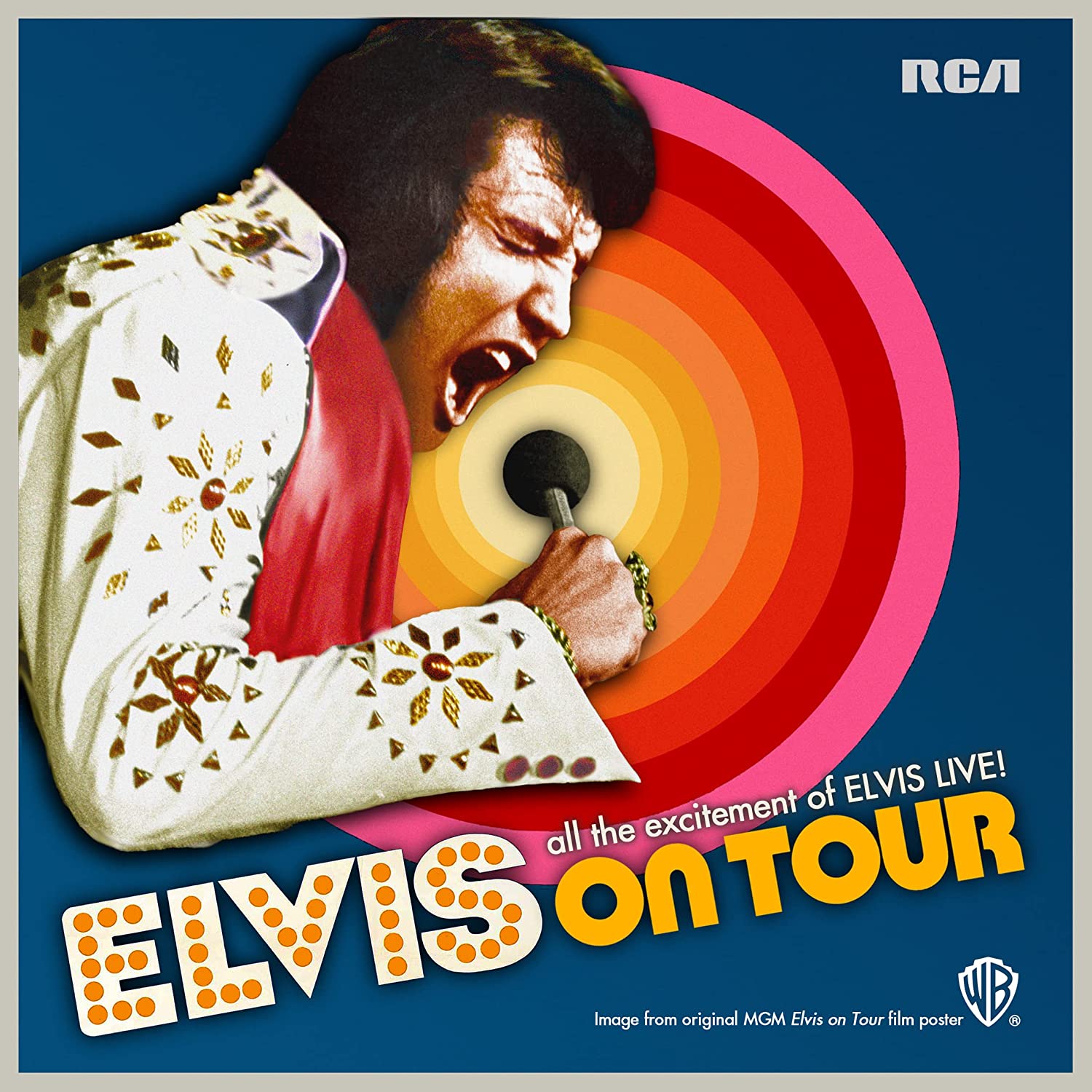 Elvis On Tour Elvis Presley
/
CD 1: April 9, 1972 – Hampton Roads

Introduction: Also Sprach Zarathustra (Theme From  2001: A Space Odyssey) 1:20
See See Rider 3:12
I Got A Woman / Amen 2:59
Never Been To Spain 3:34
You Gave Me A Mountain 3:14
Until It's Time For You To Go 2:30
Polk Salad Annie 3:03
Love Me 1:38
All Shook Up 1:06
(Let Me Be Your) Teddy Bear / Don't Be Cruel 2:11
Are You Lonesome Tonight? 2:42
I Can't Stop Loving You 2:26
Hound Dog 1:29
Bridge Over Troubled Water 4:08
Suspicious Minds 5:19
For The Good Times 3:08
Introductions 1:29
American Trilogy 4:54
Love Me Tender 2:41
A Big Hunk O' Love 2:05
How Great Thou Art 2:54
Sweet, Sweet Spirit 2:46
Lawdy, Miss Clawdy 2:11
Can't Help Falling In Love 1:42
Closing

CD 2: April 10, 1972 – Richmond

Introduction: Also Sprach Zarathustra (Theme from 2001: A Space Odyssey) 1:17
See See Rider 3:00
Proud Mary 2:44
Never Been To Spain 3:37
You Gave Me A Mountain 3:14
Until It's Time For You To Go 2:32
Polk Salad Annie 2:51
Love Me 2:00
All Shook Up 1:01
(Let Me Be Your) Teddy Bear / Don't Be Cruel 1:49
Heartbreak Hotel 2:05
Hound Dog 1:21
Bridge Over Troubled Water 4:12
Love Me Tender 1:43
It's Over 2:18
Suspicious Minds 4:47
Introductions 1:59
For The Good Times 3:06
I Can't Stop Loving You 2:24
American Trilogy 4:17
Lawdy, Miss Clawdy 2:41
Funny How Time Slips Away 2:41
Can't Help Falling In Love 1:41
Closing Vamp 1:50

CD 3: April 14, 1972 – Greensboro

Introduction: Also Sprach Zarathustra (Theme from 2001: A Space Odyssey) 1:14
See See Rider 3:09
Proud Mary 2:44
Never Been To Spain 3:37
You Gave Me A Mountain 3:15
Until It's Time For You To Go 2:37
Polk Salad Annie 3:15
Love Me 1:36
All Shook Up 1:01
(Let Me Be Your) Teddy Bear / Don't Be Cruel 2:27
Hound Dog 1:31
Heartbreak Hotel 1:50
A Big Hunk O' Love 2:00
Bridge Over Troubled Water 4:14
Suspicious Minds 4:46
Love Me Tender 1:38
Introductions 1:23
For The Good Times 3:05
American Trilogy 4:45
Burning Love 2:46
Release Me (And Let Me Love Again) 3:04
Funny How Time Slips Away 2:50
Can't Help Falling In Love 1:40
Closing Vamp 1:49

CD 4: April 18, 1972 – San Antonio

Introduction: Also Sprach Zarathustra (Theme from 2001: A Space Odyssey) 1:20
See See Rider 2:52
Proud Mary 2:32
Never Been To Spain 3:36
You Gave Me A Mountain 3:13
Until It's Time For You To Go 2:29
Polk Salad Annie 3:05
Love Me 1:38
All Shook Up 1:01
(Let Me Be Your) Teddy Bear / Don't Be Cruel 1:46
Heartbreak Hotel 1:45
Hound Dog 1:25
How Great Thou Art 2:54
I Can't Stop Loving You 2:28
Love Me Tender 1:39
Suspicious Minds 4:21
Introductions 1:17
For The Good Times 3:23
Burning Love 2:02
American Trilogy 4:44
Funny How Time Slips Away 3:09
Can't Help Falling In Love 1:46
Closing Vamp 1:22

CD 5: March 30 & 31, 1972. Rehearsals at RCA's studio

Burning Love (incomplete) 2:14
Burning Love 3:34
Burning Love 3:36
For The Good Times (incomplete) 1:12
For The Good Times (incomplete) 3:00
For The Good Times 4:39
For The Good Times 4:03
For The Good Times 4:34
El Paso (fragment) 0:52
For The Good Times (incomplete) 3:04
For The Good Times 3:29
Johnny B. Goode 4:56
Always On My Mind (incomplete) 1:46
Always On My Mind (incomplete) 2:15
Always On My Mind 4:25
Separate Ways 3:26
Separate Ways 4:34
Proud Mary 2:52
Never Been To Spain 3:57
You Gave Me A Mountain (incomplete) 1:21
Until It's Time For Me To Go 3:59
Polk Salad Annie 2:51
Love Me 2:37

CD 6: March 31, 1972. Rehearsals at RCA's studio

All Shook Up 1:12
Heartbreak Hotel 2:13
(Let Me Be Your) Teddy Bear / Don't Be Cruel 1:57
Hound Dog 1:26
The First Time Ever I Saw Your Face 5:27
A Big Hunk O'Love 2:09
A Big Hunk O'Love 2:30
See See Rider 3:03
For The Good Times 3:22
For The Good Times (incomplete) 1:30
For The Good Times 3:37
Funny How Time Slips Away 3:41
Burning Love 6:11
Help Me Make It Through The Night 2:57
Can't Help Falling In Love 2:08
Young And Beautiful 3:16
Lawdy, Miss Clawdy 2:28
Release Me (And Let Me Love Again) 2:38
See See Rider 2:31
Proud Mary 2:45
Never Been To Spain 3:46
I, John 2:22
Bosom Of Abraham 0:53
You Better Run 2:06
Lead Me, Guide Me 2:39
Turn Your Eyes Upon Jesus/Nearer My God To Thee 3:59

Blu-ray

Elvis On Tour, 1972 documentary